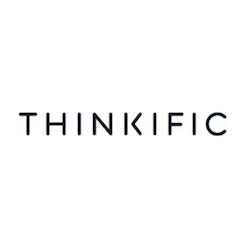 Thinkific
Sell online courses via LiveChat.
LiveChat & Thinkific integration lets you set up the chat widget on your Thinkific website. Use it to educate visitors about your offers, reply to their questions and solve problems in real time. You can also take advantage of automated greetings and reach out to clients on specific conditions. Finally be able to influence sales in your store.
Thinkific is an online education platform to create websites and deliver & sell online courses and membership sites. You can use it as your main business or additional marketing channel for your operating business.
The solution is easy to use and offers customizable site themes that let you build an attractive website around your course. The online course builder helps you create entirely new courses for your students. You can add multimedia (films, quizzes, text lessons, discussions, presentations, etc.) and give certificates.
Moreover, Thinkific provides a seamless checkout process and lets you offer one-time payments, subscriptions or payment plans. You can also give bonuses and discounts to encourage customers to make bigger purchases. All in all, the platform delivers an engaging user experience.
Key Features
Automated greetings
LiveChat can detect when visitors take certain actions on your website and issue chat invitations based on these actions. For example, you can send a personalized invitation to a visitor who has seen several of your help pages or contact a person who visited you for the first time.
Mobile apps
Like the best friend, LiveChat never leaves customers in need. Thanks to mobile apps, you can travel around the world and serve your clients without hindrance. Jump between different devices and use application shortcuts to provide service faster than ever before.
Customization
Easily personalize your chat window and make sure it matches your brand's style. Use eye-catchers to grab the ​additional attention of your visitors and start a chat quicker.
Powerful ticketing system
We want to offer you a full package that includes not only a reliable chat tool but also a ticketing system – so you can provide your customers with 24/7 service.
Benefits
Boost website engagement
Initiate a chat with automated greetings and make sure your visitors engage in conversations. More chats lead to more courses sold.
Solve problems once they appear
Chatting is much faster than writing emails. It's also more efficient than using phones as one agent can handle multiple cases simultaneously. It also means that LiveChat shortens the time customers have to wait for your help. Swift support helps to boost satisfaction rates and shows clients that you really care about them.
Bump your sales up
With LiveChat, you won't miss any potential client anymore. The application lets you approach visitors directly on your site by sending chat invitations. Help them solve their problems and advise while choosing a product. Make sure they can complete the purchasing process under your watchful eye.
Ratings & Reviews
How would you rate this app?
Tutorial & Support
To get help and support
contact LiveChat
. You can also suggest improvements or request new features in the upcoming versions of Thinkific.