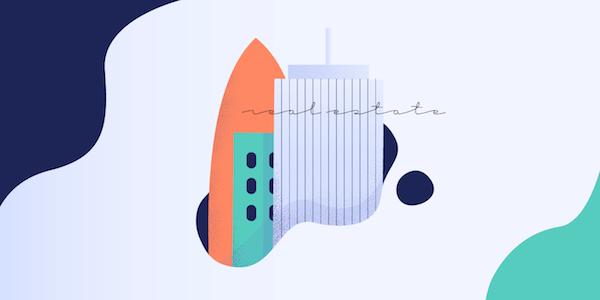 It's 2018, and still, when I asked specialists what's the best real estate lead generation tactic, I got stunned by the number of people advising me to just talk to people and give business cards to everyone you meet.
Sure, personal relationships and trust are the foundation of this industry, and you'll get some new clients from referrals, word-of-mouth recommendations, etc. But with new generations growing up to participate in the property market, there comes an inevitable change in the real estate lead generation.
The apartment hunting usually begins in the digital and that's where you should be present if you want to get new real estate leads.
I asked Joy Davis, the Marketing Manager in Adams Cameron – a real estate agency from Florida – what lead generation activities have proven to be most effective. No surprise here – the lion's share of leads comes from the web (top three lead sources go: general web leads, enquiries from their website and the live chat).
In 2014 the number of unique users that visit real estate websites each year was 240 million (and I believe it's been only rising by now). With a handy little tool we created, you can estimate how many leads your website can bring you each month. For a real estate website with 150K of monthly traffic, that would be up to 11 175 leads according to LiveChat users' conversion rate average. If you'd like to use your own traffic data and get a more accurate number, go on and try it by yourself.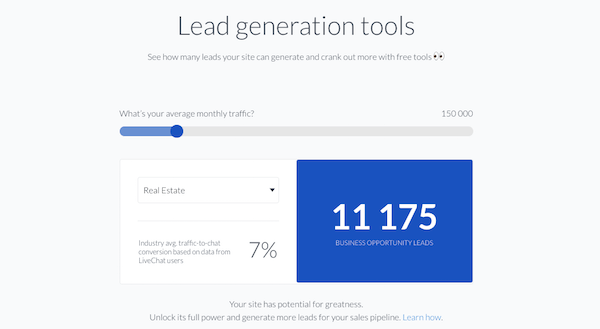 In this article you'll find a couple of real estate lead generation tactics, that will help you get more leads the 2018 way. Dive in and learn about:
Create landing pages that convert
The goal of most lead generation techniques you'll find in the article is to drive traffic to the website. The traffic itself though, won't guarantee you the leads you expect.
You have to make sure that user lands on a page that will completely satisfy him regarding what he expected when clicking on an ad or link. Then, what it's all about is creating landing pages that convert – usually it means convincing the user to leave his contact details to receive some content or a service.
Read more about the anatomy of the perfect landing page here.
Focus on mobile
Maybe that's an obvious one, but still worth mentioning if there's a chance to save even one entrepreneur from losing leads. It's official now: mobile has outclassed desktop. 57% of all web traffic comes from mobile devices, and I couldn't find a better argument for how important is to optimize your website to be mobile-friendly.
Make sure that you'll guarantee your mobile users a flawless experience with clean design and responsive clickables/forms.
Let your users find their perfect property with a comprehensive search
No one has the time nor wants to browse through hundreds of offers that don't interest him. It causes frustration, and frustration and sales are not best friends.
Provide your potential clients with the possibility to search through listings with filters: price range, address, room number and others you'll find suitable for your offer.
Here's an example of the apartment search and filters used by a real estate agency: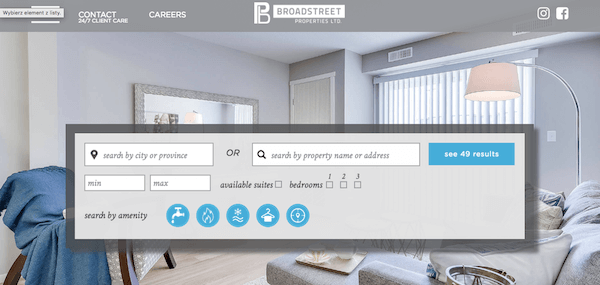 Drive the attention with powerful header and CTA
Real estate is an industry particularly related to emotions, and as a marketer, you should make use of it. Hold your visitors' attention with CTA and pictures that give some promise and build trust, like in this example: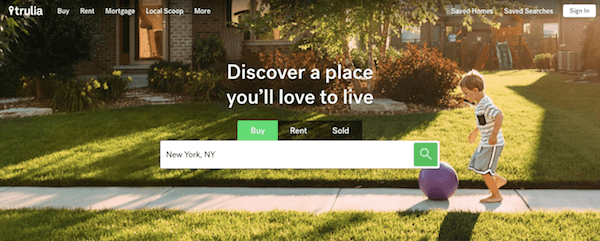 Give a real social proof
When it comes to sales-oriented landing pages, nothing builds trust as well as testimonials. Let your happy clients speak up and share their opinion about your company. You can do it many ways, from a regular text review, through video (highly recommended) to linking to some major real estate platforms (such as Zillow or Trulia).
You can also include testimonials into particular offers. Let the previous house owners say what they loved about the property and neighborhood to let your prospects get the place's atmosphere.
Try the urgency approach
Website visitors are mostly not willing to take actions. That's why techniques such as pop-ups work so well – they're almost forcing the user to engage one way or another.
To hurry him up, try the ultimate action trigger – the urgency. You can include it in the pop-up that presents some great offer that is available for a limited time period only, like in this example: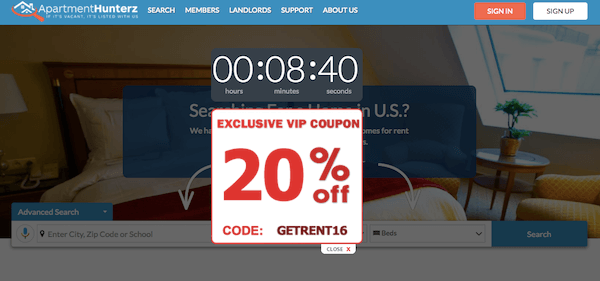 You're probably familiar with the power social media can give your business. Maybe you're running your company Facebook or Instagram profile. Unfortunately, there's a great chance that it doesn't bring you any new leads. There comes a question: how to get real estate leads with social media?
Facebook network
Join local Facebook groups – Here you'll find groups near to your location to choose from. Most greater city areas have groups dedicated to the community or ones connecting people who want to buy/sell/rent houses. Don't see any? Create it yourself and be its most active contributor. Not only post your offers but take some time to answer questions, give advice and simply just help people out.
Get traffic with paid ads – Facebook advertising platform lets you precisely target your audience based on demographics and lifestyle, and I suggest you use it. The research shows that Facebook Ads has no competition when it comes to social media marketing – it's used by 93% of social media advertisers. Facebook also owns Instagram advertisement so it can be another great channel to test your ad potential (only if you know that your audience is present there).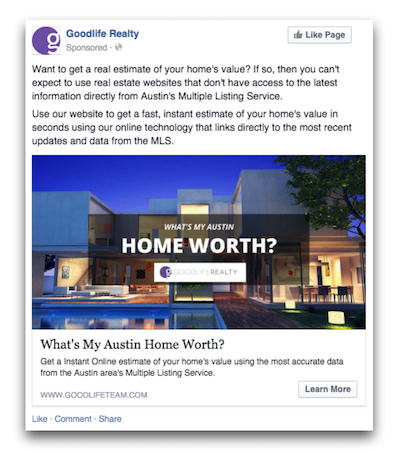 Quora activity
The title of the marketers' favorite portals goes to Quora with no doubt. No wonder, it has 190 million monthly users and over 200 million monthly unique visitors.
The site is organized into subsections, thematically grouping topics and discussions that interest particular users. For example, Real Estate feed has 409,6k followers and they all get notified about new posts in this section.
What's even greater, Quora discussions also rank as results in Google search. How to use this channel for real estate lead generation? I won't fool you, Quora is full of marketers promoting their brand and looking for new deals within discussions.
To stand out, you need to engage in the community and provide helpful and comprehensive answers. Quality content will give you upvotes and many upvotes guarantee you visibility at the top of the discussion. Don't forget to smuggle a couple of useful links into it, to help users deepen their knowledge about the topic and drive them directly to your website.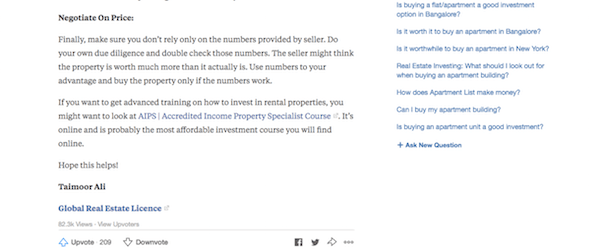 Content marketing as a real estate lead generation tool
Let me compile two numbers to show you that content is worth investing in.
39% of homebuyers are doing it for the first time and 90% of them use the internet to find information while hunting for a house.
For most people buying a property is a real milestone. It's a serious decision and even more serious expense, so it's always preceded by the long research.
Your prospect will eventually start looking for a property itself, but before it happens, he'll spend weeks on browsing the articles, vlogs, and guides on finding the right neighborhood, agent, and property.
Wouldn't it be perfect if they could get to know you at that stage? Giving them comprehensive answers to questions that bug them builds trust. It will also make you stand as an expert in their eyes and you can be almost sure that your company will be at top of their minds when they eventually start looking for a purchase.
Think about who your leads actually are (different content will please home sellers and home buyers, for example) and prepare marketing personas that will be your north star when developing the content strategy for your business.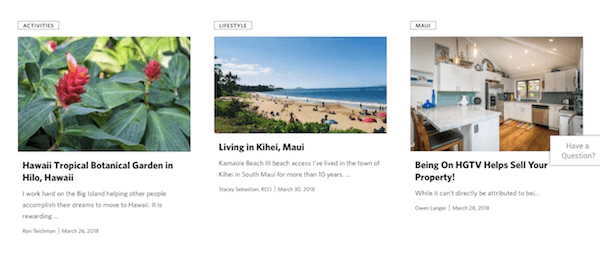 And don't forget, even the best content strategy won't bring you any leads if you don't take proper care of the promotion. Write your posts with good SEO practices in mind and spend some time on building backlinks as it's the best way to rank top in the search.
Examples of content that works in real estate:
Blog posts (How to pack for a moving?)
Videos
Infographics
E-books
Checklists (10 things to pay attention to while signing an ownership)
Guest posts (on community pages, Medium, etc.)
Tools
Let me hold for a minute with the last one. If content is king amongst lead generation practices, free tools are the queen of content marketing. They can drive you an unbelievable amount of traffic and not so many companies are doing it yet. Think about what customer's problem can be solved with a simple tool and invest in it a bit to make your website more useful and attractive.
Like this real estate agency did: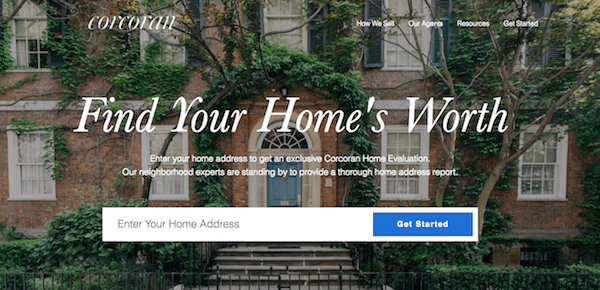 Gate your premium content
How creating content can directly translate into real estate leads? Offer your visitors premium content within your regular posts that will give some additional value to your post.
You can also encourage users with a catchy Call-to-Action, or even a pop-up with the contact form. They'll be able to download your content right to their drive after submitting their contact details. Doing that, they'll land in your CRM, letting you start the personalized campaign.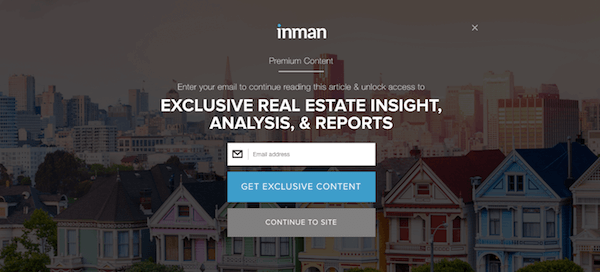 A couple of content types you can serve as premium:
Ebook that covers the topic more comprehensively
Kit
Infographic
PDF version of the post
Checklist
Make your prospects not forget you with email marketing
By offering a newsletter to sign up for or a premium content to download, you're systematically building your email database. Use tools for marketing automation (like MailChimp or Autopilot) and do the basic customer segmentation based on the actions they've taken.
These two cases have a completely different context and will require two separate email journeys, fitted to users' needs.
Here's a piece where you can read more about email marketing and how to start using it as an effective real estate lead generation tool.
Live chat software for both support and lead generation
There's a couple of secret stats from LiveChat's CRM I'll share with you. Only with our software (and there are some other great live chat tools out there) realtors held 1,733,823 chats with customers in 2017 in total. What does this mean for you? Live chat is becoming an important player when it comes to real estate lead generation.
You can get more details about live chat statistics in real estate using our Benchmark tool.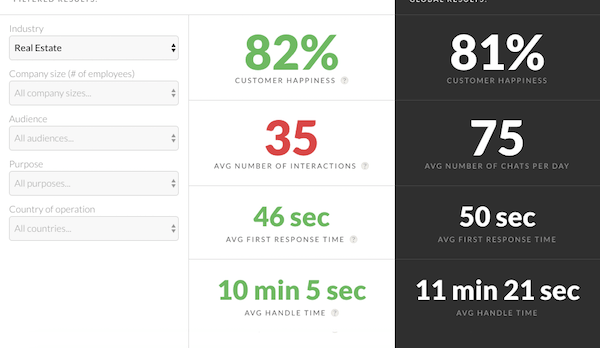 What's more, I asked Sean Cotter from The Chat Shop – a lead generation company that helps companies with customer service outsource – for some juicy data about how live chat works for their customers from real estate. What did I receive?
Average ROI for managed property and real estate is 1013% and even 23% of chat interactions converted into qualified leads. (With LiveChat realtors managed to unify even 12 marketing activities, such as organic, referral, paid, direct, email, affiliate, social, valuation calculators and forms, video and AR/VR.)
Here's an observation on live chat as a real estate lead generation tool Sean shared with me:
When we're in those initial conversations with real estate professionals, we're discussing live chat as a valuable lead generation tool. What marketing professionals in the industry are often wowed by, though, are the opportunities for a live chat to unify their existing marketing activities. We can reach out to those hard-earned visitors from organic and paid search or talk them through awesome tools like AR decorating to make a conversion that much easier.
You can start a conversation with your website visitors with a chat window opening after they spend some time on your website, like here: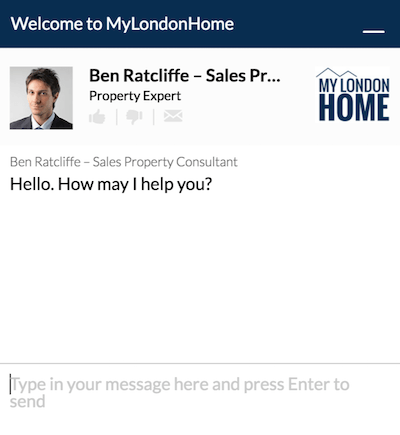 Or make sure this contact opportunity won't be missed with a big pop-up window: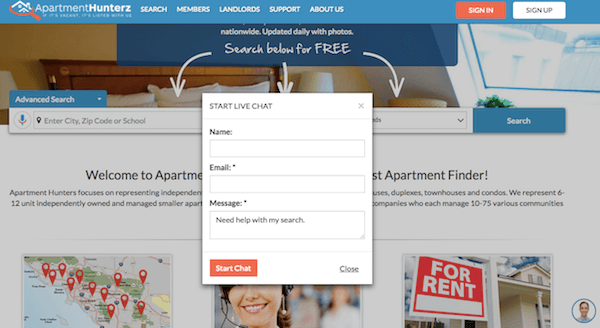 You can also place a customizable survey before each chat where you'll be asking for a name and contact details, et voila! You get another lead in your CRM.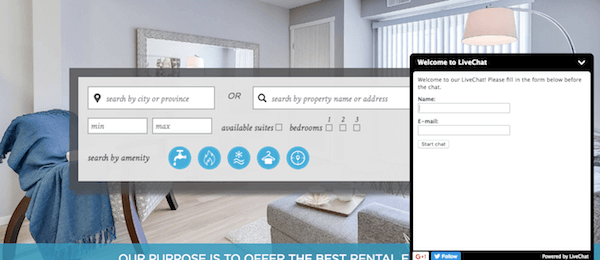 And if you're currently not available to answer your customers' questions, you can ask them to leave their contacts so you could contact them the next day. The result is the same, meaning that have another lead in your CRM.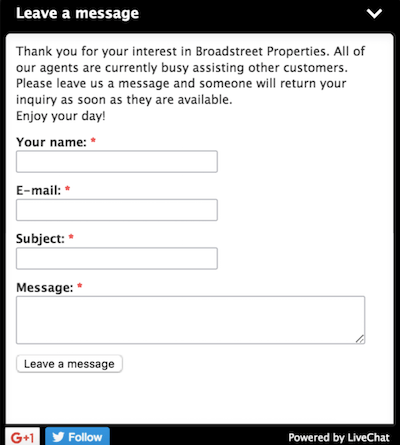 If this lead generation method speaks to you, give it a try and sign up for a free trial (and have some of our special 10% discount).
And don't lose your hope if you are not able to spend enough time on chatting with your prospects on your website. Some time ago I created a short list of some trusted companies, which would be thrilled to help you with your live chat support, as well as other lead generation activities.
Partner up to get new real estate leads
Partnering up with companies that have a similar target group as your business (or even your competitors) can bring you a whole bunch of new leads you usually wouldn't reach.
Do the research and think what companies have an offer that could be complemented by your services. Or what do your potential customers browse, read, and listen to. And maybe there's another real estate agency out there that you can partner with and promote each other's offer for mutual profit?
Just a couple ideas where to start looking for possible partners:
Other real estate companies in your area
Mortgage brokers
Homebuilders
Investment advisors
City/neighborhood promotion office
Local cultural supporters
Local media
When done right, all of the methods above can bring you a massive amount of leads. But even them won't work if you act blindly. In the end, here's one advice Joy from Adams Cameron would give to all of real estate marketers I think you should have in mind:
Plan in advance. Budget your expectations and track thoroughly.
Do you have any other tips and techniques that worked well for you in real estate lead generation? Please share them with me in the comments!