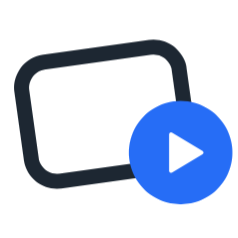 Uscreen.tv
Chat with your Uscreen.tv visitors and sell videos using real-time conversations.
Reach out to visitors proactively and educate them about your offers. Thanks to our Uscreen.tv integration, you can solve customer problems in real time and on the go. Provide seamless customer experience and boost conversion sales.
Uscreen.tv is an online video distribution platform that helps you earn on selling videos online. The solution enables you to sell online courses, guides or tutorials. You can set up your own video distribution website without any coding experience thanks to a simple drag and drop editor. Benefit from simple customization and match your site to your brand's style.
What's more, the platform lets you track the performance of your students and gather feedback from them. Uscreen.tv also comes with complete sales analytics and reports, built-in payments and lets you accept multiple credit cards.
Key Features
Automated greetings
LiveChat can detect when visitors take certain actions on your website and issue chat invitations based on these actions. For example, you can send a personalized invitation to a visitor who has seen several of your help pages or contact a person who visited you for the first time.
Sales goals
With LiveChat, you can also monitor the conversations' impact on specific events on your website. Check how many of your chats resulted in your visitor buying your video.
Mobile apps
Like the best friend, LiveChat never leaves customers in need. Thanks to mobile apps, you can travel around the world and serve your clients without hindrance. Jump between different devices and use application shortcuts to provide service faster than ever before.
An intuitive chat widnow
LiveChat use is dead-easy. The chat window is very intuitive so visitors won't have problems with reaching you. By applying our app, you will also facilitate work of your agents. They don't have to go through any specialized training. Everybody can perfectly master LiveChat use on his own.
Post-chat surveys
Thanks to post-chat surveys, you can easily gather feedback from visitors. Use this knowledge to polish your products, modify your services and boost sales.
Benefits
Engage your visitors pro-actively and collect feedback
With automated greetings, you can actively reach out to customers, engaging the conversations or asking for their feedback.
Build your brand through outstanding customer service
Use real conversations to build brand's awareness and to provide superior support for your customers.
Answer questions and solve problems quickly
Your visitors don't want to wait for an answer. They need information right away. Provide them with data right when they're browsing your website.
Ratings & Reviews
How would you rate this app?
Tutorial & Support
To get help and support
contact LiveChat
. You can also suggest improvements or request new features in the upcoming versions of Uscreen.tv.