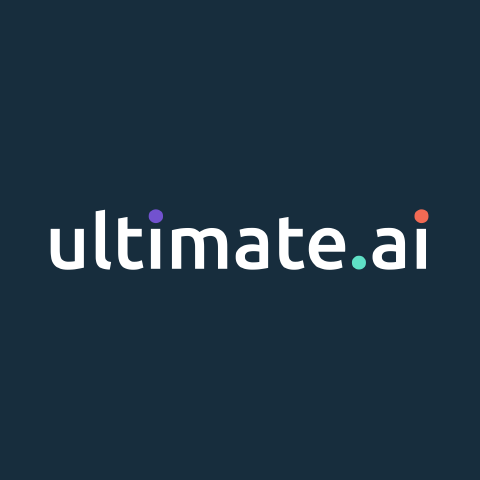 Ultimate.ai App
Multilingual case automation and response suggestions for LiveChat.
Ultimate.ai guides your agents with real-time answer suggestions in Live Chat and automates repetitive cases and actions completely. Join leading businesses in instantly delivering exceptional customer experiences at scale.
Suggest Answers Ultimate.ai learns from your historical chat data to provide answer suggestions for your agents in real time. Instantly boost agent productivity in Live Chat; reduce average handling times (AHT) by over 30% and scale number of agent conversations per hour by over 25%.
Automate Chats Provide multilingual, 24/7 support for your most repetitive cases and actions. Automate processes entirely with powerful integrations to the backend systems needed to resolve the case.Achieve over 30% case deflection and free your agents to focus on more complex tickets, with seamless handovers from AI to agent.
NLP Analytics Get real time analytics on what customers are asking with Ultimate.ai Dashboard. Track AI and agent performance, identify case trends and give your admins x-ray vision to tackle problems at the source before they impact more customers.
Key Features
Automate repetitive cases and actions entirely
Be there for your customers, anywhere, anytime. Our simple to use tools help you automate up to 80% of inquiries, eliminate manual work and streamline processes for your agents. All in over 100+ languages.
Guide your agents through complex cases
Suggest responses for your LiveChat agents in real time. Resolve cases faster and give higher quality support. Let your agents train your AI as they work, with each selection improving the accuracy of your automated and suggested responses.
Reduce average handle times (AHTs) by over 30%
Scale number of agent cases per hour by over 25%
Improve CX with more on-brand answers and happier agents
AI keeps learning to grow your automation level
Be agile with actionable customer service analytics
Use real-time insights into key customer inquiries and topic trends to improve your automation level, your customer experience and your business. Get analytics directly in your LiveChat platform and your ultimate.ai Dashboard.
Track AI and agent performance in real time
Identify case volumes and trends
Give your admins x-ray vision to tackle problems at the source, before they impact more customers
Benefits
Delightful experiences = happy, loyal customers.
Faster responses with improved resolutions.
Personalised self-service interactions.
24/7 multilingual customer support.
Unified automated experience across omnichannel.
Ratings & Reviews
How would you rate this app?
Tutorial & Support
Contact
to get help and support. You can also suggest improvements or request new features in the upcoming versions of Ultimate.ai App.