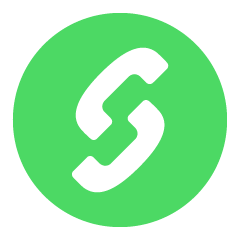 SnapCall
SnapCall allows your team to call customers right inside the chat and earn $1 per call..

Snapcall is the first calling solution for LiveChat users who want to accelerate their online sales and make the difference delivering an extraordinary customer experience.
The integration enables your team to start a voice conversation with the customer right inside the chat widget, without the customer needing to relocate to a different page or explain their situation to another agent all over again.
Calls are fully digital, no phone number or any additional equipment is required. No need to install anything. Calls are free for customers worldwide.
While using SnapCall, your team has full control of who and when is provided with the possibility to have a voice interaction. You'd like to help your customer go through a more complicated setup on a call? Jumping on a call would help you convince the customer and sign a deal? You decide when the voice can help you and enhance the experience for the customer.
Key Features
Effortless integration
Just a click to install the SnapCall app and start offering calls directly from the chat widget. Nothing to install for your team and customers.
Easily switch from chat to a voice conversation
Offer your team to call customers directly inside the chat conversation with just one click. Nothing to install, no additional equipment required.Voice helps you solve complex queries, boost sales and create a stronger relationship with your customers.
Fully digital and free
Launching a call from the chat widget is completely digital. This means you don't need any phone number to be able to offer voice interaction to your customers. Calls are completely free of charge for the customer, anywhere in the world.
Ensure continuity in the customer journey
With SnapCall, you make it easy for your agent to effortlessly switch from chat to a voice conversation with his on going customer. In case you get disconnected, it's easy to get back on a call with just one click.
Full power in your hands
Your team decides who and when are provided with the voice channel possibility. It's easy to offer voice to your most valuable customers only.
Get immediate customer feedback
Customers are able to rate their voice interaction with the agent at the end of the call. Easy way to get valuable feedback.
Statistics dashboard
Easily track and analyze the most valuable data on how your team is using SnapCall (location, start time, call duration, agent activity KPIs).
Provide voice support directly from the chat widget
Effortless chat to call escalation in customer support cases where voice interaction could improve time resolution or provide more personal experience.
Improve sales conversion rate with voice
Offer your team to call customers in situations where voice interaction could positively impact the deal or help create a relationship that would motivate the customer to buy again.
Benefits
For your company
Boost sales conversions and customer satisfaction (NPS)
Take the full control of when to offer voice to your customers
Benefit from the unlimited calls offer – no telco costs, no maintenance expenses
For your customers
Exclusive customer experience
Most queries solved right away by the same agent, all within LiveChat (FCR)
Completely free voice conversations for international customers
For your team
Employ voice to boost efficiency where needed
Make it easier to provide great customer experience & overachieve KPIs (AHT/FCR)
Improve employee satisfaction (eNPS)
Tutorial & Support
Contact
to get help and support. You can also suggest improvements or request new features in the upcoming versions of SnapCall.