Surprised with the numbers? The real question is how to turn these opportunities into leads.
Some of the lead generation marketing strategies will be easier to implement, and some will need putting more effort, time and know-how.
There are different ways of handling lead generation activities. You may keep your whole marketing in-house and use your own team's resources. You can also hire a lead generation company that will help you drive traffic to your website and gain some qualified leads.
No matter what solution will you choose, there's a particular idea behind all the best lead generation tactics. To understand it you'll need to take a moment and try stepping into the regular customer's shoes.
How to generate leads?
For many years customers were bombed with old school marketing activities—tv and press ads, cold calls and billboards. Overwhelmed by the amount of selling messages, they started to ignore them.
The process of selling and buying has changed, and there's no going back. The customer prefers to find the service or a product on his own. Pushing him to buy something would instead turn him off.
How do you attract and convert strangers into leads? You need to provide them with enough helpful goodies they need. Try wondering what your potential customers' questions are and how your company can help them get the answers.
Use the empathy to find the pains and desires of your potential customer. Let your marketing and sales team analyze the profile of your customers. Then create a marketing persona – a generalized representation of your dream customer.
A deep understanding of your business personas is critical for developing a right content strategy tailored to your audience. Giving your customers answers to their questions, you'll make them initiate the contact by themselves. It's much more natural way to start a deep relationship with a chance to convert.
Try answering these questions for a good understanding of your customers' situation.
What problems are they facing?
Are they aware of the solutions?
Where do they look for the information?
What are their goals? What will please them?
What are their fears? What will push them away?
Answer those to put yourself on the right track to create the content that will attract the visitors to your website. And make them want to stay in touch with your company for a bit longer.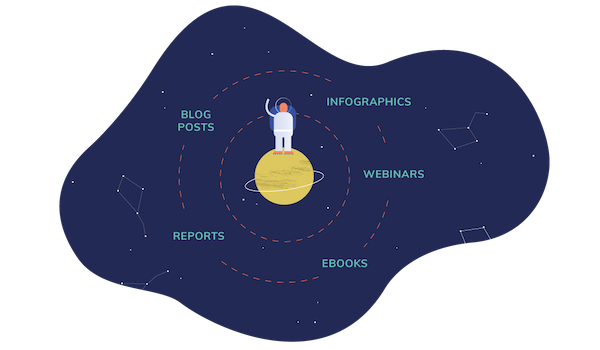 There are many examples of content that companies use to drive traffic to their website. Some of them are interesting blog posts, white papers, ebooks, infographics, webinars and reports.
In exchange for the valuable content, use Call-to-Action and contact forms to ask your visitors to leave their email address. If they consider the piece of content worth it, they'll be happy to do it.
What's in it for you? His contacts land in your CRM and he's ready to join your marketing conversion funnel. For the next weeks, you'll nurture him with more useful content and warm him up on the path to eventually buying.
Investing in the valuable content will always pay off – with a good promotion strategy your potential customers will find them and take an interest in your company on their own.
Generating answers and solutions that solve their problems, you bring them closer to become your leads. Fueling them you fuel yourself.
What Are the Popular Lead Generation Tactics?
I'm sure that the general concept behind the lead generation is clear now. Now, before you plan your activities, you have to answer two questions carefully. Who are your users? Which marketing activities will attract them to your website and make them want more?
Only with that knowledge you'll be able to plan your activities on proper channels.
Here's a couple of lead generation tactics that will help you drive the traffic to your website and get lots of valuable leads: