Showing top

0

results

0

results found
Showing top

0

results

0

results found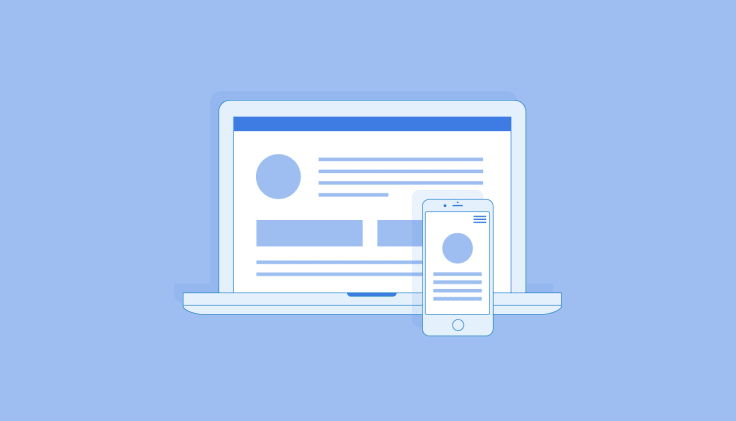 Have you ever viewed a website on your mobile phone and thought, "Uh. This looks horrible," before exiting it immediately?
When we stumble on websites that don't look "right", it's usually because the owners haven't implemented something called responsive design. In other words, the site might look great on your desktop, but it looks positively horrendous on mobile devices.
This is why it's extremely important for your online ecommerce store to have responsive website site design.
Need more convincing?
Well, that's what we're going to do in this article – thoroughly explain what responsive design is and why your business needs it.
What Is Responsive Design?
Picture the scene for a moment: You've just walked into a new store in your area.
But it doesn't look like any kind of store you've ever visited before. The lights are off, there are no items on display, and a janitor with a croaky voice has just asked if you can help him.
What kind of store is this? You're not sure, but you're also not going to hang around to find out. You leave immediately. Your experience was awful because the store didn't respond to the way you prefer to shop!
Without a responsive design, an ecommerce store can trigger a similar flight or fight response in the customer: They're either going to hang around to see if things improve and if they can find what they want, or they're going to exit straight away and find somewhere else instead. A location that they can trust.
Responsive design is web design that responds to the user's environment (for example, a mobile phone) and their behavior, and it's generally based on three things:
Orientation
Platform
Screen Size
To make sure their web design is responsive, people who run ecommerce stores ensure that their layouts, grids and images fit the criteria required by a specific platform so that their website is viewable.
If the layouts, grids and images don't fit the criteria, the website could end up with text that runs off the screen, and images that are randomly scattered about the place. It all looks a bit avant–garde and super off–putting to customers who just want to do a bit of shopping – as opposed to working out a puzzle. Like this:
Not good.
As opposed to this, a responsive ecommerce site:
To have a responsive design, the website needs to use the right technology that automatically responds to the device that a user is using. This is an important point, because if the website doesn't respond automatically, it means that you'll have to tweak it manually for each platform.
Web design that automatically adjusts means there is no need for a variety of custom–made solutions that take up time and money to create. Instead, there is a viewable, easy–to–read website that looks great on all platforms. Just like we want!
Why Do You Need Responsive ecommerce Website Design?
In this article, HubSpot point out a whopping seventeen things that people hate about websites.
Implementing responsive design can easily clear many of them up. Better presentation, faster load speed, better navigation, and better–sized images can all be sorted out with just a few clicks.
Responsive design is key to the success of your ecommerce venture. Without it, visitors might get the impression that you don't know what you're doing.
You have to picture yourself as your customer, to get an understanding of what is expected from your ecommerce store.
Remember that, you are a customer, too! Have you ever visited an ecommerce store only to find that it took too long to load? Wasn't it annoying? You're not alone. We've all visited slow–loading ecommerce stores and clicked back as a result. This is why you have to ensure your website is different.
And according to Kissmetrics, page loading time is a bigger concern to your customers than anything else – including the way your site looks.
Almost 47% of online shoppers expect your web page to have loaded before 2 seconds are up, while over 50% say that quick loading page is key to customer loyalty. This can affect your bounce rate, conversion rate, and – most importantly – your sales.
Presentation is key, too. If your store looks like an unmade bed, it's hardly going to convince a customer that you're an amazing brand they can trust and build a relationship with.
Mobile ecommerce is taking charge
The main reason why responsive design has come into such sharp focus in recent times is due to the rise of mobile phone usage. More and more people are using their phones to access eCommerce stores than ever before, and yet still there are businesses that haven't optimized their websites for mobiles.
As an ecommerce store owner, you'll need to get used to statistics. Such as these from Smart Insights:
Across the planet, from America to Indonesia, mobile is dominating when it comes to how we access ecommerce stores.
In terms of total digital minutes by American's, mobile is expected to gobble up 71% in 2017.
This means that unless you optimize your ecommerce store for mobile devices by using a responsive design, you could find yourself losing out to rivals who are one step ahead of you.
No more should you be asking yourself the question, "is mobile important?" Instead, you should be asking, "What can I do about it?"
Start using responsive web design so that those 1.08 billion smartphone users are able to access and navigate your online store without a hitch in 2017 … and the expected 6 billion in 2020.
Responsive design increases conversion rates
With higher conversion rates, you get more customers. You also boost profits and strengthen your business. This is why we all want to find ways of converting more customers. There is one way that's right beneath your nose that's easy to get to grips with – having a responsive website.
In this article, eConsultancy points out 14 brands that boosted their conversion rates via responsive design.
State Farm boosted their conversion rate by 54% across all devices after going responsive. FreshSparks, meanwhile, boosted revenue growth by 42%.
We've searched and searched, but can't find any examples where conversion rates have dropped after a website's gone responsive. Probably because it just doesn't happen.
Responsive design increases search engine rankings
Responsive design also boosts search engine rankings, with Google doing a lot to convince website owners to roll out a mobile–friendly website.
Moreover, we search for websites on our phones more than we do on our computers these days.
It's no secret in the marketing world that Google suggests responsive web design as a way to drive traffic from mobile users. Google also loves mobile–optimized sites when it comes to presenting the search results we make on our phones.
There are a few reasons why responsive design increases search engine rankings. For one thing, if you don't focus on your mobile site, it could end up with a high bounce rate, which can also affect overall user experience and Google doesn't like this. Similarly, if your website isn't mobile–friendly, people will be less likely to share it, which can also hurt its rankings.
Lastly, when you go responsive, your mobile and desktop sites share the same URL, which makes it easier for Google to index and crawl.
How you can get responsive design in ecommerce
Unless you're a coder, building a responsive website design from scratch is a non–starter.
So what do you do?
It's actually really easy to make your website responsive in 2017, and you don't need to be a technical whizz kid.
Whatever platform you choose to build your ecommerce store with, it should be hassle–free, while also allowing you to manage every aspect of your business. Some platforms even provide tools that are super easy–to–use and stunning themes that help you bring the vision you have for your business to life.
Hopefully you can now see how important relevant responsive design is in ecommerce (the screenshot likely won you over). All you have to do now is make your online ecommerce store responsive and watch your SEO rankings and conversion rates soar. Happy selling!