Showing top

0

results

0

results found
Showing top

0

results

0

results found
7 min read
Nov 6, 2018
Running a successful online business is never an easy task. Whether a business will succeed or not depends on numerous factors, some of which aren't even in your control. Luckily, this means that there are factors that you can control and it means that choosing the best e-commerce platform is up to you.
Attracting visitors and turning them into customers is one of the biggest challenges for e-commerce businesses, and one of the best ways to do it is to give your potential customers a quick and easy route to whatever it is that they need. Hence the importance of e-commerce platform that you pick out.
The choice of a particular platform isn't always an easy one and it comes with some serious implications – from the potential profit and sales increase, across maintenance cost, all the way to your customers' needs being fulfilled. Fortunately, you don't have to go through all of it by yourself.
Here are some of the best e-commerce platforms that we'll cover:
The comparison will cover the platforms':
Ease of use
Templates and design
Plugins, Apps, and add-ons
Popularity
Ease of use
When it comes to features, all platforms have basic or crucial e-commerce features that are the main part and the minimum of requirements for any online store, and these include features like product/order management and multiple payment gateways, to name a few. Otherwise, they wouldn't even be on the list. However, it's not all about the basics and it's not even all about the features if you can't use them properly.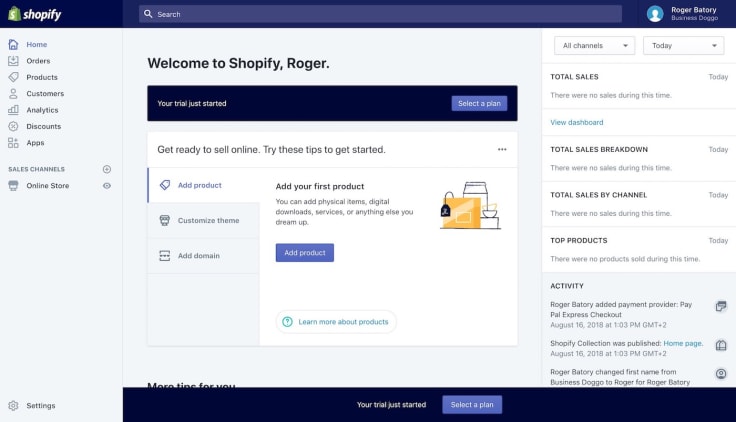 It's all about details and about specific features that come with a certain platform. One platform will have a feature that the other doesn't have and vice versa. But that doesn't make the platform necessarily better. It all depends on whether you need the feature or not.
For example, you might find that Woocommerce, depending on the theme you choose, isn't the most mobile-friendly platform. On the other hand, it gives you an almost limitless choice of themes, free or paid, so you can probably bypass this obstacle by choosing the best theme.
Furthermore, Shopify provides you with one of the best experience when it comes to adding your products, but Volusion does the job just as fine. It might not be as good-looking as Shopify, but it might be enough if Volusion can offer you something that you can't find with Shopify.
As for Bigcommerce, adding products is almost as clean as with Shopify, but you don't just get all the info on one screen. You get multiple tabs for each characteristic of the product. While some might find this convenient and practical, others will see it as unnecessarily complicated, but once again, it all comes down to what you are looking for.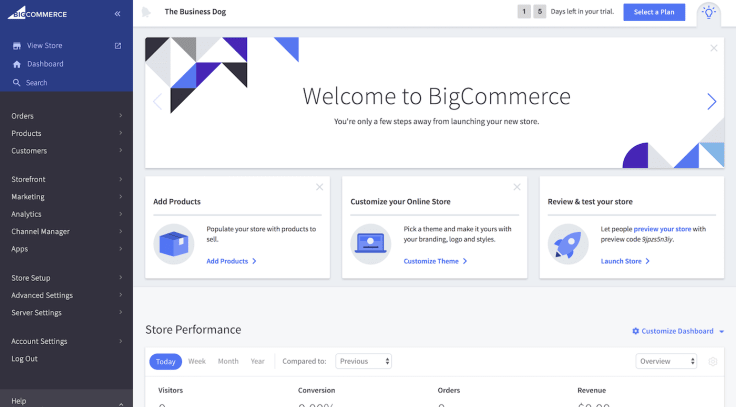 In my book, Shopify wins this round, as in general, it has all the features that you can possibly ask for and it's easy to use even if it's your first time.
Templates and design
The design is what truly makes or breaks your business. It can either attract a sea of customers or fend off even the most tenacious shopper. Everything matters when it comes to design – from the pure amount of templates you can choose from to the overall looks of the templates you are offered. We even take into account the ability to customize and adjust the final outcome to your liking.
Let's start with the previous round winner – Shopify. Shopify offers you more than 100 of designs that are fit for all types of businesses and most of them are really cool and have a truly modern vibe. On top of that, you can customize a bit, which is great. However, there is just a handful of free templates to choose from, so if you are on a limited budget, this might not be the best option.
The same goes for Bigcommerce, although you get even fewer free templates and some of the paid ones are really expensive. You can customize them, probably a bit more than on Shopify, but that's probably the only plus side.
Volusion has more free themes than both Shopify and Bigcommerce, but in general, it has a lot less to choose from. On top of that, serious customization is not really an option, even though the templates actually look pretty good.
Woocommerce also has its pros and cons. Since it is basically a WordPress plugin, you get to keep your current theme, assuming that you already have a working WordPress website. You might encounter some difficulties and in more extreme cases you might even be forced to change the theme. It can turn into quite a struggle.
Verdict – it's a tie between Shopify and Woocommerce.
Plugins, Apps, and add-ons
The sheer amount of apps and add-ons offered by Shopify and Bigcommerce might blow your mind, as there are literally hundreds of them. All the apps and add-ons are extremely easy to find as you can search and add filters to your search for the best results. They are also simple to implement, which is awesome since there are platforms out there that make finding and implementing what you need really hard.
As for Woocommerce, they don't really have add-ons per se. Rather than that, Woocommerce uses plugins or extensions that you can implement and thus enhance your sale and further extend the core Woocommerce plug-in. As with Shopify and Bigcommerce, you get hundreds of extensions to choose from but the basic premise is a bit different. It is really convenient once you get used to it, so Woocommerce might be our favorite on this one.
Popularity
Even though popular isn't always better, when it comes to selling stuff it's safe to assume that you would much rather advertise a product on a popular website than on some hillbilly's conspiracy-theory-themed page with one regular visitor. The same applies to e-commerce platforms.
If Google Trends is going to have a say in this, then it becomes clear that the popularity contest is not a narrow one, as Shopify takes the first place by a landslide. It's roughly 7 times more popular than Volusion and Bigcommerce and a bit more popular than Woocommerce. Like that's not enough, Bigcommerce and Volusion have a direct customer migration towards Shopify, which means that people simply prefer Shopify to these two.
Once again, Shopify simply swoops in and takes the victory.
All in all, a choice of platform is yours to make. However, this is only a small step in making your customers happy and their shopping a fun experience. The full potential of e-commerce platforms can only be unlocked by hard work, constant analysis, and continuous testing. If you are unsure if you can do it all alone, seek out a digital agency skilled in e-commerce setup, scaling, and growth.
Nevertheless, if you insist on doing it on your own, here are:
A few UX guidelines on how to get consumers to buy on your website
If there is something that will deter a potential buyer from your website, then it's waiting for the page to load. You can decrease loading time by choosing a responsive design on your e-commerce platform, by compressing images or even by tinkering with the code.
Since nobody wants to spend the whole day searching for a product, make your product easy to find by dividing them into logical categories and subcategories. You can decrease the probability of your customer getting lost on your site by decreasing the number of resources you use, such as color and font style/size.
Images really stay in people's head, so if you want to be remembered in a positive way, use high-quality images which are both informative and pleasing to the eye.
Out of all extensions and plugins, one of the most important, but easily overlooked, is a chat tool. Virtual assistance is a convenient way of getting your customer on a right track and it can even help you close the sale when push comes to shove.
In the end, make the checkout process as painless as possible. Keep the whole process simple and clean, with natural shopping flow and a minimum number of steps needed to make a purchase. Make your customer happy and their shopping a positive experience.