Challenge:
Helping customers who expect answers within minutes.
Solution:
Discovering customer pain points and helping them using LiveChat.
Results:
10-20% revenue increase and many positive reviews.
It's hard to trust the advice you get from companies that make money on suggesting various products to users. After all, the more they recommend, the more they are able to sell.
Thankfully, we have companies like Prijsvergelijken.nl that place customers above affiliate revenue.
See how Prijsvergelijken.nl uses LiveChat to build trust among its customers and offer real, not sponsored, advice.
"The expectation for online consumers today is such that one expects support within minutes during an online purchase. Prijsvergelijken.nl uses LiveChat to give users a fast and free response."


— Edwin Jonker, CEO at Prijsvergelijken.nl
Subscribe to LiveChat channel to get the newest content.
Trustworthy product comparison tool
Prijsvergelijken.nl is an online comparison tool people can use to research alternatives for telecom services like television, mobile carries and Internet services. The company also provides a way to compare various housing-related services.
The company offers its services to a wide group of individual users, from the age of 16 to 80, and companies. And no matter who the company services, it "aims to help consumers and companies to find the best deals with these complex products used on a daily basis," said Edwin Jonker from Prijsvergelijken.nl.
Customers can use the service to discover differences between certain providers and ask about the details associated with transferring their accounts.
Sometimes, the differences can be very minimal and it can be hard for customers to make a decision. This is where Prijsvergelijken.nl comes in to make the decision easier.
Sometimes, it's in the best interest of the customer to not change providers. What's interesting, is the fact that Prijsvergelijken.nl doesn't shy from informing their customers about that. "We want people give the feeling that Prijsvergelijken.nl is not a machine but a website with people," said Jonker. "The policy is to provide the fairest possible advice. Sometimes that means not to move, which also produces no revenue," he added.
This loyal, customer-centric approach is what makes Prijsvergelijken.nl special on the market of product comparison tools and earns them the trust of their customers.
Offering personal customer service
Prijsvergelijken.nl decided to implement LiveChat to make quick help for customers possible. "The expectation for online consumers today is such that one expects support within minutes during an online purchase," said Jonker.
The company's LiveChat is handled by four agents. At one time, two agents are logged in to answer chats from customers.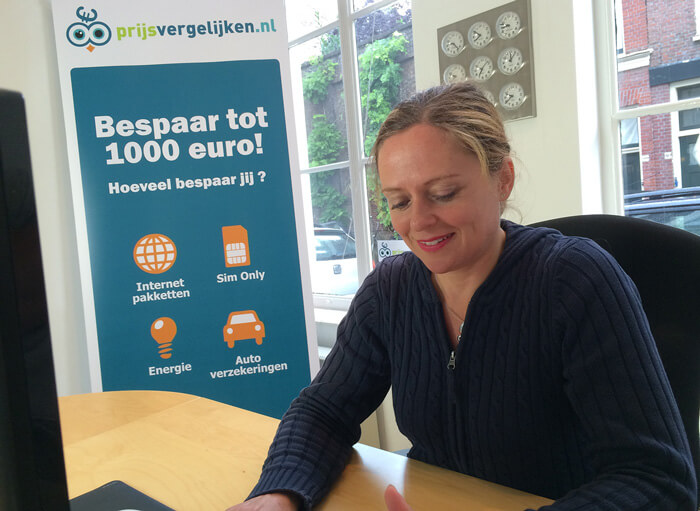 The company also uses LiveChat to gather customer feedback and learn more about customer needs. According to Jonker, LiveChat goes a step further than Google Analytics, which only tells where the customers leave the website. LiveChat goes beyond that and allows Prijsvergelijken.nl to learn why customers leave. Popular questions can be then answered either by making a design change or by adding additional information to the FAQ.
One additional perk LiveChat provides over phone is its accessibility. According to Jonker, "people are surprised that LiveChat is very easy to use, really everyone can easily use the chat." It also made it possible for some deaf clients to get the answers they need.
Results of the personal approach
Prijsvergelijken.nl managed to win their customers over with the personal service it offers through LiveChat. Customers who received product comparison advice leave a lot of positive reviews on Trustpilot, a service dedicated to company reviews.
According to Jonkers, LiveChat is a good investment for the company because "it helps to take away any customer doubts if they have any." This seems to be working out perfectly for the company as it has seen 10-20 percent more revenue after introducing LiveChat to their website.
In 2016, Prijsvergelijken.nl plans to have one additional online agents to answer even more chats from customers.