LiveChat updates
We like to stay fresh!

8 September 2022
Add Migam to your LiveChat app and let your Deaf and hard-of-hearing customers communicate with you in their preferred language. All your customers need is an internet connection and access to a camera and microphone, and they can sign right in the Chat Widget.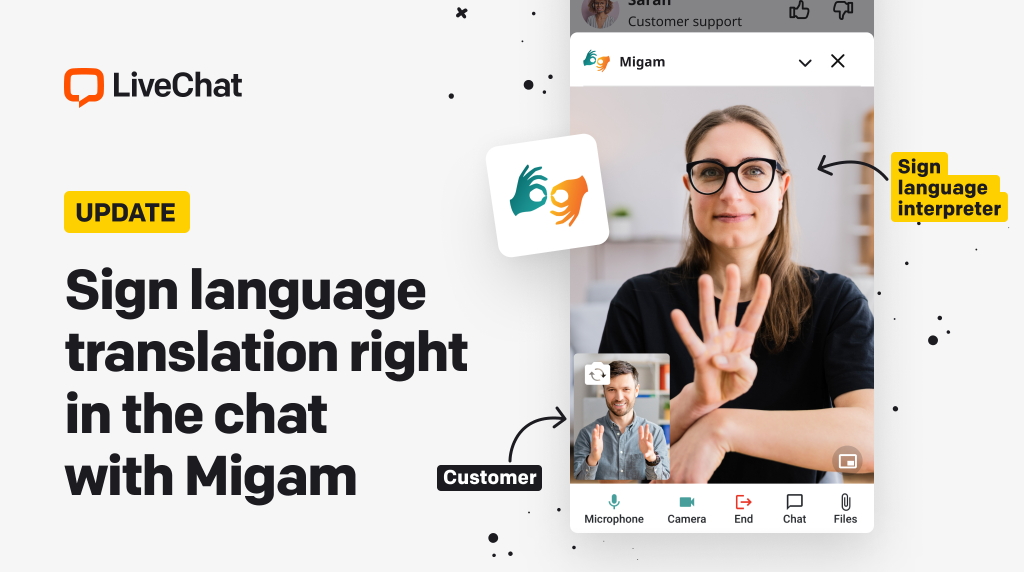 Increasing accessibility means expanding the reach of your products and services. This improves not just the number of chats, but also chat satisfaction. No one would intentionally make their customers jump through hoops to get in touch, and Migam helps you remove another hoop between you and your customers. This is just good business. Currently, Migam supports Polish and Ukrainian Sign languages. Key benefits:
Quick and easy installation, and no need for special software or equipment.
Communication in the langauge your customer is comfortable with.
Ease of use: customers can connect from any device with a camera, microphone, and internet access.
Professional interpreters, most of whom are CODA or SODA.
Fullfilment of legal obligations: publicly funded bodies are required to make their services accessible.
Available in the LiveChat Agent app for desktop and web browser, as well as LiveChat mobile.
Read more about
Migam+LiveChat
. Get the Migam integration from the
LiveChat Marketplace
.
Tell us what you think