Showing top

0

results

0

results found
Showing top

0

results

0

results found
The last decade has been defined by the customer becoming the center of nearly every business initiative. From becoming "friends" with customers via social media to getting inside their pockets via smartphone apps to offering customer support 24 x 7 x 365, businesses have pulled no stops at pleasing the customer in the race for market domination.
This intense customer focus has paid off for those who've gotten their customer experience just right. Research from American Express shows that 70% of customers are willing to pay a premium to do business with a company that offers great customer service. On the other hand, poor customer service can cost companies dear. Forbes Magazine reports that businesses are losing $75 billion per year due to poor customer service.
So we agree that extraordinary customer service is expected, and not exceptional anymore.
However, offering excellent customer service does not mean burning a huge hole in your pockets. Smart businesses can go all out for their customers without suffering a big dent in their balance sheets. Here are some frugal habits of companies that offer world class customer service.
Make Your Website Your Customer Service Hub
Let's say a customer has a problem with your product. They're seething. That's when they need an immediate, empathetic response.
And what do they get?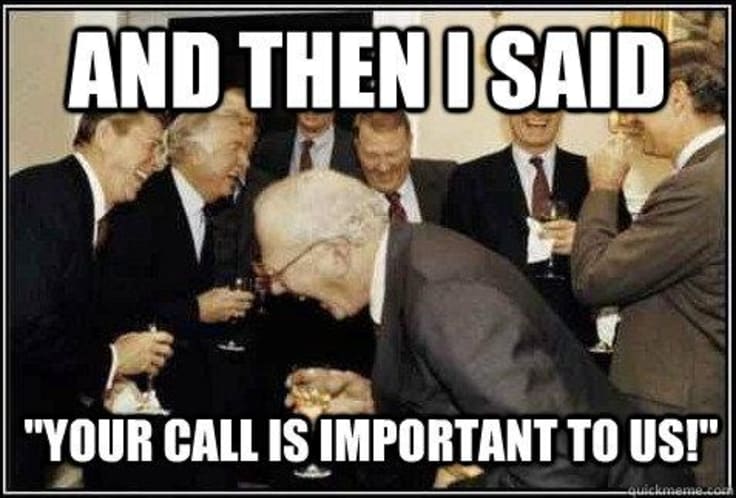 The best customer service is when the customer can help themselves. In an ideal scenario, they don't need to listen to a forty-minute flute solo.
Make it easy for your customers to:
Spot trouble.
Understand the cause.
Go straight to a page that describes the exact solution. Only the exact solution.
In addition to that, give them:
A chat window at the bottom of every page on the site (that doesn't irritatingly pop up and spit out its own version of "Your call is important to us."),
a support email address displayed prominently,
a dedicated helpdesk section on the site that prequalifies problems and resolves them with lightning speed and human words.
Here's an example: the world's favorite marketplace – Amazon – has perfected this customer support "workflow."
Although I don't remember the last time I needed help with an Amazon purchase, thanks to its carefully designed user flows and idiot-proof website architecture. However, for those of us that do stumble upon the rare hiccup on Amazon, there's help available at hand for every possible problem.
Besides quick links in the footer, Amazon has a dedicated "Help" page that has detailed answers to every kind of shopping-related question you might encounter. To make matters easier for users, they offer a built-in search engine where you can type in your problem and you'll get answers specifically for your query.
Amazon being Amazon, it's even launched its own browser extension called Amazon Assistant (not to be confused with Alexa) that helps users manage their orders quickly, compare products, get notified about deals on products they care about, and more.
Let Your Content Do All the Talking
Not many people make the connection to customer service when you talk to them about content marketing. Good content is not just a formidable marketing tool, it's also a great starting point for sorting out customers' problems with your product.
Content may be of many different types – blog posts, videos, white papers, case studies, and more. While each content type has its pros and cons, the simplest type of content to create (and consume!) is definitely the blog post.
What do your blog posts do? Do they spread your brand message? Are they a vehicle for sharing your personal insights and experiences? Are they written by industry professionals? Do they help you sell your products?
The beauty of blog posts is that they can be as flexible as you want them to be. For those who're still taking baby steps in blogging – just about half of the top 500 companies run blogs – wondering about the technical nitty gritty, here's a simple step-by-step guide to starting your very own blog.
Before you actually set out on your corporate blogging journey, you need to define the style and voice that will eventually set the tone for your brand voice. Ask yourself the following questions:
Will your blog be professional and technical or laid back and informal?
Are your customers looking for educational information or an interesting spin on ideas?
Will your content state an opinion on "controversial" topics or remain neutral?
Additionally, it may help to make a visual representation of the kind of language and framework that your content will embrace as well as steer away from, for a clearer, enduring projection of your brand voice.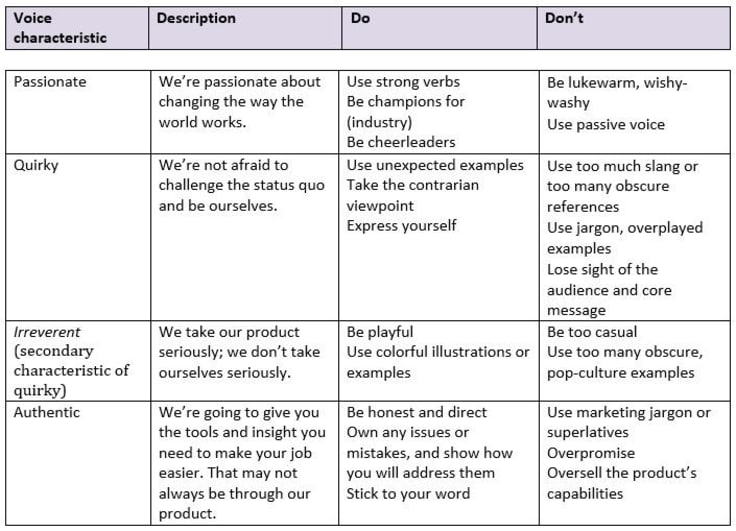 When it comes to the theme of your blog, you'd do well to focus on "3E" content. 3E content seeks to build your authority and thought leadership in your space via content that provides education, entertainment, or experience. By focusing on one or more of these classes, you'll be able to influence audience perception and build long-term brand recognition on the back of your content.
I love how survey management company SurveyMonkey offers users a combination of product news, tips and tricks, industry news, statistics, company culture, and employee news and more on its blog:
From answering questions that may be lurking in the back of a customer's mind to germinating new ideas that will help the customer's business, the blog straddles the gamut of all a corporate blog should be, with consummate ease.
Minimize Calls to Customer Service – Offer Alternatives
The contact center or call center is usually the most expensive cog in the customer service wheel for most companies. Call centers need to be manned by well-trained, friendly, and knowledgeable executives to satisfy and pacify customers.
However, such customer care executives come with a stiff price tag that few companies can afford. In a bid to control costs, many companies resort to hiring much fewer representatives than they really need. The result? Angry customers who are kept waiting for their turn on the customer service number, leading to a poor customer experience and potentially lost sales.
Why fall into such a trap? No one ever said that having a customer care number was a necessity to run a business! In fact, there are some very successful businesses that are thriving despite not having a call center that takes customer calls.
Email marketing leader MailChimp is one such example. MailChimp notoriously (famously?) doesn't have a customer care number. Instead, it takes a customer through a series of self-help steps to resolve their problems without human intervention as far as possible.
For customers who still have queries their exhaustive help section, MailChimp offers extremely responsive email support that offers replies within 24 hours. Paid customers of MailChimp get the option of live chat support from representatives with not just inside-out knowledge of the platform, but also a real sense of humor!
Plugins like LiveChat are a great option to eliminate the cost of voice-based customer care, without sacrificing real-time problem resolution capabilities.
Quality Over Speed
Blasphemy! "Never keep the customer waiting" is the mantra on which most customer service teams operate today. Customer service representatives are incentivized to close as many queries as possible in a day and the best performer is frequently judged based on their speed of customer service.
However, research paints a very different picture of customer expectations. Data from RightNow Technologies showed that customers who stopped doing business with a company due to poor customer service cited rude or inefficient staff as the biggest reason for their decision to discontinue their business. Long wait times did factor in, but speed of service was a distant second to the quality of service these customers were offered.
William J. McEwen, in his book Married To The Brand, shows that customers are more engaged and satisfied when they receive empathetic support from the support department versus quick service that fails to meet their standards.
While on the topic of indulgent customer service, I would be remiss to not mention customer service leader Zappos. Zappos customer services representatives are famous for not letting call timings or the need for speed get in the way of helping out a customer. In fact, a Zappos employee beat the company's own record for longest ever customer service call with a conversation that lasted 10 hours and 43 minutes!
You Scratch My Back, I Scratch Yours
In a world where competition can swallow your business whole if you're not looking, keeping your customer happy has to be priority #1. But keeping your customer happy does not always mean spending more than you can afford on customer service.
All it takes is a little bit of creativity (and a lot of inspiration) to offer your customer a fabulous experience that will have them coming back over and over again!