Showing top

0

results

0

results found
Showing top

0

results

0

results found
LiveChat for Managers: Integrations That Will Keep Support Work Organized in One Place
6 min read
Sep 23, 2019
Let's assume you plan on fixing a pipe on a roof. What would you do to make it a bearable experience and finish it quickly? Besides having good music in the background, you probably would start with taking all the tools with you up there.
You've climbed a ladder and you start on your job. But what if you need something else while you're there? To avoid going down and up again, you might need a friend who hands you all the right tools. Do you have them? Great, now you can focus on the actual work and, if all goes smoothly, you will finish before the third song ends.
Now, let's translate it to business and your main goal - providing amazing customer service. How can your agents avoid going up and down the ladder? That is: switching between the apps, handling communication on different channels or looking for information in all the wrong places? They need a friend as well. Luckily, they already have one and it's called LiveChat. It can hand your agents the tools they need to stay at the top of their performance. Isn't that what friends do?
Let's take a closer look at LiveChat integrations and how they can keep your support in one place.
CRM (Customer Relationship Management)
CRM is a system that allows you to gather and store information about your customers. If you're already using it, there's a good chance that your CRM is already connected to LiveChat. (Here you can see if the tools you are using integrate with LiveChat, check our Integrations page.)
By integrating LiveChat with a CRM you allow yourself to gather and store the information from all the customers that you have been chatting with. It can help you with sales, as you can see their previous purchases, or what they wanted to buy but wasn't available. For example with Salesforce, Hubspot CRM, Highrise, SugarCRM you can store customer information straight from the chat window.
Read more about the benefits of LiveChat and CRM integration.
Knowledge Base
Knowledge Base is a complex tool that allows building both an internal database for your agents and an external public help center for customers.
How can it help your agents and customers?
1. The internal widget - it lets you quickly access help articles in the sidebar in LiveChat.
Agents don't have to search the whole website in order to find answers customers are asking them. All the knowledge is at the fingertips, and there's no need to leave the app.
Knowledge Base has internal search, images support, quick 'add to reply' buttons and artificially intelligent articles' auto-suggestions. It's all to speed up agents' response time and avoid switching the tabs.
2. The public Help Center - by building this, you give your customers self-service materials so they can find answers themselves and spare your time.
Here you can read more about it.
Google Analytics
You can integrate with Google Analytics to know even more about how your customers interact with LiveChat on your site.
With this integration you will store data from LiveChat in your Google Analytics account, and you can track the impact of website chats on online sales, gather marketing data,
find out how many post-chat surveys were displayed or how many automated greetings you have sent. Based on the data, you can sum up your visitors' browsing habits and measure LiveChat conversation to have a detailed insight into how much you can earn thanks to chatting.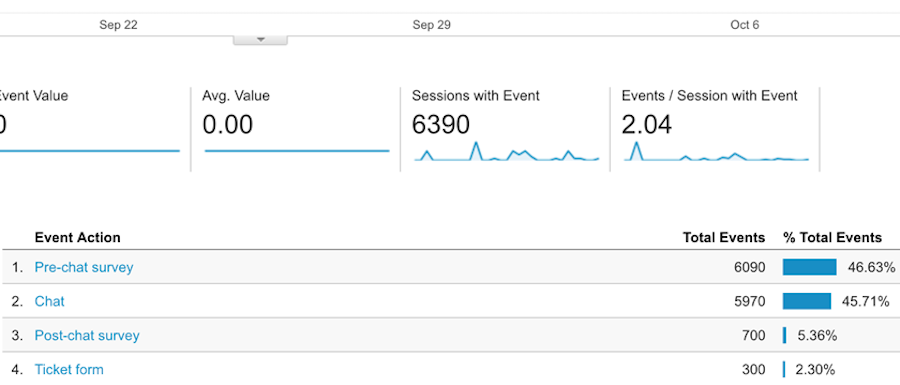 ChatBot
LiveChat also can be easily integrated with ChatBot. A chatbot can handle all the simple and monotonous cases, letting your agents focus on the most important issues. So, if you always wanted a customer service bot but were afraid of anything that comes with it, relax: ChatBot is LiveChat's another product, so you can be sure it's simple to use.
You or your agents can build your chatbot's scenario from scratch using an intuitive interface. We've prepared quick lessons in the Academy to teach you the core features while creating complete chatbot scenarios. What's important, ChatBot supports many key LiveChat features such as chat transfer to human agents when a customer asks for it, creating tickets when there's more complicated issues, tagging chats so you can later filter the cases that interest you, and they also follow goals - which is crucial if you follow up on your sales results from LiveChat.
Here's the example of using rich messages that come with ChatBot and LiveChat integration. They allow you to mix and match text, images, buttons and send responses that are more personal, engaging and intuitive than plain text.
https://www.youtube.com/watch?v=EvjGEXON2W0
Ecommerce integrations
Various ecommerce integrations can help you grow your sales. LiveChat supports a number of such integrations: Shopify, Magento, Bigcommece, Spark Pay, and more.
These integrations help to improve the flow between your support team and customers. By gathering data, you can also learn about your customers and offer more personalized deals. Here's an example.
With Shopify integration, you can use Product Cards. It's a great way to engage customers by sending them a personalized card with an image, a description, and a link to a product page in your store. It also allows you to stay on top of your support goals with LiveChat dashboard.
https://www.youtube.com/watch?v=FL53IQowcWM
All the metrics and customer information in LiveChat app allows to suggest the right products to customers, navigate them through products, or even offer them a few shipping based on their cart value.
Email marketing
By integrating with email providers you can grow your email marketing list straight from a chat. One way to do that is by asking customers whether they want to sign up for your newsletter when they start a chat. It will help you grow your email subscribers list faster.
When integrating with MailChimp or Campaign Monitor, visitors who access chat will get the chance to sign up for your newsletter just by ticking a box.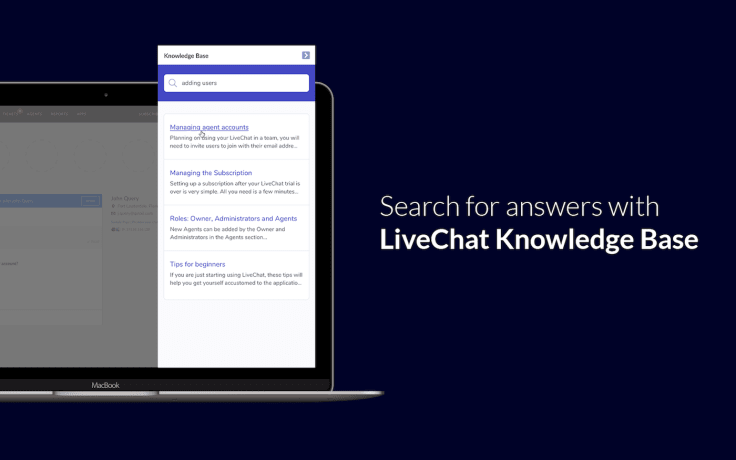 If LiveChat was a person...
It's impossible to mention all the useful integrations. At first, try those integrations that will help you keep everything in one place, making support smooth, and growing sales at the same time. If there's an app that can make the process easier for you, you probably want it in your life. You have a lot to choose from.
I think that if LiveChat was a person it would run around integrating with everyone. Especially with all the apps in our Marketplace, just to make sure your agents have all the tools they need to provide top-notch service. So, are you up for it?