Showing top

0

results

0

results found
Showing top

0

results

0

results found
Imagine yourself on a sandy beach, laying on the comfy sunbed, staring at the sea. You're reading a relaxing book and sipping Coconut Water.
You're far away from your office and your laptop. All that's on your mind is contemplation: "Should I get another drink now, or maybe I should go sunbathing first?" You love that kind of problems, don't you? You left other, complex issues at the office. Good for you. That's what many of us do during the summer. We disconnect, in order to come back with more energy to perform our daily tasks.
Americans bad vacation habits are changing
In 2016, the average US employee took 16.8 days of vacation. That's up from 2015's 16.2 days per year, according to the Project: Time Off.
We know that America have bad vacation habits, wasting millions of vacation days, often choosing the office rather than the sunny beach. Luckily, it's slowly moving in the right direction. They begin to see the light, and not the one coming from their laptop screens.
What does it mean for business owners waiting for visitors on their website?
Nothing bad actually. No matter how many days off people take, there will always be someone who will remain at the office or at home, willing to use your service and purchase products from your store. But since summer is definitely a lower season, you will need to go an extra mile to grab their attention.
Attract visitors on your website
One of the best things you can do is to make your chat stand out. Don't put it only on your contact page, make it visible on your front, pricing and even career page as well.
Visitors will definitely take a look at this small window, and if you'll be online most of the times, they will most likely decide to talk to you.
There are plenty methods of customizing your chat – it would be a waste not to try them.
Let's start from the theme of your chat window, where you can choose classic, modern, minimal or even a circle one. What's more, you can use the color picker or type in the hex code for the desired color.
Choosing a color scheme similar to that of your company colors or logo will increase your visitors' website immersion, providing a more consistent experience in the process.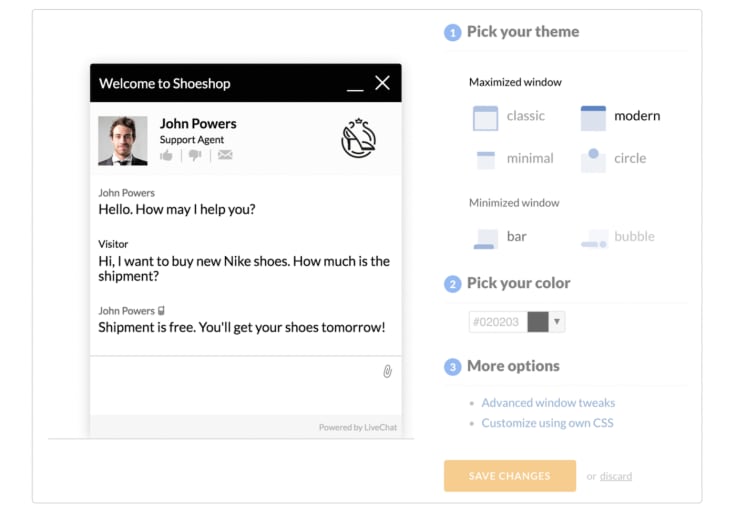 There's also an eye–catcher that you can put on the website. It will help you stand out and will get you more chats during summer. Especially from first–time visitors. When choosing the eye–catcher, make sure to pick a website that is most often visited by newcomers, like your pricing or contact page.
Changing communication channels for just two months? Not the best idea
You know when you enter an online store X or vacationing website Y and want to call them but you suddenly see the info: "The office is closed for the summer. Try emailing us."
The fact that you cannot be sure when the answer will arrive is frustrating, and the experience will be just the same when removing the chat from your website. It may become even worse, as you cannot place a note where your live chat was, saying "the chat is closed for the summer, try emailing us."
You would just remove it, and customers who already contacted you via chat won't find it anymore. Will they try looking for a different communication channel? Maybe, or maybe they will go to different venture that will be able to answer their questions on the spot.
Why is it so important to provide constant customer service through the trusted communication channels?
Look at it from your customers perspective
You installed an innovative tool and then get rid off it when it was convenient to you, just to come back to it when you think it's best.
What will your customers think? There are months when they can chat with you but there are months when they can only call you, or write an email without knowing when you respond.
These actions break a communication loop and mislead your customers. How can they trust you with your service, if they suddenly cannot contact you via their favourite tool?
Here's a better solution that you should try
You can stick to the communication channel you already offered to your customers and, in order to save a little bit due to the lower movement, you downgrade your plan for two months, saving some money and still providing your customer with the Chat Support.
As for customers, they can contact you the way they used to. You will have LiveChat with basic features, but it might be all you need during summer. Sounds like a win–win to me.
Stay ahead of the competition during low season
At work, nearly 1 in 5 people expect you to answer an email within 12 hours and almost no one (3%) tolerates a week-long wait. However, 10% of people say they're prepared to wait a week for an answer to a personal email.
During summer vacation, the average time of responding to an email is roughly few days, sometimes even a week. Can you imagine running a business like this?
You don't want to be one of these companies. Simply because you understand how many lost business opportunity leads it means! There's no way customers won't appreciate your customer service over chat – all you have to do is to be available and responding quickly!
Provide high level service if you're outside the office
Unless the basic rule of your holiday is to not use your phone or computer, you can easily answer your customers' chats on your mobile app.
You simply set push notifications and see new chats on your phone or iPad. You won't miss them and you can even answer them from your pool. Just explain to your family that you're working on another vacation in paradise and I'll bet they'll go for it (it always worked for me). See the mobile chat use case here.
As we agreed, you won't face tons of chats during summer and you'll still have plenty of time to relax. What's the advantage here? First of all, you don't scream over the phone at the hotel pool, disturbing everyone's vacation.
Secondly, you answer to visitors quickly and don't waste time to solve cases through email, which sometimes takes a few days. It means more satisfied customers and quicker sales. I think it's worth it.
Lower season doesn't mean lower level of customer service
Having less customers during specific periods of time shouldn't mean a revolution for your customer service. Benefits of providing a customer service that is constantly kept on a high level are so big, that it wouldn't be profitable for you to change it.
When you decide to provide particular communication channels – even when it comes to social media like Twitter, you need to be able to offer support over there as well. During summer vacation it's not only about attracting new visitors, but also retaining the old ones.
If you won't be able to provide the service on the same level, your customers will go to the competition, the one who didn't get lazy during summer and still manages to respond quickly.
What are your thoughts on this and how do you deal with providing customer support during low season?