Showing top

0

results

0

results found
Showing top

0

results

0

results found
7 min read
Mar 8, 2019
OpenCart is an open-source ecommerce platform that allows you to customize and manage your store thanks to dozens of available extensions. Among them, you can also find live chat - a solution that allows you to support your online customers whenever they need your help.
Live chat also makes it possible to set up support tickets, allowing you to stay in touch with them even if you're not available on the chat.
Some webmasters even describe live chat as an integrated extension that works like magic on eCommerce platforms, giving you the opportunity to close more sales and increase your ROI.
Well, an excellent example of such integration is the LiveChat OpenCart extension which helps visitors to interact with your eCommerce store in real time.
Here are the benefits of integrating Live Chat on an OpenCart platform:
Reduces exit rates
Improvising customer service
Increasing conversions and sales
Encourages users to give feedback
Keeping track of your visitors' activities
Helps you to build customers trust and loyalty
Better insight into customer's pain points
Adapting your response to suit customer's need
1. Reduce Exit Rates
Integrating live chat is, without doubt, one of the best ways to reduce exit rates on your site. Potential customers who are having a hard time finding the exact product or service that they want from your store will leave your store to competitors, hence, lowering sales in on your ecommerce platform.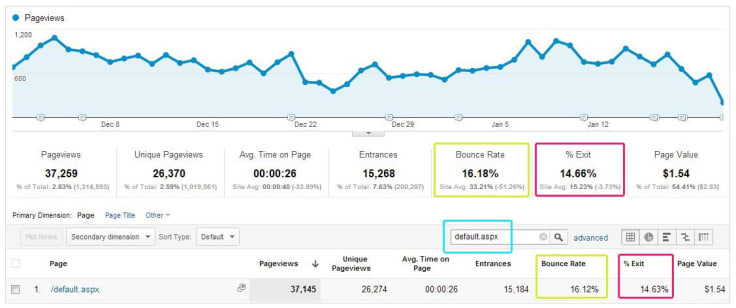 You will get a more favorable result and more sales on your page if there is a live chat integration that comes to aid of a visitor when they are not able to find their desired product on your site.
Here are some other techniques that you can employ to reduce bounce and exit rates -
Insert similar product links in strategic places on a product page
Never try to trick a visitor with fake content
Display every significant detail about a product in the description section
Use infographics, videos, and podcasts on your site's blog post to build trust
Make use of conversion rate optimization tools
In the end, you will still experience high exit rates if your ecommerce site is not easy to navigate or make users feel uncomfortable. However, using OpenCart to build your site almost guarantees you won't have this problem.
2. Improvising Customer Service
For every business and industry, excellent customer service is very essential since it provides a better outcome and quick response to customers requests without giving them a time to check your competitors.
Well, I'm sure you do not want your online store to be a part of the ugly figure on the chart above.
So you can avoid that by seeking new ways to make a customer or visitor feel more comfortable the moment they land on your eCommerce store.
Adding live chat comes handy as improvisation at this point since it removes that stage where a customer leaves your site because they can't find a quick answer to their query.
In the long run, you can use data collected from customers inquiry to provide a more effective customer service experience.
3. Increase Conversion and Sales
There is only one assured way to increase your site's profit potential, and that is by always looking for ways to increase conversion and sales. This is the primary purpose of business and a pain point for many ecommerce store owners.
But adding a live chat extension helps you solve this problem as the image below reveals.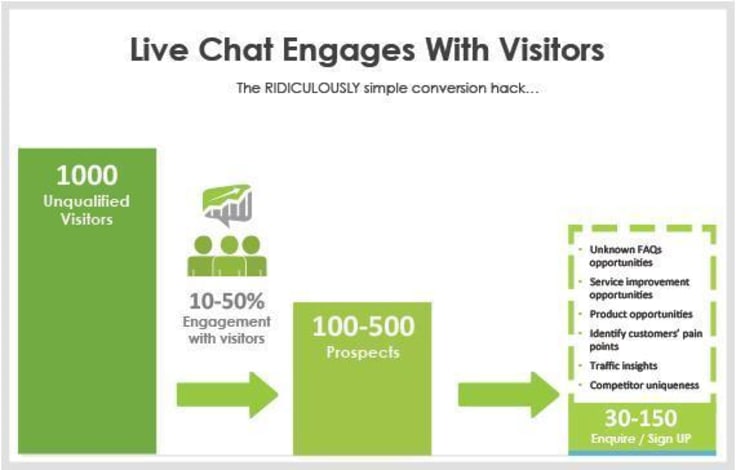 To further improve conversion and sales, you can work on providing unique content for each page of your site. Do not copy and paste content from competitors site, since this will create a wrong impression on your visitors and make them less disposed to completing a purchase.
Try to make some value proposition for the business by providing unique services and more natural resolution for customer inquiries.
Finally, you can use the upselling method which involves interacting with visitors and educating them through your blog posts. Implementing this technique helps you to increase sales and conversion rate if a professional ecommerce development company builds your website.
4. Encourages Users to Give Feedback
By adding an online live chat solution to your eCommerce store, you are making it easy for visitors to leave valuable feedback that can help you improve your business. This is way better than asking them to find your store's email address on your contact page and then send you a message.
A live chat integration has proven more useful to gather customer feedback than emails.
Visitors who explore your site on a daily basis will not want to spend their whole time searching through your inventory and still need to leave the place to message you.
With live chat, everything changes since they can easily contact your support team and get a prompt response anytime they are not able to find a product quickly.
5. Keep Track of Visitors Activities
OpenCart has different extensions which can be used to gain specific insights into how customers move on your site. Combining this data with further statistics gathered via LiveChat can be a powerful conversion rate optimization strategy.
Carry out a careful analysis of your site with the data provided, and you will surely find out missing components that can make your visitors stay longer and eventually buy from you.
6. Helps you to build customers trust and loyalty
Building an eCommerce store is not just about selling to your customers. Unless you're not a brand, your primary focus should be on how to create a long-term relationship with the customer and making them feel comfortable with referring others to your platform.
A live chat extension can help you build that kind of trust you want because a one-on-one conversation can leave a lasting impression. The customer will love your brand more as you guide them each step of the way to finding their desired product or solving the challenge they encountered on your site.
Also, the fact that your live chat service works on a 24/7 basis gives your customers confidence that they can get support from your site round the clock and this makes them trust your brand more.
7. Better insight into customers pain points
With a live chat solution, there is a quick and fast response to customer's inquiry, making them more disposed to share their issues in a way that you can understand and offer a solution to them.
So you can practically handle more customer difficulties while facing less struggle to understand their exact needs.
You can still allow customers to get in touch with your team through phone calls, email or any other channel but having a live chat will reduce hits on those services.
In the end, the focus is to identify a visitor's issue and resolve it promptly so that they don't have to go through a lot of problems.
8. Adapting your response to suit customer's need
When you have a clear insight into a customer's pain point, it becomes easier to approach the customers and visitors in a way that doesn't provoke them.
You can even add a personal touch to the messages you send to them by using emoticons and smileys.
You could make it even better by assigning members of your customer support team to handle queries about a particular difficulty while they focus on how to resolve the issue and make the customer love your brand more.
Wrapping up
It is clear to see from what we've outlined so far, that there is a lot of benefits to gain by adding a live chat solution to your ecommerce store. If you built your store with the OpenCart online store management system, then you can easily enable this feature by installing the LiveChat extension for OpenCart.
With the extension, you can seamlessly provide better response and quick interactions over a chat with visitors. In the end, you're sure to rack in more sales and also engrave your brand in the heart of your customers.