Showing top

0

results

0

results found
Showing top

0

results

0

results found
This holiday season, provide an exquisite experience that every customer dreams about.
2022 is the year US consumers are feeling bright and cheery. Nearly 40 percent of survey respondents say they intend to splurge on themselves or for others. This intention to spend extra on gifts is especially evident among Gen Zers and millennials.

Despite household finances being at the weakest level in a decade, consumers will find ways to celebrate this holiday season. "Lower-income shoppers plan to spend more this year, making celebrating and socializing a priority. They're increasing their spend across all categories, returning to prepandemic shopping levels. In addition to a higher average spend, fewer low-income shoppers are sitting this holiday season out: 13% in 2022 compared to 21% in 2021."

Around one-third of US survey respondents plan to start shopping sooner compared with last year. There are a few reasons for it. Some shoppers still worry about the holiday shipping delays, based on last year's experience. But more than 50% of respondents will shop earlier because they're concerned about increasing prices or product availability as the holidays get nearer.

With online shopping starting early this year, consumers have more time to shop deliberately and look for value and good holiday deals in the stores.

Here are the top findings:

- Due to inflation, 72% of US survey respondents expect to pay more for gifts, so they're looking for bargains.
- 44% of those consumers say they're seeking sales or coupons.
- 43% say they will switch retailers if they find a lower price elsewhere.
- US consumers are also much more likely than last year (by 31%) to use retailer websites.
- They are more likely (by 10%) to use promotional emails from relevant retailers to browse and compare prices before purchase.

With that in mind, it's more important than ever to take care of good customer support, smooth communication, and working coupons at the checkout. This year, customers won't as forgiving when on the hunt for the perfect (discounted) holiday gift.
Now, what if you didn't have to worry?
What if your customer service and customer experience strategies were so comprehensive that the seasonal rush wouldn't bother you?
We've got a special Christmas gift for you. It's a cheat sheet called 153 Ecommerce Tips to Boost Customer Experience and the guide you're reading now. Together, they'll get your ecommerce store ready for any shopping turbulence during the holiday season and beyond.
P.S. Fun fact:
You really should read this guide. Let's dig in!
1. How to grow ecommerce sales with superb customer experience
2. How to create an effective customer journey map
3. How to deliver superb customer experience in ecommerce
By the way, Marcos has created a fantastic video guide on this topic. Be sure to also check it out, as it goes along with my guide nicely.
How to grow ecommerce sales with superb customer experience
Map the customer journey to understand customers' needs and expectations.
Find touchpoints to deliver remarkable customer experience.
Move customers through the life cycle funnel with relevant content and strategy.
Customer journey and customer life cycle are widely confused terms. The easiest way to tell the difference is by understanding the perspective.
Both phrases refer to the path a consumer goes through as they develop a relationship with your brand and product. However, the customer journey is understood from the customers' perspective, while the customer life cycle refers to the businesses' view.
The customer journey is the consumers' path understood from the customers' perspective. It includes all the steps they take as they grow their relationship with your brand and products.
The customer experience is your customers' perception of their experience with your brand and product. Unlike the customer journey, the customer experience is about what the customer feels throughout their path and not the hard facts of that path.
The customer life cycle is the consumers' path understood from the businesses' perspective. It allows your teams to visualize the funnel customers go through and adjust your marketing, sales, and support actions to the character of each stage.
So, how can you map the customer journey to provide the experience your customers dream about?
How to create an effective customer journey map
A customer journey map is a visualization of the steps a customer takes throughout their customer journey. It allows your teams to understand the path customers go through and find touchpoints that allow them to the improve customer experience.
If you're still wondering why you need a customer journey map, this diagram should say it all:
First of all, you need to know your customers well. Customer personas will help here, but so will all the data you've gathered throughout the years.
To start with, here are some simple questions to answer:
Where do your customers come from?
What mediums and channels are the most effective?
How does the source of traffic affect customers' subsequent actions?
How do customers browse your store? What paths do they take?
How much time do they spend on each page?
When do they start adding to carts?
How do they contact you when they need assistance or help?
What makes them stop and abandon their carts?
What happens before they cancel their orders?
What feedback do you get on the returned orders?
How often do regular customers shop?
What content do customers engage with the most?
To map the customer journey, you need to analyze everything you know about your customers and find any repetitive patterns and behaviors. These will form the basis for your customer journey map.
Remember that there is no universal customer journey. You cannot force any specific journey on your customers, but you can discover as many existing ones as possible.
Consider integrating LiveChat with tools such as Autopilot, Clearbit, or Hubspot to gain all the important data about customers and nurture relationships the way they'd appreciate. With Autopilot, for instance, you can build marketing journey workflows to automatically send emails, SMSs, in-app messages, or postcards to customers. And simple design lets you map every touchpoint of the customer journey without too much hassle.
There is "The Customer Journey" and then there is each customer's journey.

- Customer Service Guide
The more touch points you find, the more possibilities you get to provide superb customer experience and convert customers. List them all in as many variations as possible, and create visualizations that suit your team's needs and workflows.
Now, when that's ready, it's time to deliver the experience we promised. How? Here comes the guide you're reading.
How to deliver superb customer experience in ecommerce
Easy! Or is it?
With this guide, you'll learn how to deliver an awesome customer experience at every stage of the customer journey and life cycle.
The customer journey is understood from the customer's perspective, while thr customer life cycle refers to the business' view.
You'll find various names for the stages of both the customer journey and the life cycle while browsing through the internet. They all relate to the same path and can usually be used interchangeably.
In this article, I'll choose the following names: awareness, consideration, purchase, retention, and advocacy. I'll explain them all and give you 10 tips for each. You can find an additional 153 tips in the checklist.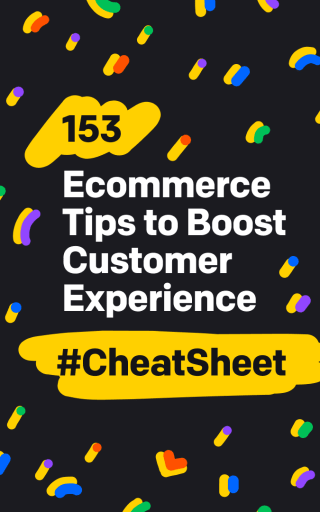 Get 153 Ecommerce Tips to Boost Customer Experience
153 free tips Straight to your inbox
To help you understand both the customer's and the business' perspective, meaning both the customer journey and the life cycle, I prepared a simple infographic for each stage. At each stage, I show where the touchpoints are and what customers are doing (customer journey, customer perspective) as well as how you can interact with them and why you should (customer lifecycle, business perspective).
Then, to keep the holiday vibes going, I'll tell you A Christmas Tale and guide you through an exemplary customer journey. I'll also give you some extra Christmassy customer experience tips, sprinkled with a seasonal mood and festive touch.
Sound good?
Here we go!
Awareness stage
The awareness stage is your first interaction with customers. At this point, you'll rarely know that an interaction even happened because it's hard to measure.
Some customers will find your brand as part of their intentional research, while they are looking for the solution to their problem. Some will hear about you from your existing customers and word of mouth. Some traffic will be a result of your marketing efforts.
Customer service starts from the moment someone knows your brand, not when they start asking questions about a product they bought.

- Customer Service Guide
At this stage, it's important to avoid selling. Focus on educating customers, sharing your knowledge, and building brand awareness. Your goal is to get people's attention, and make them interested in your brand and products. Even if they don't have the intention to buy just yet, they'll convert in the future if your content is convincing and trustworthy enough.
Most effective new customer channels:
1. Facebook paid 72.5%
2. Instagram paid 58.8%
3. Search paid 56.9%
4. Instagram organic 41.2%
5. Search organic (SEO) 35.3%

Check LiveChat's integration with all the messaging apps and handle communication with customers from one place.
1. Help customers notice the need, instead of creating one.
Give customers a reason to buy your products, instead of creating the feeling of fake urgency. Modern customers are very sensitive about cheesy marketing tactics like simulated high demand or time limitations.
Manifest your vision and purpose
to attract customers with the same values.
You want to solve problems, not create them in order to provide solutions. Don't be another Gillette, making women believe they're nasty not good enough, just to sell them razors.
If you don't know your customers' pain points, you can't address them.
2. Tell customers why they should care.
Embrace storytelling. Stir their emotions.
Draw a picture of a life they will have if they invest in your products.
Benefits over features, solutions over pretty descriptions. Though these are needed too. Just make sure they fit your tone of voice and customers remember something more than just a list of colors and sizes.
3. Give know-how for free.
That's your best move at the awareness stage.
Teach customers something new for free. Make it product-related, but don't mention your product just yet.
You don't want to sound salesy. You want customers to come back for more.
4. Don't overlook promising subjects.
Address problems indirectly connected to your products to gain attention and show expertise.
You should know your customers
better than they know themselves.
What is your desired audience struggling with?
If you're selling Christmas tree decorations, writing a blog post about decorating a Christmas tree is pretty obvious. What about telling people how to survive a family chitchat at the dinner table or how to answer tricky questions from meddling aunties? Be creative.
5. Take advantage of other websites' traffic.
Write exceptional guest posts and attract the audience of related media outlets and bloggers. Skip popular topics and cover unusual yet interesting subjects related to your industry. Get a spot somewhere your customers are, and make the most of it.
Be where your customers are, and make the most of it.
6. Make your actions worth a PR feature.
If you want to be featured, act like someone worth featuring. Don't act fake just to grab headlines. People will smell unnatural behavior and glossy campaigns.
Instead, make everything you do for your customers so extraordinary that the media will approach you first. You will delight your current customers, and get attention from new ones at the same time.
If you want to be featured,
behave as someone worth featuring.
Just make sure your website is linked whenever you're mentioned. That final bit is often overlooked when all the hard work is already done.
PRO TIP
Make sure you're easily discoverable on social media. Keep your creativity for content, while your accounts' names are simple and obvious. It's "IKEA," not "Awesome_furniture_for*everyone*," right?

You don't want to lose all that promising traffic from the PR mentions, do you?
7. Make sure your brand sticks.
Your branding, values, and purpose should all come together to create a lasting impression on everyone that comes across your brand.
Be consistent to become recognizable.
Be recognizable to be remembered.
8. Use lead magnets smartly.
Lead magnets are an awesome way to grow your customer base. They're also one of the easiest ways to lose customers' interest.
If getting your content requires sharing data, make it worth it. There's nothing worse than a long form to go through just to get a simple and short infographic at the end.
9. Think twice before you speak up in forums.
This is a tricky one. If you really want to engage with your customers in forums, follow these three golden rules (I've just made up).
Think twice before you speak up in forums.
Never employ people to leave recommendations for your products in forums.
Actually, do not write in forums.
You see, forums are an intimate space. They should be free from brands and marketing. People want to talk to other people. That's what forums are for. Just stay away, and let the authentic word of mouth work its magic.
10. Be where your competition is. And be better.
That's part of your market research. If they're your direct competition, it means they have your potential customers. Be wherever they are, just be better.
If they're your direct competition,
it means they have your potential customers.
Did they create a guide? You create a Total Evergreen Guide. Did they cooperate with an online magazine? You make the online magazine want to cooperate with you.
Just don't go overboard.
Consideration stage
The consideration stage is the moment customers know about your brand. They consider your products as a potential solution to their problems, while they also keep thinking of all the other possibilities.
It's important to know that at this point your competitors…are your biggest competition. The type of product you offer has already gained your customers' attention, yet you may still lose the race. It's a win-or-lose moment.
During the consideration stage, your competitors are your biggest competition.
Your goal at this point is not only ensuring buyers that your offer is the best they can find.
Convincing customers on a rational level is one thing. Making them feel and believe that they're making the right choice is a whole other story. It requires more effort and reflection, but it drives lasting and powerful results.
Make sure you stand out from your competitors. Not only with price or quality, but also with your values, approach, and, obviously, the experience you provide.
1. Make the first 5 seconds count.
How many websites do you see every day? More than you even realize.
YWebsite visitors give you no head start. Either you catch their attention fast and convince them it's worth staying, or they'll look somewhere else. And your competition is waiting just for that.
Make sure your store can pass the 5-second test. No idea what that is? Well, there's some learning to be done.
2. Get that USP on the front line.
Fine, so your website visitors know where they are, and they know what you're selling. Maybe they even noticed your brand's name if you're lucky.
Now, why should they buy from you, and not from the other store they've got open in another tab? Because your USP (Unique Selling Point) is clear, visible, and irresistible. Or is it?
Get visitors' attention and trust fast,
or they'll look somewhere else.
3. Get customers to trust you.
Make customers testimonials, as well as your rewards and certificates, visible and within reach. Don't go overboard though, as this may seem shady and fake instead.
4. Don't be shy about your achievements.
Brag about great reviews, high customer satisfaction scores, and anything that may convince potential customers your products are worth the money.
Displaying reviews can increase conversion by 270%. (source)
82% of consumers read online reviews for local businesses, and 52% of 18-54-year-olds saying they "always" read reviews. (source)
The average consumer reads 10 reviews before feeling able to trust a business. (source)
The average consumer spends nearly 14 minutes reading reviews before making a decision. (source)
That's enough data to prove it's worth some effort, right?
PRO TIP
Use LiveChat's Announcements. They're like greetings, but you can have multiple announcements that show up above your chat widget, once for each customer. Use them to show off new rewards and share customer reviews that make your brand stand out.
5. Bad user experience is a deal breaker.
I could elaborate on all the details you need to review and improve to provide a great user experience, but I won't. Just hire a professional UX designer. It's worth the money.
I once left a shopping app because I kept deleting my chosen filters. There was a "clear all" button exactly where you'd expect the "submit" one. And I really, really wanted that couch.
6. Ditch useless 404 pages.
An error? It happens to the best of us. When it does, make the most of it.
Include your best offers, discounts, or personalized recommendations. Finish it up with a catchy CTA. You don't want a potential customer to just close the tab, do you?
7. Offer something for free.
Why not send samples for the cost of shipping? That's how I became a loyal customer many times while hesitating on a bigger purchase.
Glov is sending samples of their original gloves. You use it at home, find out it works, and you make an order. One for yourself, one for your mom, and one for that upcoming birthday party that you're going to. You know it works, so why not?
PRO TIP

Learn how to maximize the profits by minimizing the effort during the seasonal rush.
8. The knowledge base is a must.
Offering a self-service makes life easier for both your customers and your agents. Make it a good one, and keep it up to date. Add answers to questions that are repeatedly asked on chat.
You can try KnowledgeBase to build a public help center. By sharing your internal knowledge with customers, you let them browse your resources at their own pace and solve their problems without contacting your customer support. It allows your agents to focus on solving complex issues and keeping high customer satisfaction.
9. Be proactive.
The pro of online shopping is that you don't have to put headphones on to avoid intrusive assistants. The con is that when you need them, they might be hard to find.
(Unless there's a chat.)
10. Say no to generic auto-replies.
If a customer made an effort to contact you, make an effort to reply in an engaging way. When you automate messages with HelpDesk, make sure there's a human touch, too.
I once worked in a shipping company. It was a B2B business, so our staff was in constant contact with our clients. When an employee was out of office, they sent typical out-of-office auto-replies.

We decided to take advantage of those messages. Robots and artificial intelligence was a trending topic back then. We used some storytelling and humor to let people know that even though the message they received was automated, there're still some amazing human beings in the office that are always ready to help. We linked our humorous article about AI, too, just in case they wanted to read something in the meantime.
The response was astonishing. We never got that many replies to an automated message and so much traffic on our website. People shared our out-of-office message on Twitter saying it made their day.
And it took 20 minutes to write.
Purchase stage
The purchase stage is your moment of truth. It'll prove how well you prepared your website and customer service for the ever-rising customer needs.
Offer superb customer experience, no matter how big the order is. Some customers will start smaller just to test your store. Make sure they come back for more.
It's time for your support team to show off their skills. It's a test for your UX designer and web developers. But also, it's the moment you grow as a business, building lasting connections with customers..
Appreciate all the feedback. Bad reviews that are constructive are your biggest opportunity to improve.
Remember that whatever happens here, it's the best possible lesson for your business. Observe customer behavior carefully, as you'll never get more data and insights on how to improve your services and how to avoid losing customers in the future.
1. Outthink customers' concerns.
Ease decision-making –– provide all the information your customers need to quickly make a decision. Model's size, measurements, ingredients, allergens - that's a must.

Step in the shoes of your customer and think of any possible questions they might have. Answer them before they're asked.
2. Welcome your visitors and their questions on live chat.
Customers want to make conscious and well-thought decisions.
That means questions. Lots of questions.
Leave them unanswered and your sales go down.
Respond quickly, show that you care, and… you guessed it.
Get a chatbot to answer all these questions, and you save money while making money. Easy!
Consider ChatBot, an all-in-one platform to build and launch conversational chatbots without coding. You can create your first chatbot within minutes, thanks to ready-to-use templates, and customize them to fit your business needs. This will save you a lot of time and stress.
Leave customers' questions unanswered and your sales go down.
Live chat has the highest satisfaction levels for any customer service channel, at 73%, compared with 61% for email and 44% for phone. (source)
A study conducted by the Aberdeen Group, which compared businesses with live chat compared to those without, revealed the following benefits:
34% greater annual improvement in customer satisfaction rate.
2.4x greater annual increase in cross-sell and up-sell revenue.
20% greater annual improvement in customer contact abandonment rate.
9.3x greater annual improvement in agent utilization rate.
2.6x greater annual improvement in customer care costs.
PRO TIP
Forbes research shows that 70% of customers will abandon their purchase if they have a bad customer service experience. If you're unable to provide exceptional support to your customers, you will lose them. Make sure your team is big enough to handle all the queries during this busy time.
3. Be one step ahead of your customers.
You know these popup windows that make you annoyed when browsing through the stores? Forget about them.
LiveChat greetings subtly show up in the bottom right corner, completely personalized and dependent on your shopper behavior. Take a look at how you can best use them to help your customers without disturbing their shopping experience.
Observe customer behavior and notice the patterns.
Looking at a product that's out of stock? Here's an alternative.
Need a personalized lunch order? We'll guide you through the options.
Hesitating? An assistant will help you make up your mind.
Observe your customers' behavior, and notice the patterns. Then prepare chatbot paths and greetings that surprise shoppers with accuracy, answering their questions before they realize they have them.
That's a recipe for an exquisite customer experience.

4. Make shopping with you fun.
Online quizzes helping customers to make decisions are a good way to get newsletter subscribers and nudge customers into buying. One of the tools that can help you with that is Sender. It allows you to easily create neat newsletters to stay in touch with customers.
What's your body type? Here're the perfect pants for your shape. Tell us about your skin type, and we'll let you know which products suit you best. Not sure which camera works best for you? We'll help you find out.
People make thousands of decisions every day. Make this one easier.
5. Make a "saving" page.
Have a special place listing all the discounts and possible ways to save money while shopping at your store. Include up-to-date coupons and promo codes.
People will oftentimes search for them on other sites, but what's the guarantee they'll come back to your store? Better to keep them on the website.
You can try TemplateMonster, which offers a wide range of free and premium website themes. Check out the Black Friday and Cyber Monday digital deals they've prepared along with their partners.
6. Provide a seamless checkout experience.
Make sure the checkout page is free of distractions and easy to navigate.
According to the research done by Baymard, out of 4560 US online shoppers surveyed in a particular quarter:
21% have abandoned an order solely due to a "too long/complicated checkout process."
28% have abandoned an order due to the fact "the site wanted me to create an account."
Additionally, they claim that $260 billion worth of lost orders are recoverable solely through a better checkout flow & design.
One simple way to provide a smooth checkout is to offer payments inside the chat. After a conversation with a customer, and showcasing your products, you can allow them to use PayPal or a debit/credit card to make a payment. Here you can learn more about the LiveChat and Paypal integration.
7. Offer checkout with a chatbot
If you want to save your agents time during checkout, consider a chatbot. It can also help you save up to 30% on your customer support costs.
I know you're super busy. What about a free Ecommerce Template for your chatbot checkout? Get it here to guide customers through the whole buying process. Automatically.
8. Offer free shipping.
"Customers want shipping to be free and fast, and they're willing to abandon carts and walk away from brands that fail to deliver on both fronts," says Kirthi Kalyanam, the L.J. Skaggs Distinguished Professor and Executive Director of the Retail Management Institute of Santa Clara University, which conducted the survey in partnership with X Delivery.

96% of retailers offer zero-cost shipping options, but few brands are currently meeting consumer expectations when it comes to the speed of delivery. The State of Shipping Report 2022: Why Faster Shipping Matters reveals that 62% of shoppers expect their orders to arrive in less than 3 business days when choosing free shipping and 38% less than 2 business days. However, just 1% of the fashion and apparel brands that were benchmarked in the survey achieved that goal. It means that retailers that elevate their delivery options have an opportunity to reduce cart abandonment, and capture significant ROI.
9. Offer free returns.
Return policy is also high on the list of customer expectations.
10. Get these brand ambassadors on board.
Add branded laptop stickers, pins, and shopping bags to the bigger orders. Make them nice. Encourage people to wear and use them, promoting your brand at the same time.
Make it easy to become a brand ambassador.
Retention stage
Fantastic, you gained new customers. Now, you better keep them for good.
In an ever-changing world of ecommerce, customers come and go. People keep changing their minds, their tastes, and their preferences. And that's all good!
Don't change your own values and mission just to attract the same group of people for the sake of it.
Keep your values. Follow your mission.
Let customers come and go.
Instead of doing everything you can to keep existing customers, focus on constantly improving your offer and products. Keep the quality high and monitor world trends. This way, you will always find people interested in particular solutions, and your brand will keep growing.
Yet, of course, that doesn't mean you should ignore people that love your brand. Make sure your customer service is meeting the needs of the target groups you care about the most.
Most effective existing customer channels:
Segmented email offers 80.4%
General email offers 74.5%
Facebook retargeting for general site visitors 64.7%
Facebook retargeting for pages or products 62.7%
Instagram retargeting 51.0%
1. Make delivery awesome.
You know it has to be fast and cheap (or free). But that's not enough.
Make the delivery a special experience.
Beautiful, eco-friendly package. A thank you card. Make customers feel as if they've got a special gift. That's your effort and care.
2. Make returns easy.
Cheap or free, and easy. Customers hesitate a lot while shopping online. Reassure them that it's worth giving your products a go.
67% of shoppers check the returns page before making a purchase. Include information that will nudge them to complete their order.
3. Know when to ask for feedback.
Hands up if you experienced:
- Hundreds of popup windows asking for feedback during one session stopping you from actually looking through the products.
- Popup windows in shopping apps that were difficult to close, making shopping experience impossible.
- Feedback-request emails arriving before your actual order.
Not good. You need to know when to ask for feedback.
Not only to avoid the situations above but also to catch the customers in the right mood.
Ask for reviews in moments that trigger positive emotions.
Use greetings to ask for feedback when customers review your articles for long enough to see they're interested. When they keep adding products to their carts. Put the request on your "saving" page. Find places and situations that improve your chances of getting a positive review.
However, remember that constructive negative feedback contributes to your business's growth and improvement.
Bad reviews are your chance to understand customers' needs.
PRO TIP
Asking for feedback is tiresome. Let HelpDesk do some of your work for you. Use automated workflows to nurture customers after the purchase and optimize your response time.
4. Act on the feedback you get.
Getting feedback is not enough. You have to act on it and respond to your customers' needs.
Filling in your Excel's feedback spreadsheet will not make you progress. Create another file listing the steps to be taken.
PRO TIP
Respond to all the reviews. Potential customers read that too.
Among consumers that read reviews, 97% read business' responses to reviews. (source)
5. Surprise your customers.
Hand out surprises, personalized discounts, product samples, and small addons. Send birthday cards and words of appreciation. Celebrate occasions related to your business together with your customers.
Show customers that you care, understand, and support them.
Offering items for babies? Add coffee for the mom to her order. She'll need that.
Running a houseplant store? Create pretty cards to label the plants and put them in the package. Or a calendar card to fill in with watering times.
Selling swimsuits? What about a card saying that all bodies are beautiful and promoting self-love?
Get creative. Surprise your customers with simple things that show your care and support.
PRO TIP
Need more Christmassy ideas? You'll find them here.
6. Play with gamification.
Let customers perform small tasks to get rewards, coupons, and loyalty points. Organize contests. Engage customers on social media.
7. Respond on social media.
Your social media ninjas will know what I mean. Respond to all the posts in a creative way. Never make it sound like a template. Make your responses personalized. Show your customers appreciation and respect.

It's probably hard to keep up with all the inquiries via different social media channels. That's why we suggest integrating LiveChat with all the messaging apps you use to keep communication with customers in one place. How does it work? All the inquiries from different communication channels (WhatsApp, Messenger, Instagram, etc.) are directed straight to LiveChat, and agents handle them there as well. It's much more efficient for agents and improves customer satisfaction.
8. Repost customers' content.
Inspiring outfits showcasing your clothing. Customers' makeovers. Funny family photos from the barbecue party. Anything that presents you as a community. Just make sure you get approval.
Respost customers' content even if it doesn't showcase your products. Find the right context. Opinions related to your values, articles, or poems – anything that fits your brand message.
9. Nominate brand ambassadors.
Make it an honour. Make it worth it to become an ambassador.
Instagram influencers are less and less trustworthy. Your real customers are the best ambassadors you can have.
Your real customers are the best ambassadors you can have.
Engage them on social media. Offer something extra for the customers with an ambassador title. Free same-day delivery? You know the drill.
10. Get your staff involved.
Imagine you mention a brand on social media, and the CEO replies. Or a marketing manager. Or anyone from the company, using their actual account, not the brand one.Could your customers feel any more nurtured? Give them that special treatment.
Show customers that there are humans behind your brand.
It depends on your business's size and capabilities, but it's worth considering.

Just don't do that thing that overwhelmed our inboxes during the pandemic. "A special message from the CEO" sent to everyone on the newsletter list. It's really cheesy. It's clickbait. No one likes being tricked.

Clickbait emails make you lose your credibility. Respect your customers.
#Advocacy stage
Whoa! You did it. You're a pro.
These customers are unlikely to flee. They're your own brand ambassadors, in love with your brand and products. Take good care of them, but also, feel free to reap some benefits too

1. Treat customers as micro-influencers.
Your customers might not have Instagram accounts with 1M followers, but each of them has a bunch of trusting friends. Likely they share interests, habits, and lifestyles. The shortest path from awareness to advocacy is making their friends interested.
Consumers discuss specific brands casually 90x per week. (source)
90% of people trust suggestions from family and friends. (source)
The shortest path from awareness to advocacy is attracting your customers' friends.
2. Get an exclusive community space.
Be it a Facebook group, a page on your own website, or a specifically designed tool – create a special space for all the people who love your brand. Engage, post, reply to comments, and make people feel as if they were a circle of friends. Even if it grows over a 6-digit number.
3. Make your content worth sharing.
Dark social is thriving.
63% of consumers tend to share through private messaging apps.
77.5% of all shares are untracked as they happen through dark social.
Create content that's worth sending to a friend. People give each other advice and share proven tips and tricks. Make an effort to deliver know-how that will become their resource.
4. Offer premium services.
Make your ambassadors feel special with extra benefits like same-day shipping for free, a possibility to reserve products in the basket, or a dedicated customer support hotline.
PRO TIP
With LiveChat, you can create a special group that will get questions from VIP customers to be helped immediately.
5. Make their goodies special.
Branded merchandise is not enough for loyal ambassadors. Make it as personalized and unique as possible.
Special headbands for customers who buy lots of facemasks. Blankets or tea sets for the ones who buy tons of books. Personalized hoodies for the sports fans. Put their name on it, their birthdate, or their password (just kidding - that might be too much!).
6. Let advocates keep you company.
Fashion weeks? Geek meetups? Trade fairs? Your customers will love an opportunity to visit exclusive events, and you'll get to know them better.
7. Do something in the name of your customer.
Naming a star may be a bit crazy, but surely you can think of little gestures of kindness that show customers your appreciation. Ideas in the checklist!
8. Brand the hashtags.
Create branded social media hashtags for specific occasions, events, and promos. It's a good way to collect user-generated content, engage your audience and raise brand awareness.
9. Boost your ads with UGC.
User-generated content is an amazing way to make your adverts more trustworthy. Real-life photos that aren't staged will help customers relate. Testimonials are a great source of insights about your brand and powerful quotes.

Integrating USG into the buying process can increase conversion rates by 10-15%
10. Turn ambassadors into employees.
Who would serve your brand better if not devoted brand ambassadors with their first-hand experience? Provide your advocates with exclusive access to job and internship offers and get your fans on board.
Wow, you're still here? High five, you're a real customer experience specialist, now! I think I've said enough. Don't forget to download the cheat sheet with an additional 153 tips, and share this guide with your friends! It's well worth it, isn't it?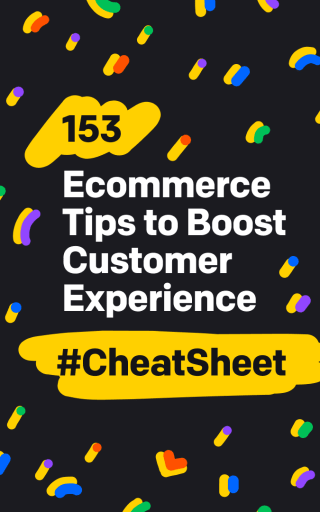 Ho ho ho!
153 free tips Straight to your inbox