The old design is going away for all customers on October 30, 2019.
The old design is going away for all customers on October 30, 2019.
The current look of the app has been with us for a long time. But what used to work well may not be so great anymore. That's why we decided it was time for a redesign of both the Agent App and the chat widget.
We wanted to come up with a design that is clean and easy to navigate. And at the same time allows us to add new features easily.
This plan has finally come to fruition, and in this article, you can learn what has changed.
Chats
What's new (and better) about the redesigned Chats section: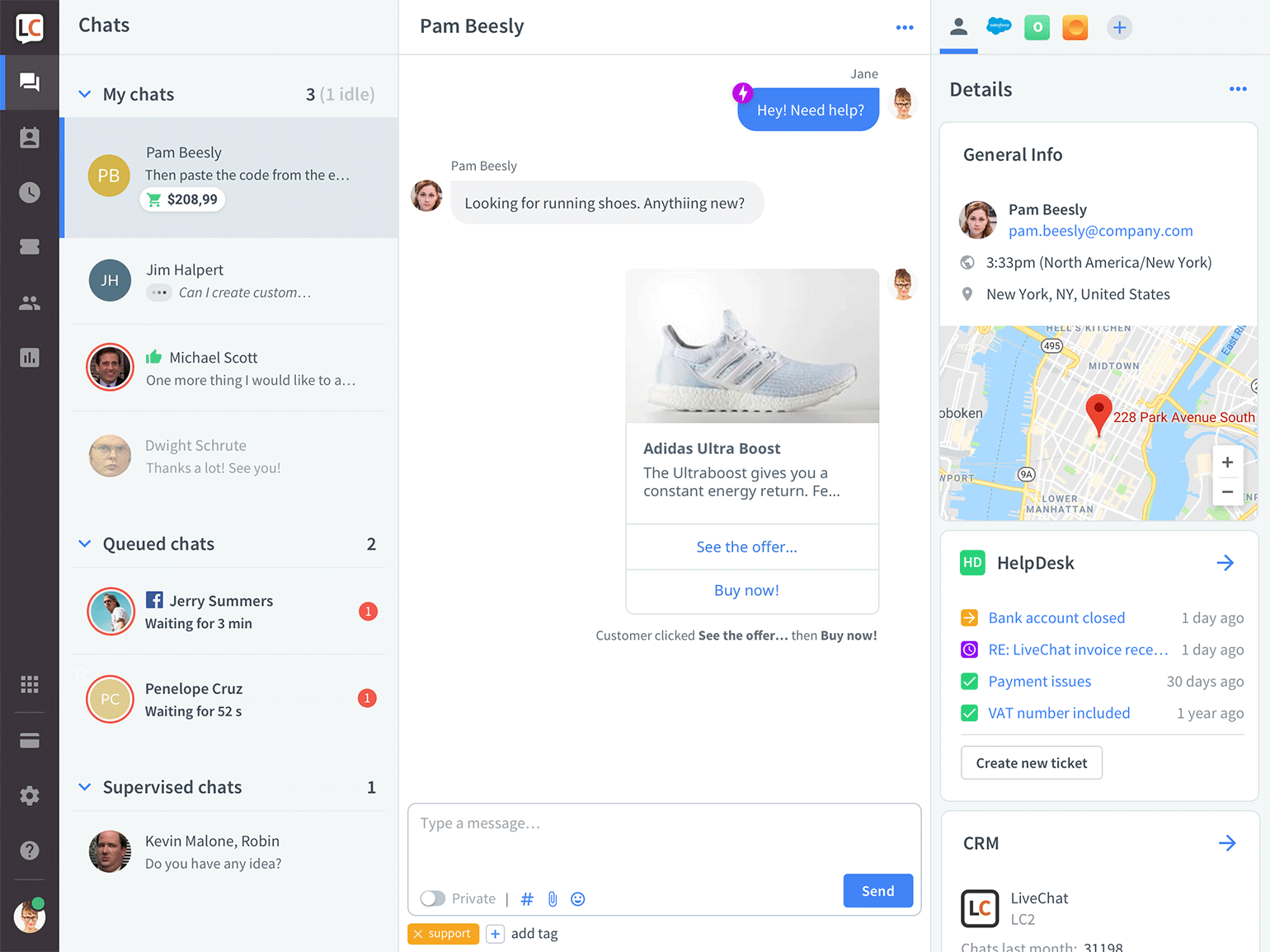 thanks to a vertical chat list you can easily navigate between chats, even if there is more than six of them
the list contains not only ongoing chats but also queued chats and ones you are currently supervising, you can see them in real time and quickly access them while still keeping an eye on your current chats
the actual chatting space is bigger which makes it easier to see the chat history as well as the newest messages from the customer
agent's messages are now clearly visually different from customer's messages so it's easier to know what is going on
customer details are now all stored in one location; what's more, you can decide what information is displayed in Details and it what order
bigger customer location map, that lets you see details
updated shortcuts that make moving between chats easier; for example, alt arrow keys will allow you to go up and down the list
We didn't want to reinvent the wheel so all the tools you know from the old design are still there: message sneak peek, canned responses, tags, and many more.
Traffic (previously Visitors)
What's new (and better) about the redesigned Traffic section: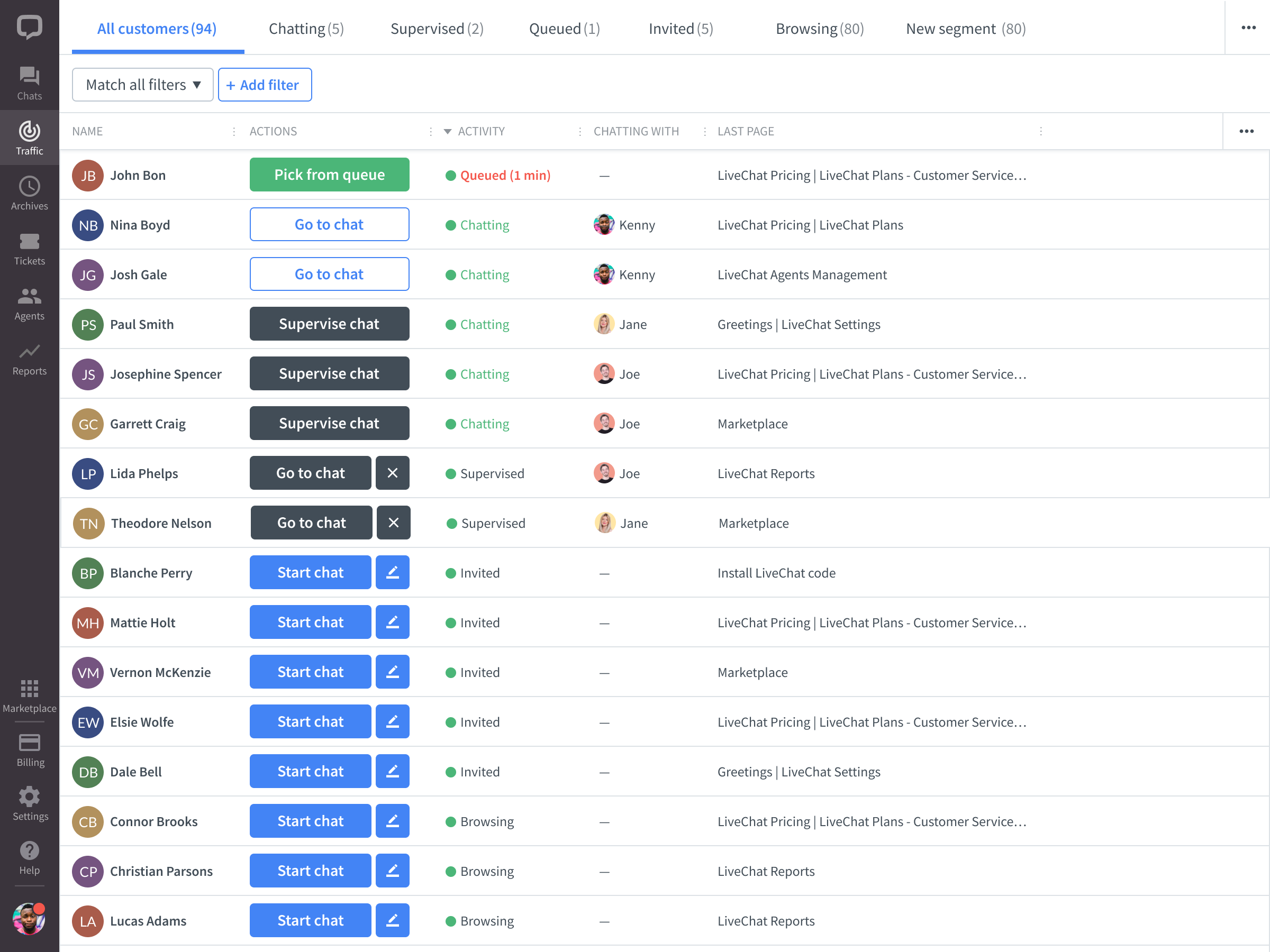 thanks to start chat and send customized message buttons you can invite customers to a chat without leaving the Traffic section
all customer data is stored in one location; we currently provide 24 types of information, including among others: customer's location, e-mail, sent greetings, number of visits, page the user is currently on, referring website and device information
the view can be easily adjusted to your needs, choose which data columns you want to see, which should be hidden, and in what order you want them displayed
columns can be sorted so you quickly find customers in your targeted audience
thanks to filters you include or exclude certain values from the list
customers details bar is also accessible from this section
Archives
What's new (and better) about the redesigned Archives section: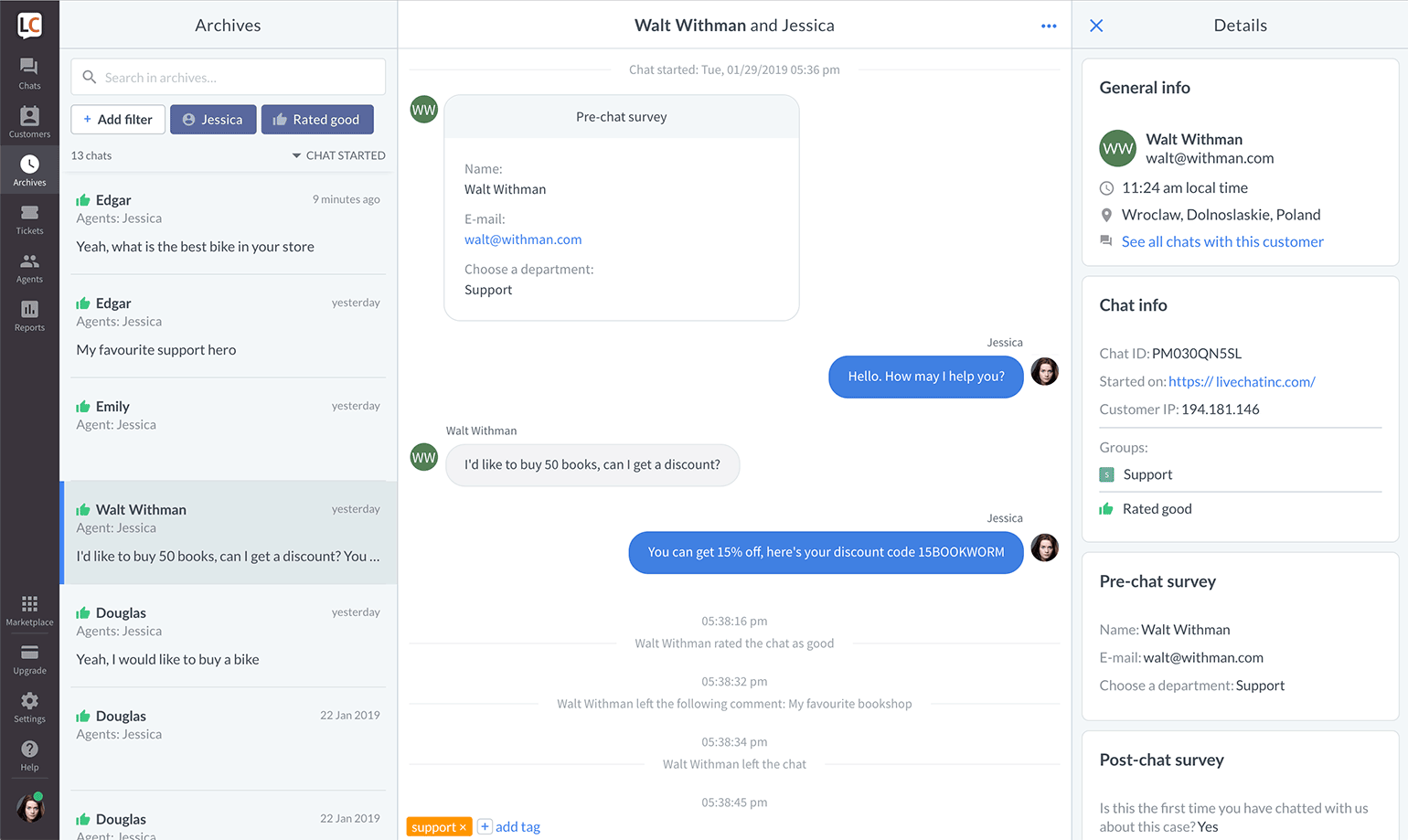 the new design is easier to work with. A clear division between a list of archived chats, chat feed and details, makes you know what is what immediately
you can see all chats with a particular customer with one click
the old filters like Agents, Groups, Tags, Sales, etc. are still there. Now, you can set them to return results that meet one or more conditions. For example, all chats that were tagged with either Support or Sales tags
last but not least, it is possible to sort chats by date
Agents
What's new (and better) about the redesigned Agents section: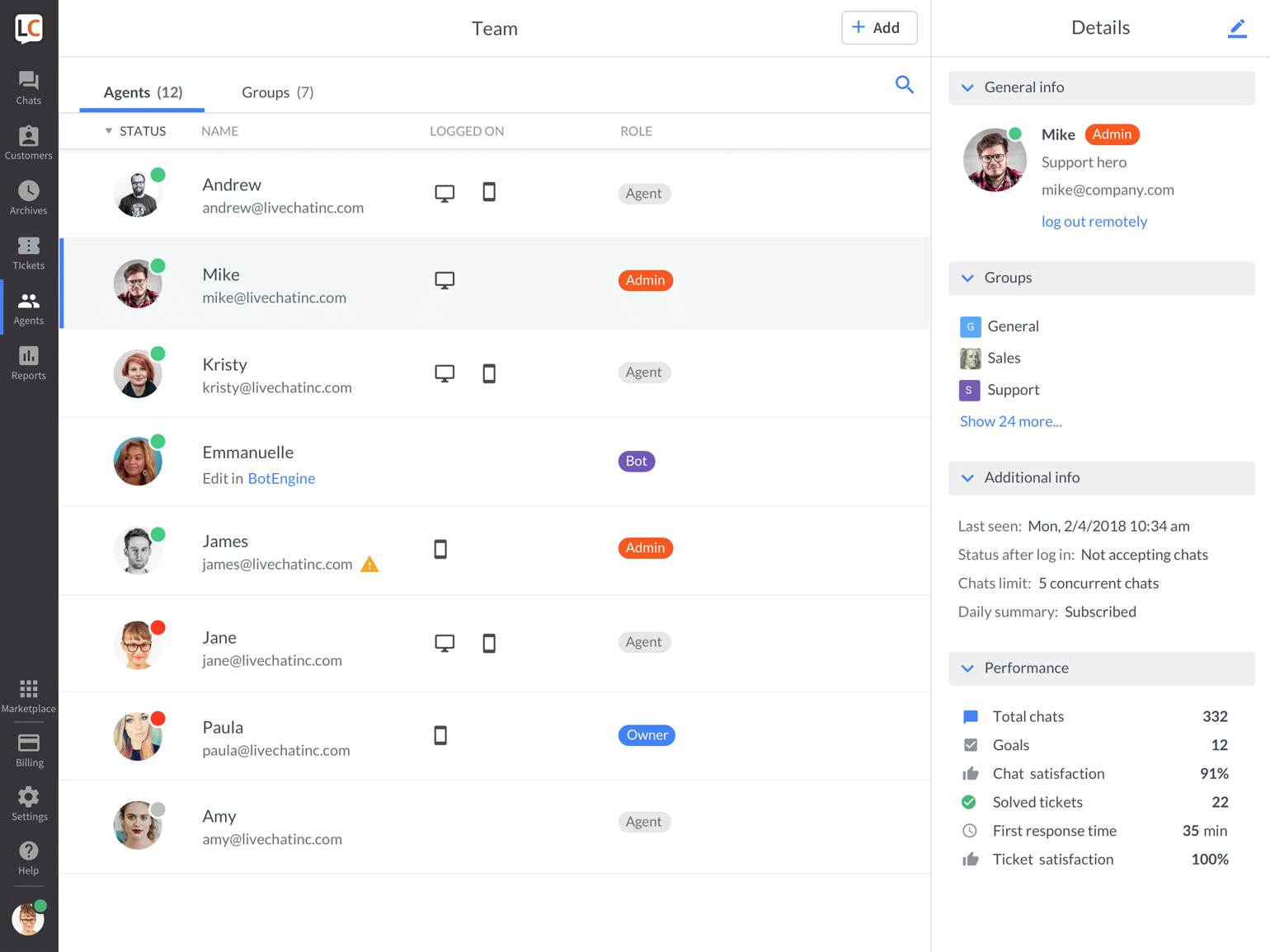 information about agents can be sorted by name, role, device, status; no more going through a never-ending list of names
your teammates can join LiveChat through a shareable link
agent's e-mail address is displayed in the list
thanks to agent priority setting you can set who gets incoming chats first, and who will play a backup role in a group
groups can be easily navigated thanks to group icons
agent details bar has been tidied up to make looking for information easier
Tickets
What's new (and better) about the redesigned Tickets section: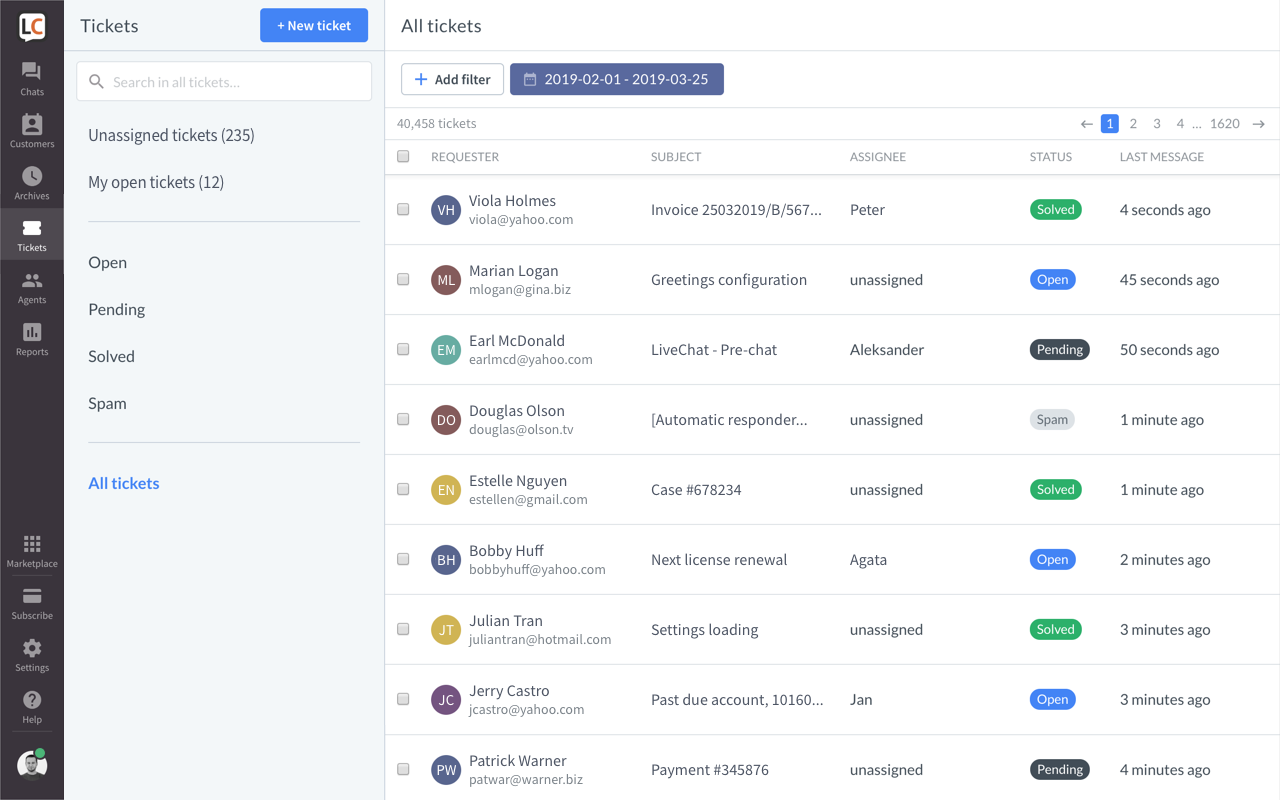 clear layout and intuitive filters that make navigating easier
all tickets tab that lets you find a ticket regardless of its status
you can remove groups assigned to a ticket
and copy ticket URL with one click to quickly share it with your teammates
Reports
What's new (and better) about the redesigned Reports section: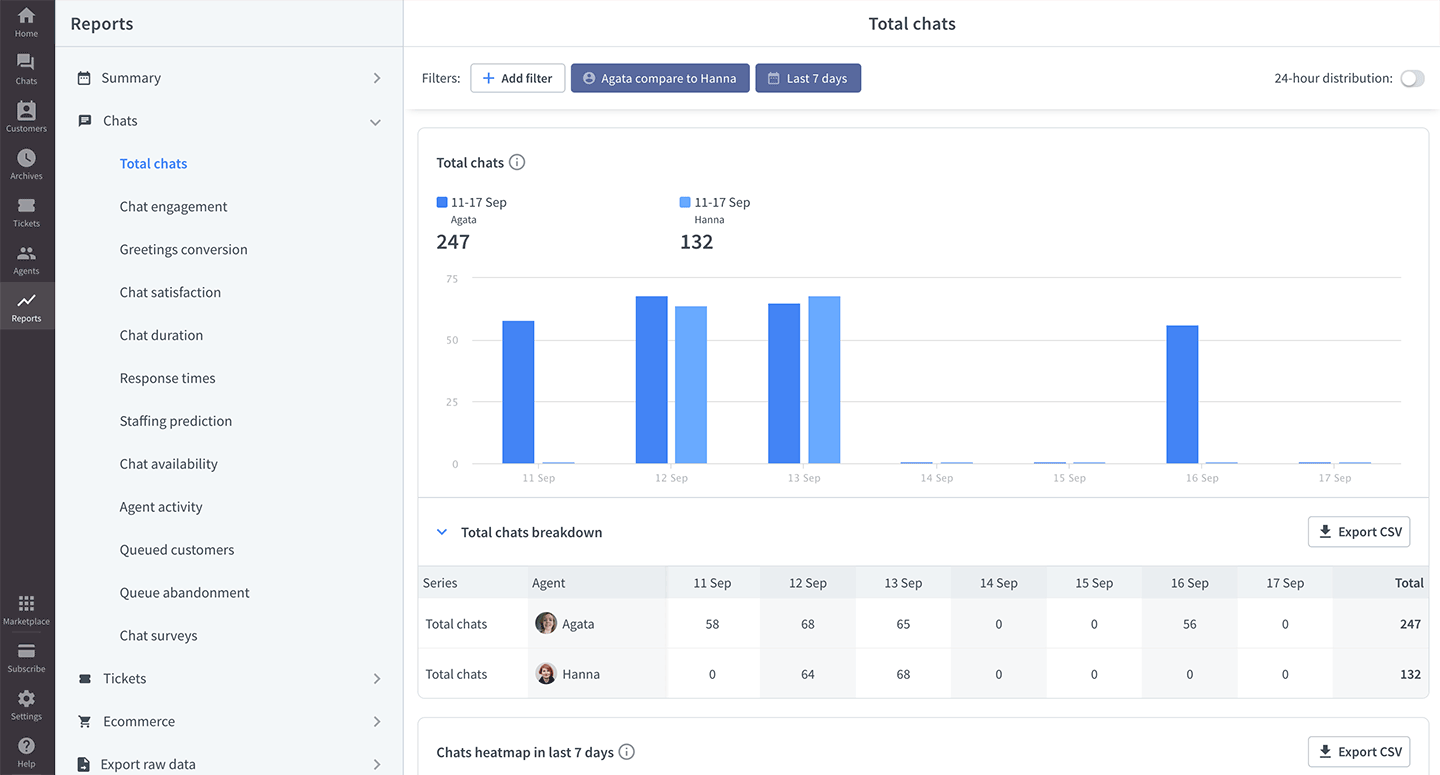 period comparison lets you look for trends in your metrics
agent comparison lets you see differences in performance between agents
data breakdown shows detailed information in a table view
heatmaps indicate the busiest and least busy times for your team
Settings
What's new (and better) about the redesigned Settings section: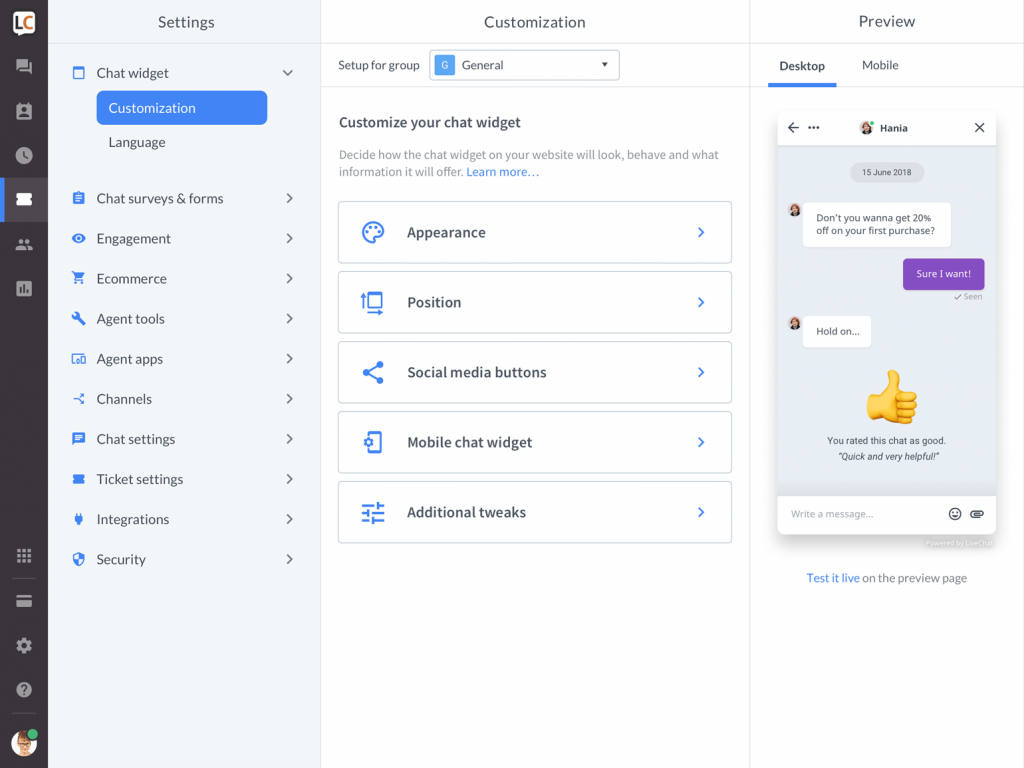 the revamped menu makes it easier to navigate and find the setting you are looking for
with switching to the new chat widget you can customize it right in Settings without using any CSS or JavaScript, read this article to see what can be changed with the new chat widget configurator
Chat widget
What's new (and better) about the redesigned chat widget: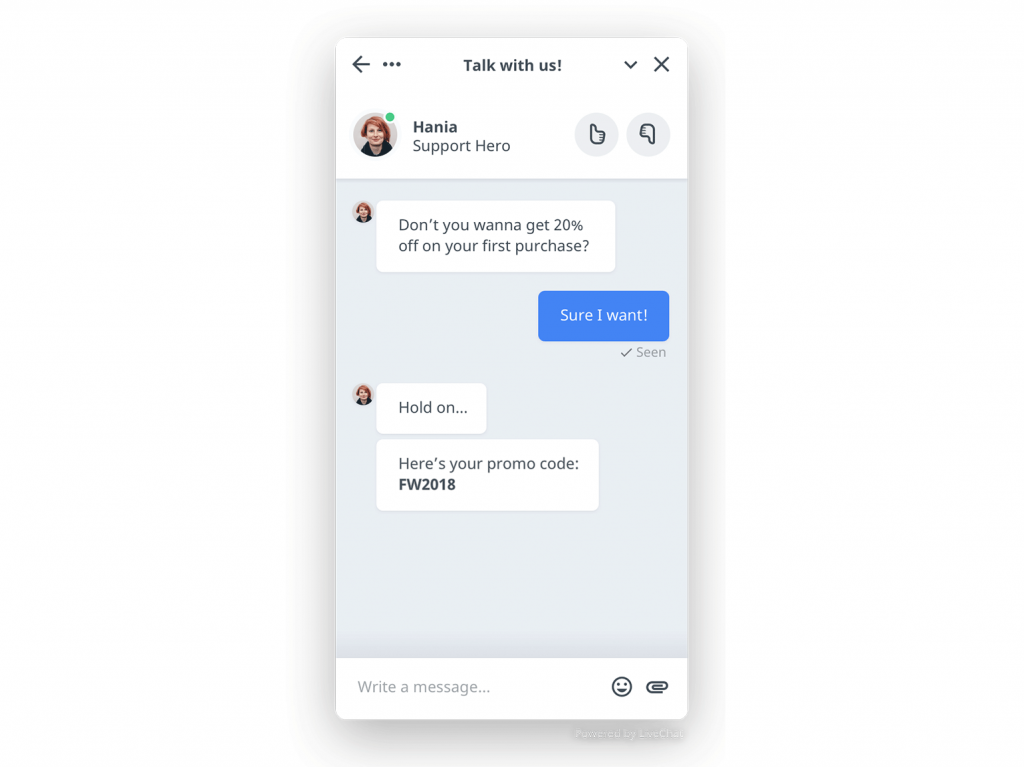 chat widget has stepped into the 21st century with its modern design
thanks to advanced customization options available in Settings you can change the widget's looks without using any CSS/JavaScript
chat widget can display rich messages - which means sending customized product cards with images and buttons
actions like receiving new messages in a chat, minimizing the chat window or having the window pop up, now come with a small animation