LiveChat mobile supports smartphones and tablets, which makes it the perfect ally when:
your business is just starting
online is just a part of your operations
you're needed on the floor of your company
you're en route to customers (please don't text and drive!)
you work from home and the WiFi is spotty or your desktop is fickle
your team needs a hand to deal with a sudden wave of traffic.
For all these scenarios and more, be sure to download the LiveChat mobile app for your iPhone and iPad, Android phone or tablet or Huawei device. 
All the above situations can be made easier to handle in Asynchronous mode. If you set your availability to Always, the chat widget will be available for your customers 24/7. They'll be able to leave a message, and you'll be able to respond at your convenience. Learn more about how this can help your business. 
Notifications
Whether you divide your time between online and in-store customers, are en route to a customer or just want to have backup for those pesky WiFi outages, allow notifications on your mobile device so you can hear all incoming messages. 
You can log into your LiveChat account both on your desktop and your mobile device at the same time. While you work on your desktop device, the notifications aren't pushed to your mobile. When you step away from your desktop, notifications will hit your mobile with just a short delay.
You can decide whether or not you get notifications during periods in which you're not accepting chats. To set notifications, go to the More tab in the app , select Notifications and sounds and switch on the Do not disturb when I'm not accepting chats toggle.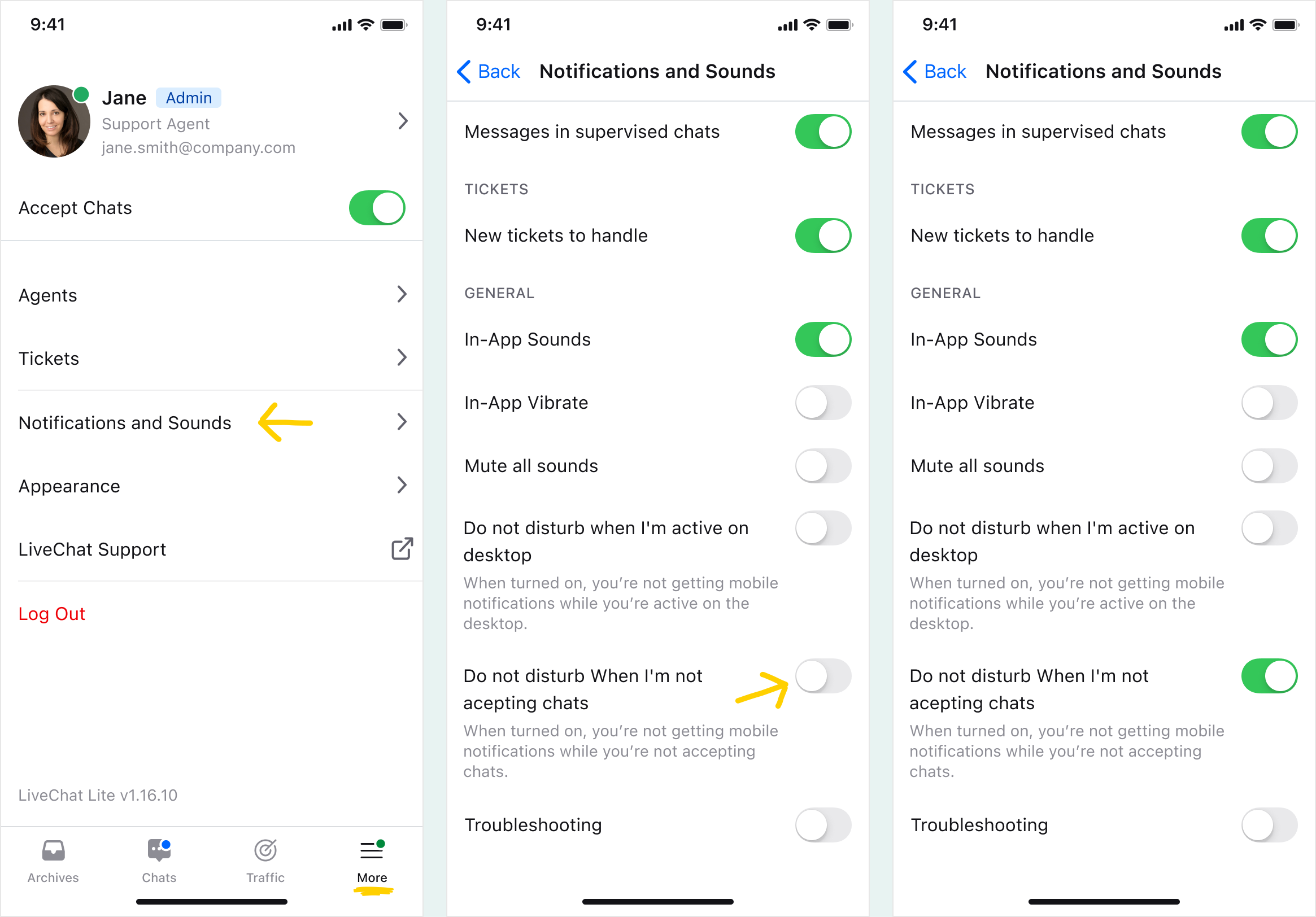 You can stay logged in outside of your chatting shift, and only switch off accepting chats. Here are some of the use cases for such a solution:
When your business is just starting, you might want to enable notifications for New and returning visitors on your website — great for monitoring traffic on your website or even proactively starting a chat.
When your team gets sudden waves of traffic, the Visitors in the queue notification will alert you that your team needs help to deal with the chat volume. Learn more about queue management.
When you want to supervise your teammates, e.g. during a training session, or if you are the one training new hires, switch on the Message in the supervised chat notification so that you don't miss a single message in the chats you're supervising. Learn more about supervision.
If you ever miss a chat or a message while logged in on your mobile, it's always a good idea to check if all the intended notifications are enabled and whether notifications are allowed in your mobile device settings.
Chat, wherever you are
Once you install LiveChat mobile, make sure to log in to your LiveChat account. Once you do, you can decide whether you want to start accepting chats immediately or not. To start accepting chats, go to the More tab in the app and switch on the Accept chats toggle.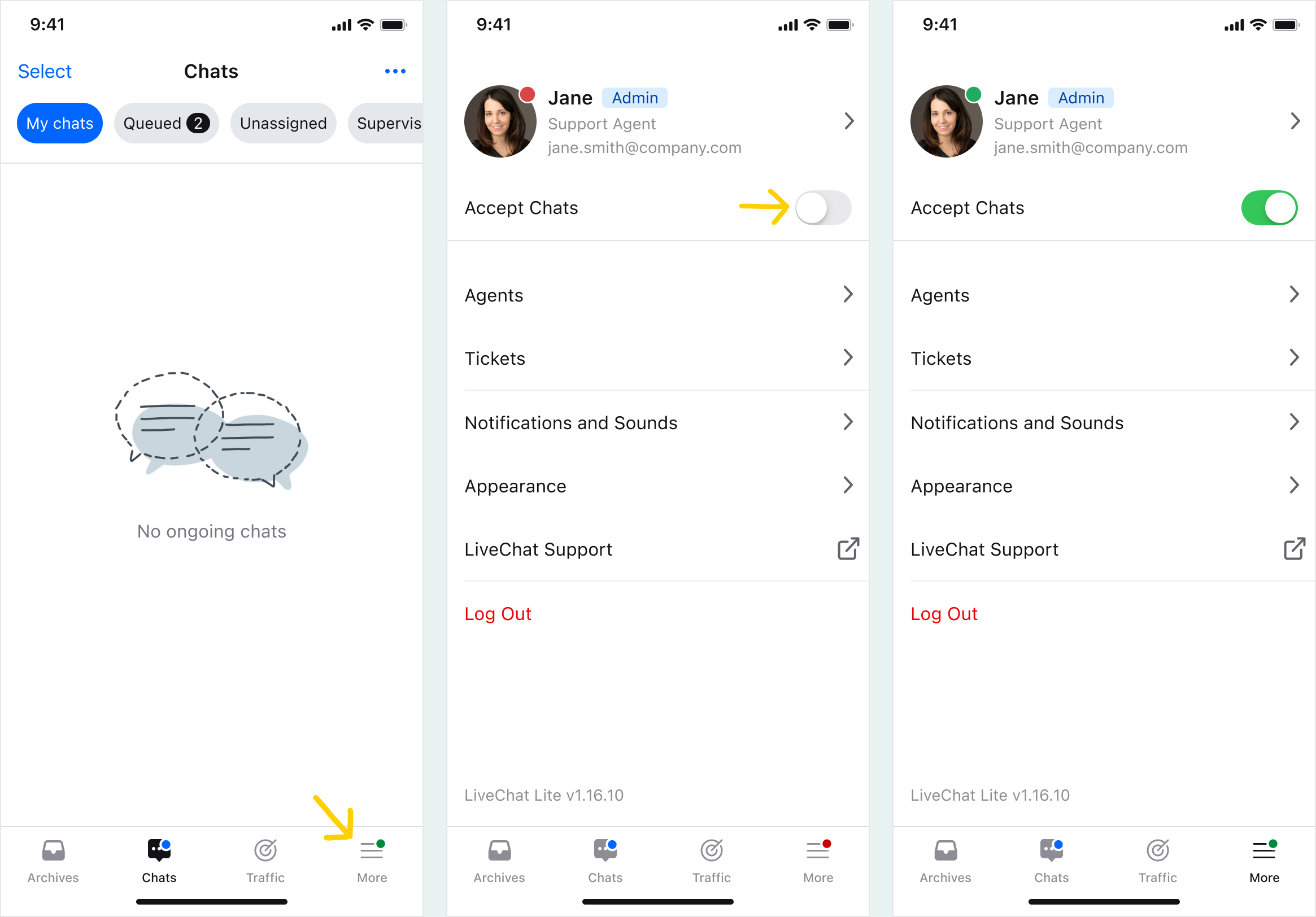 Provide support that's fast and precise 
Providing support that's fast and precise is never more important than when you're on the go. With the LiveChat mobile app, you can see what the customer is writing even before they send the message, you can send a message without typing it out, start a video call with the customer and more!
Sneak peek is a standard feature of the LiveChat Agent app — it shows you the customer's message while they are typing it out, before they send it. With this handy feature, you can prepare your reply by looking for the information, links or products your customer is after while they are still typing out their message.
You, on the other hand, don't have to type out whole messages, or copy and paste links, because you can have them saved as canned responses. Use canned responses for frequently sent messages, such as hellos, thank-you's and goodbyes and impress your customers with your speedy replies. Save links, addresses, etc., and be sure there will never be a typo in a crucial link, phrase or number. Save yourself time by sending pre-prepared, step-by-step instructions when needed. Use the saved time to personalize the messages before sending.
To send a canned response simply click on the # or start typing the # and the list will appear.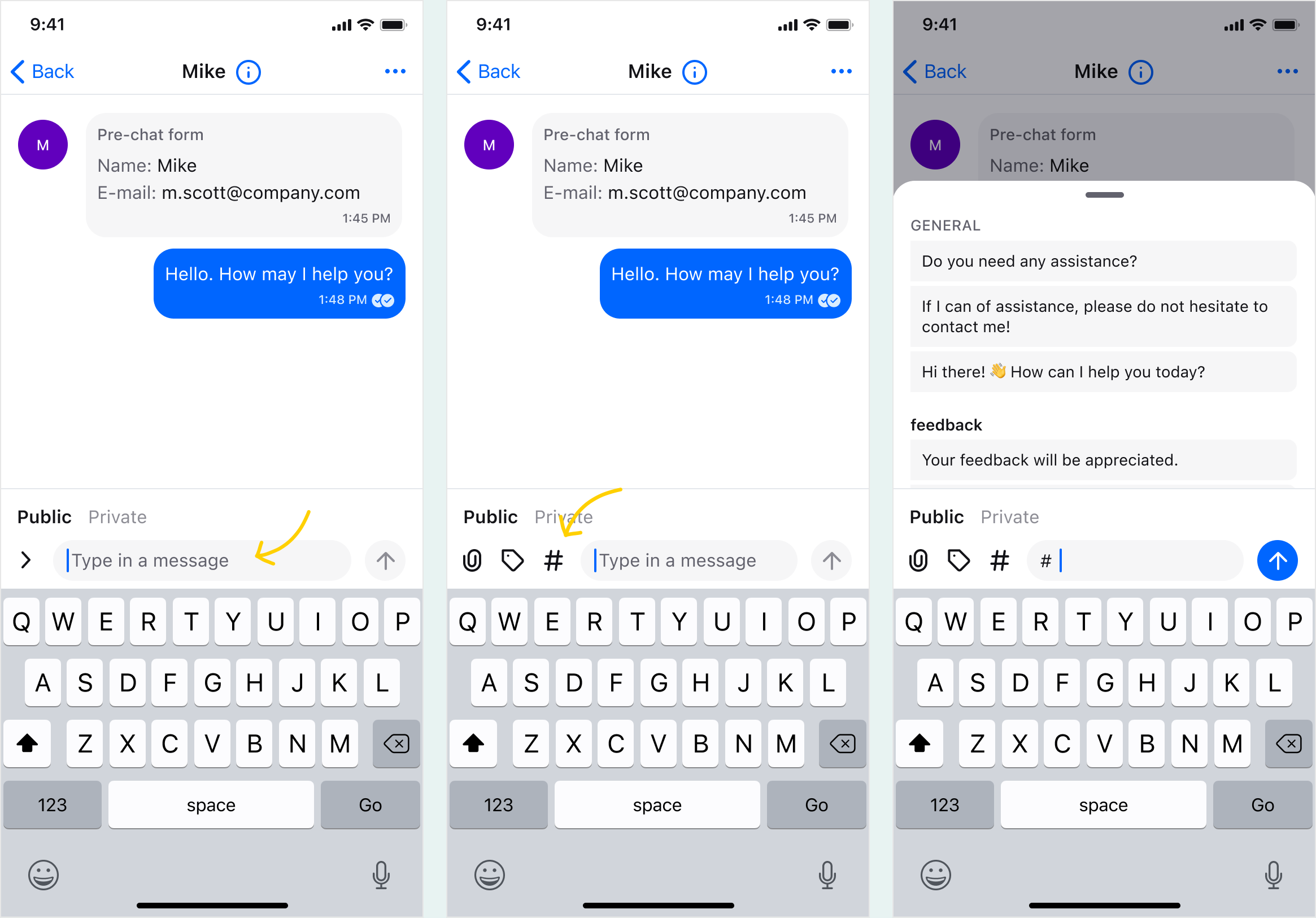 Your most recently used responses will always appear at the top of the list. If you don't need them to, you can disable this by switching off the Recent responses toggle in More>Appearance.
Build relationships with your customers
You can take your sales and support even further and help your customers even when you don't speak their language! Message Translator, available from the LiveChat Marketplace, automatically detects the customers language and translates both your messages and those of your customers in real time.
And in cases when a quick voice or video call would save a lot of chatting, be sure to install the SnapCall integration. It will allow you to offer voice and video calls to your customers right in the chat, without a phone number. For example, Canadian Appliance Source uses LiveChat with SnapCall on mobile for live product demonstrations in the showroom of their online store.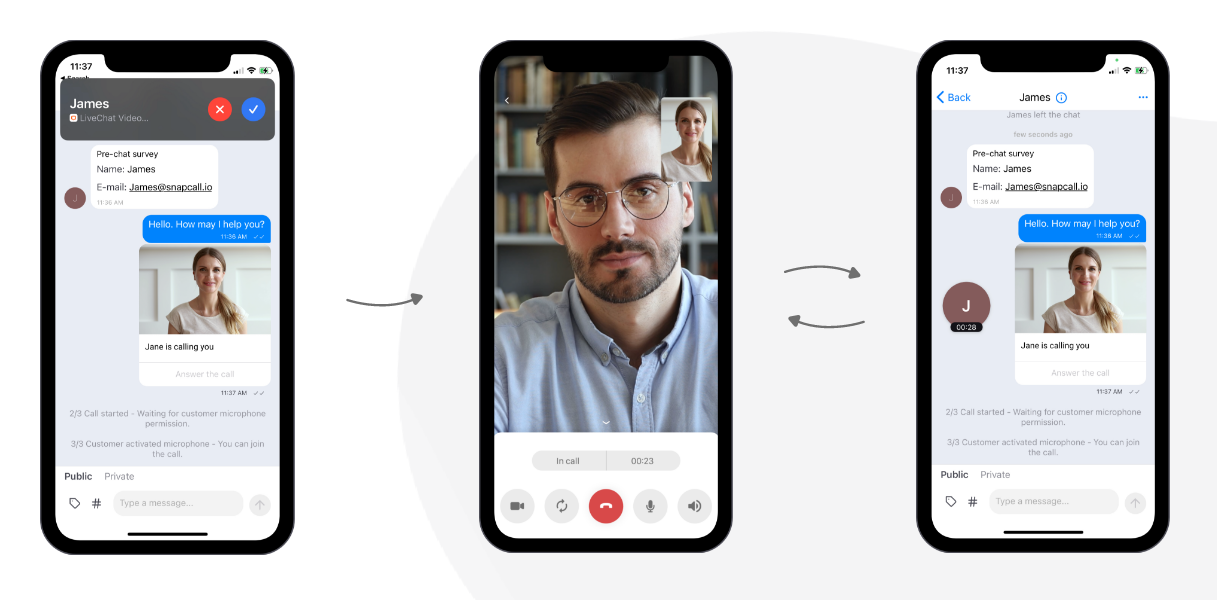 Meeting your customers where they are and providing the kind of communication they prefer is important. Equally important is personalizing the communication. In LiveChat mobile you can open the Archives tab and find all the chats the customer had with you previously, without scrolling up in the ongoing chat. Customers really do appreciate being recognized and remembered.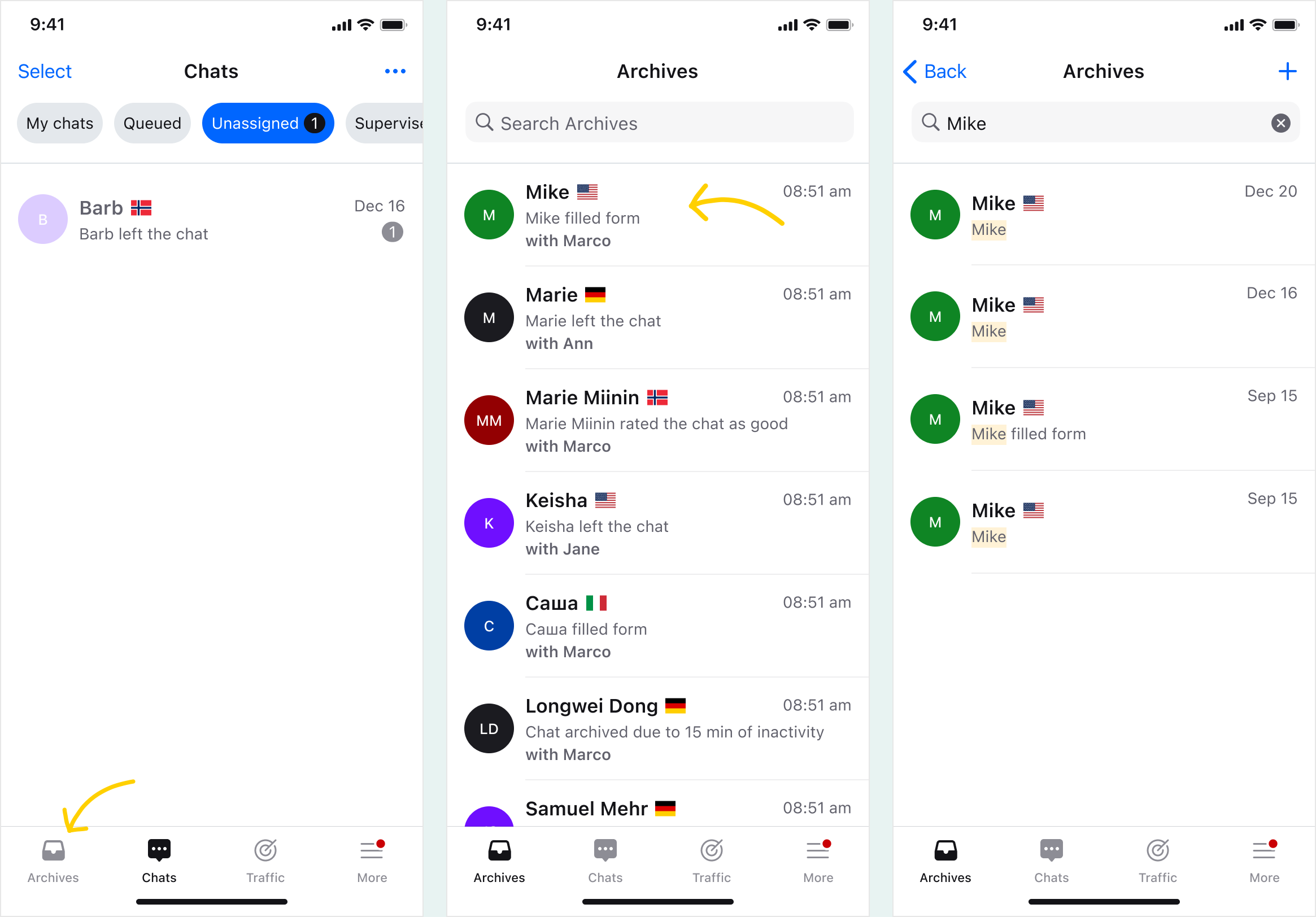 You can also search the Archives by keywords to check how you or other agents handled the matter previously. This is especially useful for new joiners in your team — by checking the Archives they can follow the lead of experienced agents and provide the same level of support. Your customers will love how consistent your support is.
Engage your website visitors
The mobile app lets you monitor the traffic on your website in real time. Go to the Traffic tab to view visitors as they browse your website, and click on a visitor to see their details, such as their email address, location, or the pages they visited while browsing. 
In this section you can also start a chat proactively, for example when the visitor lands on a strategic page, such as checkout.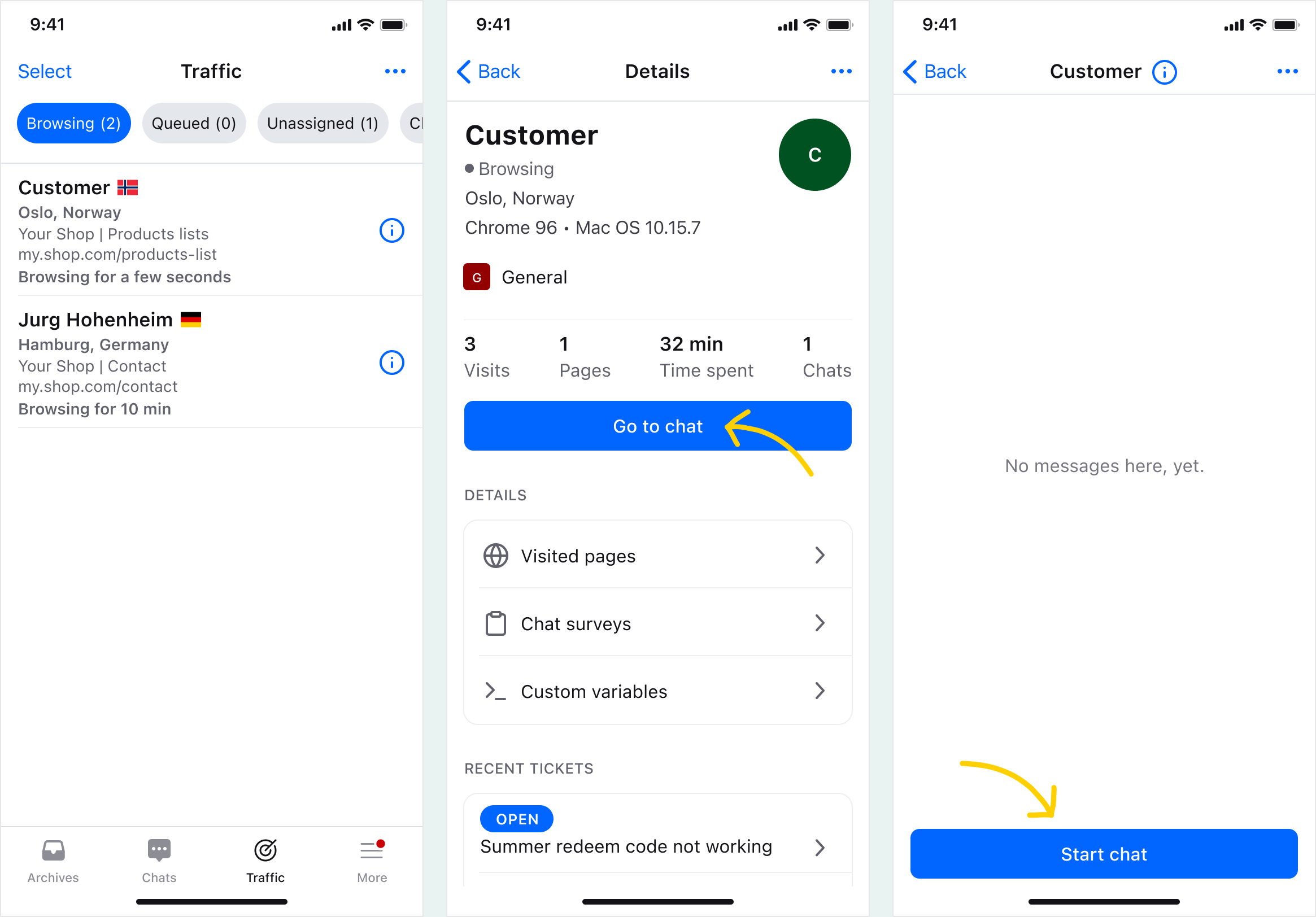 You can even select a number of customers at once and perform a bulk action, for example, start a chat proactively, or start supervising all your agents' chats.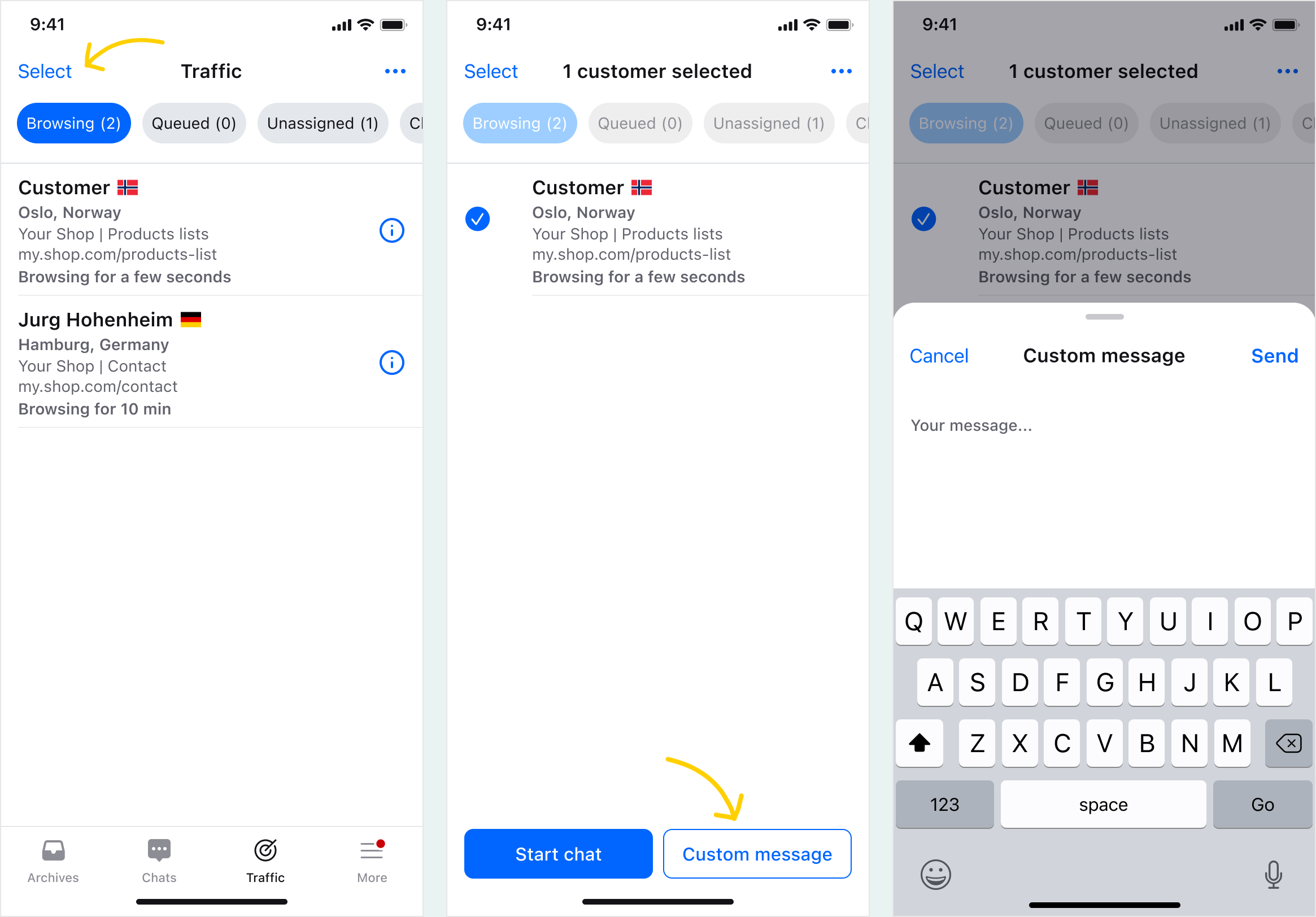 If your business is just starting, you can use the new and returning visitor notifications to make sure you don't miss any customers.
If your business is just starting, you can use the new and returning visitor notifications to make sure you don't miss any customers.
Harness the power of teamwork
The mobile app lets you manage your team on the go: add new agents, edit their profiles or log them out of the LiveChat app if needed.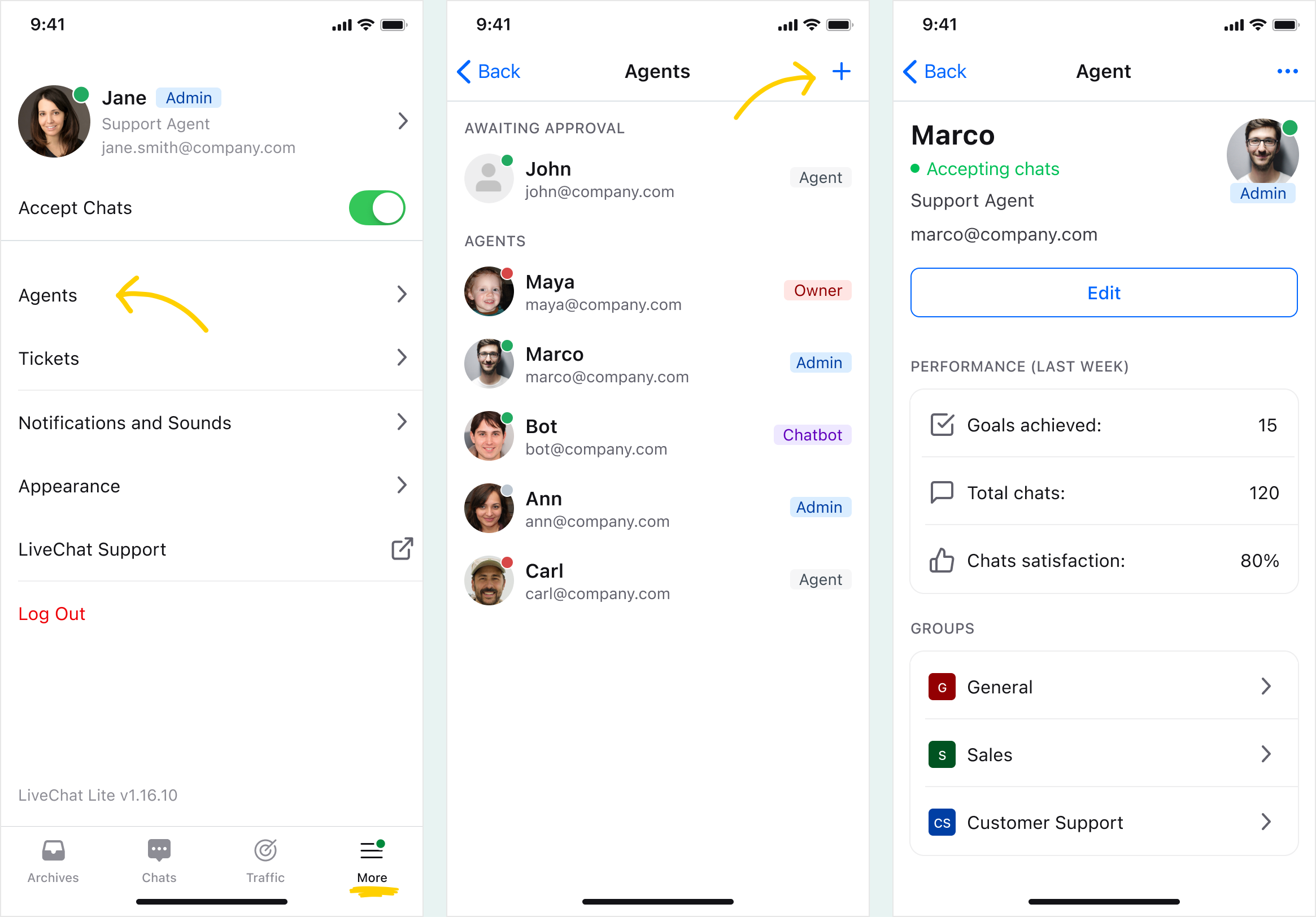 To get to your team's profiles select the More tab and then select Agents. To add a new agent, click on the + in the top right corner, and to edit a profile simply select the agent from the list. Once there, you can change the agent's permissions or manage which groups the agent should join. Learn more about groups.
Use tickets to your advantage
Tickets mentioned in this article refer to the old LiveChat ticketing system available to new customers until June 1, 2023. If you haven't done so yet,
set up a HelpDesk account
to start using tickets along with your LiveChat!
Tickets mentioned in this article refer to the old LiveChat ticketing system available to new customers until June 1, 2023. If you haven't done so yet,
set up a HelpDesk account
to start using tickets along with your LiveChat!
With the LiveChat mobile app, you can be available for your customers on the go. Sometimes though, the matter at hand requires checking something for the customer, waiting for stock to arrive, or simply work that will be most conveniently done from from a desktop. In such cases create a ticket for the customer. You can easily do this while chatting with the customer, and the chat will be referenced in the ticket. If the customer gets in touch via a ticket, you can handle the matter right in the mobile app.
To create a ticket, simply select the Create ticket option from the … menu.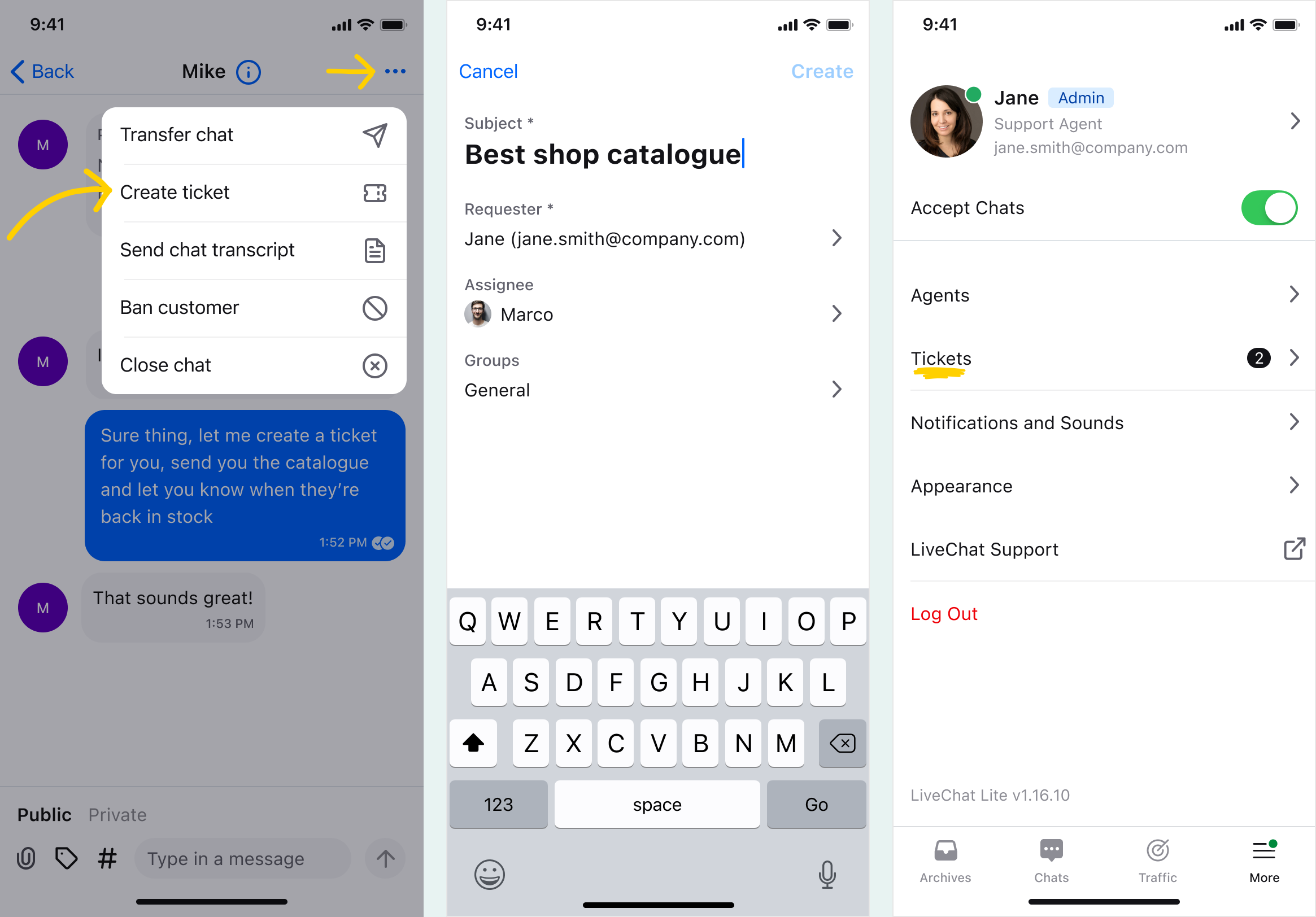 Both native LiveChat and HelpDesk tickets are supported in the mobile app. To access existing tickets, go to More and pick Tickets from the list , if you're using LiveChat Tickets. Read more about LiveChat tickets.
The path is the same for HelpDesk tickets. To access all tickets select More and then HelpDesk tickets. Read more about HelpDesk tickets.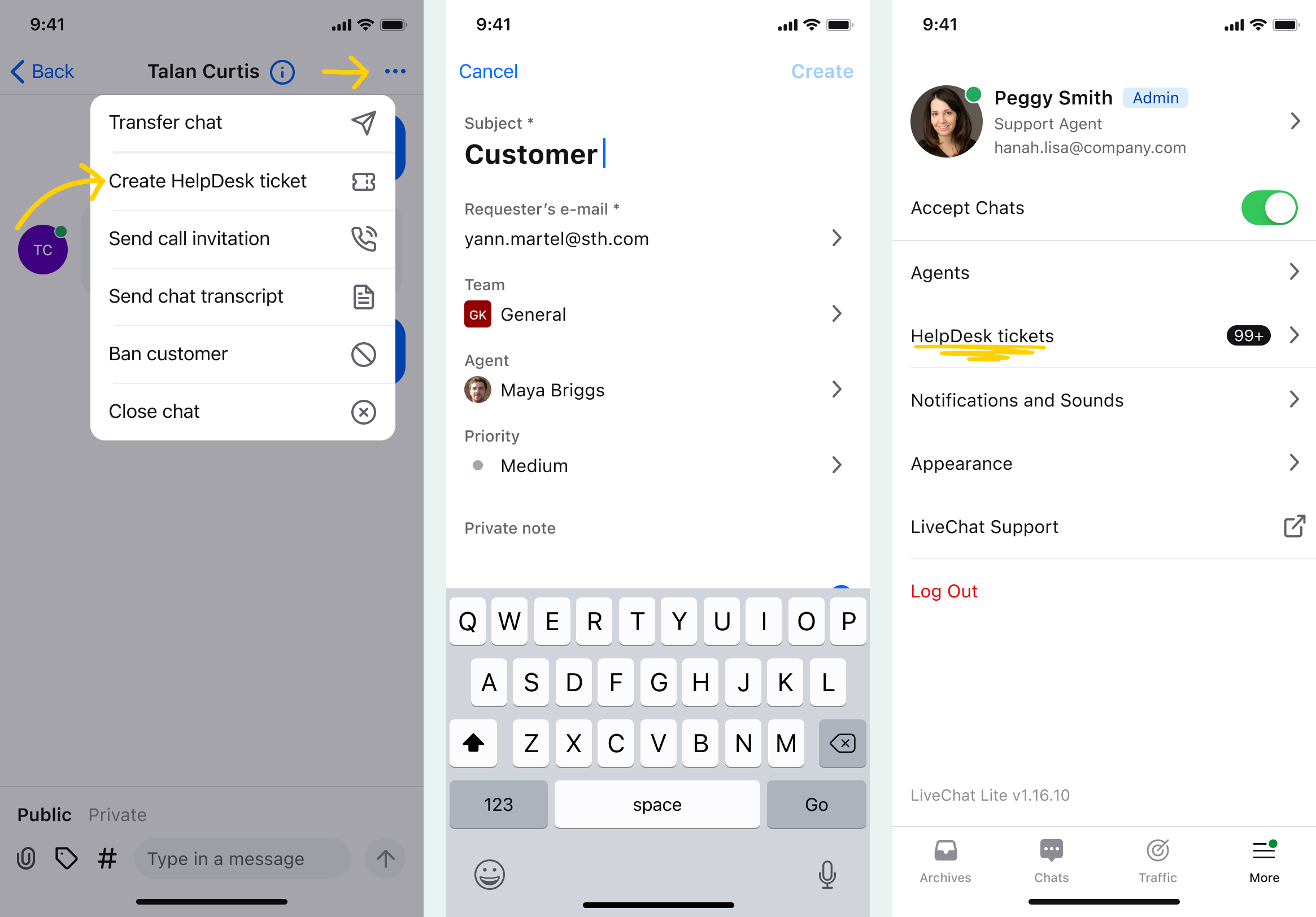 Show the face of your business
The LiveChat mobile app lets you set a photo for your agents within the agent profile settings. You can take a photo directly from the app settings, choose an existing picture from your phone's gallery, or select an avatar from hundreds of default portraits available in the LiveChat gallery.
To set the photo: