By using the Messages app on iPhones, iPads and Apple Watches, your customers can easily contact your business, receive real-time support and access products or services.
The service is seamless from an agent perspective. Chats, incoming from the Apple service, are managed within the LiveChat Agent Application. There is no need for customer service agents to learn a new interface.
Integration tutorial
To integrate LiveChat with Apple Business Chat, you'll need to set up and configure your Apple Business Chat account, install the Apple Business Chat app in LiveChat Marketplace, and add a way for your customer to contact you via Messages. Here's how to do it:
1. Create an Apple Business Account
First, go to Apple Business Register and connect your Apple ID with Apple Business. We recommend using an Apple ID that is connected to your business email.
2. Add Business Account for Messages
Next, add a Bussines Account for Messages:
Go to Manage Services.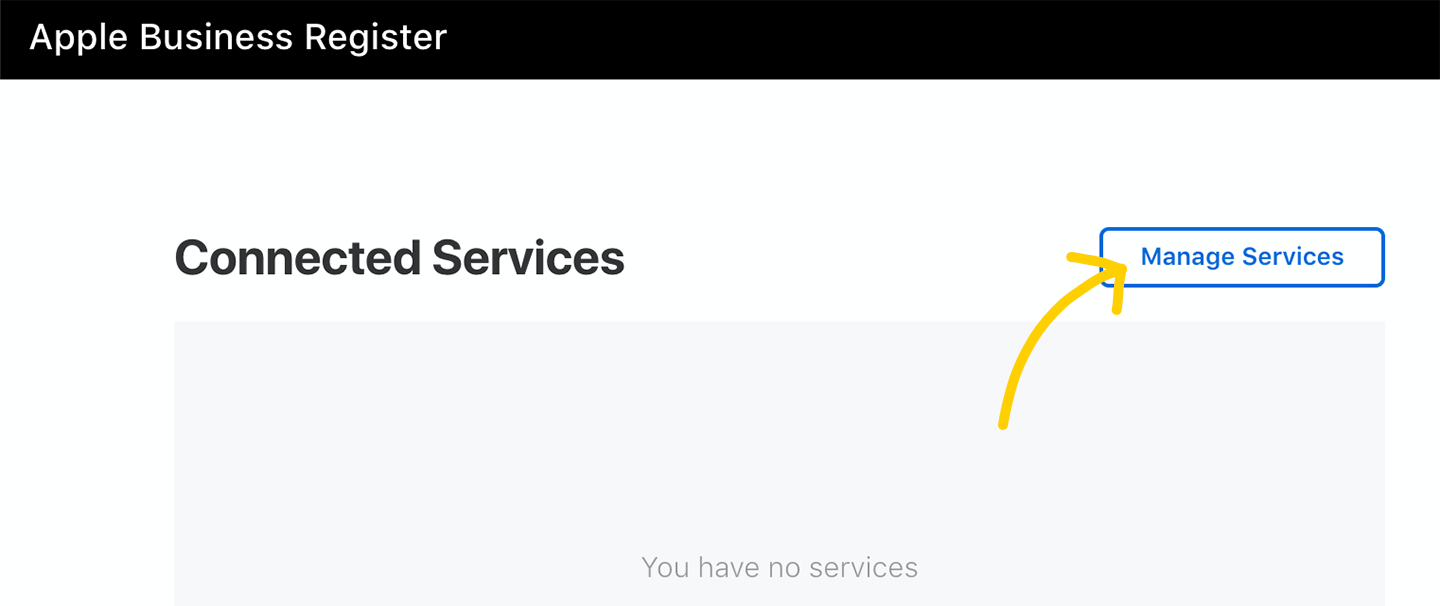 In the Messages section, find Business Accounts for Messages and click + Add service.

Click Done at the bottom of the page.
3. Configure your Business Chat Account
Next you will need to add a Business Chat Account:
In Connected Services, click on the Business Chat Account tile.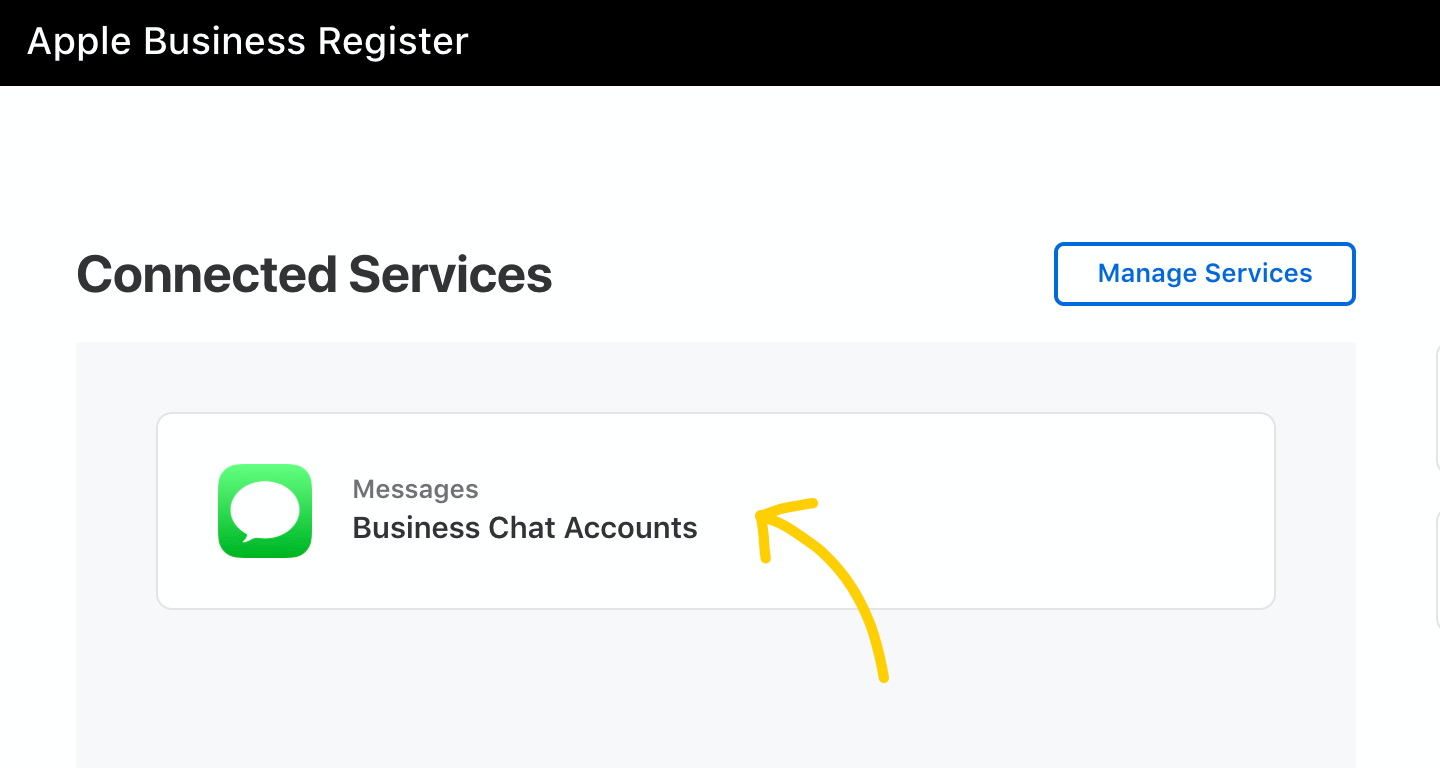 In the new window, click on + Add new in the top left corner.
Then, click on Get Started.
Read and agree to Apple Business Chat policies. Check all boxes and click Next to proceed.
Now you need to fill out your application. It will need to be reviewed by Apple before you can start using Business Chat.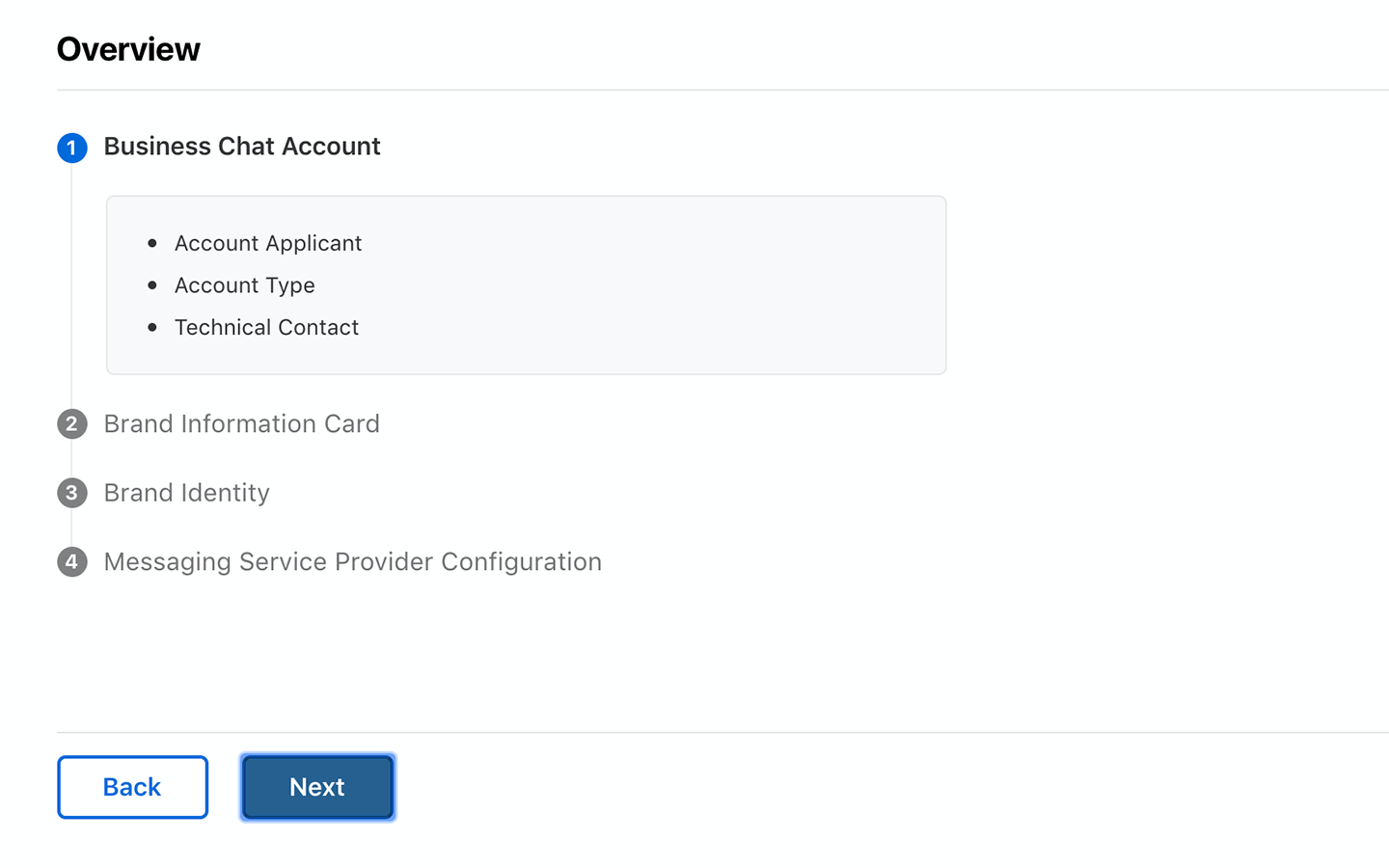 The first part of the application, consists of general questions about your business, like basic company details and the contact person in your company. Fill out all mandatory fields, and click Next to move on to the next steps.
In the second part of the application, you need to provide information that will be displayed on the Brand Information Card. For example your website address and agent response hours.
In the third part of the application, you'll need to upload your brand logo that will be displayed in the Messages app.

In the last part of the application, you need to select the messaging service provider – in this case it's LiveChat.

To do so, click on the dropdown list, and select LiveChat from the list.

You will be then asked to test the Customer Service Provider Connection. Click the Connect button.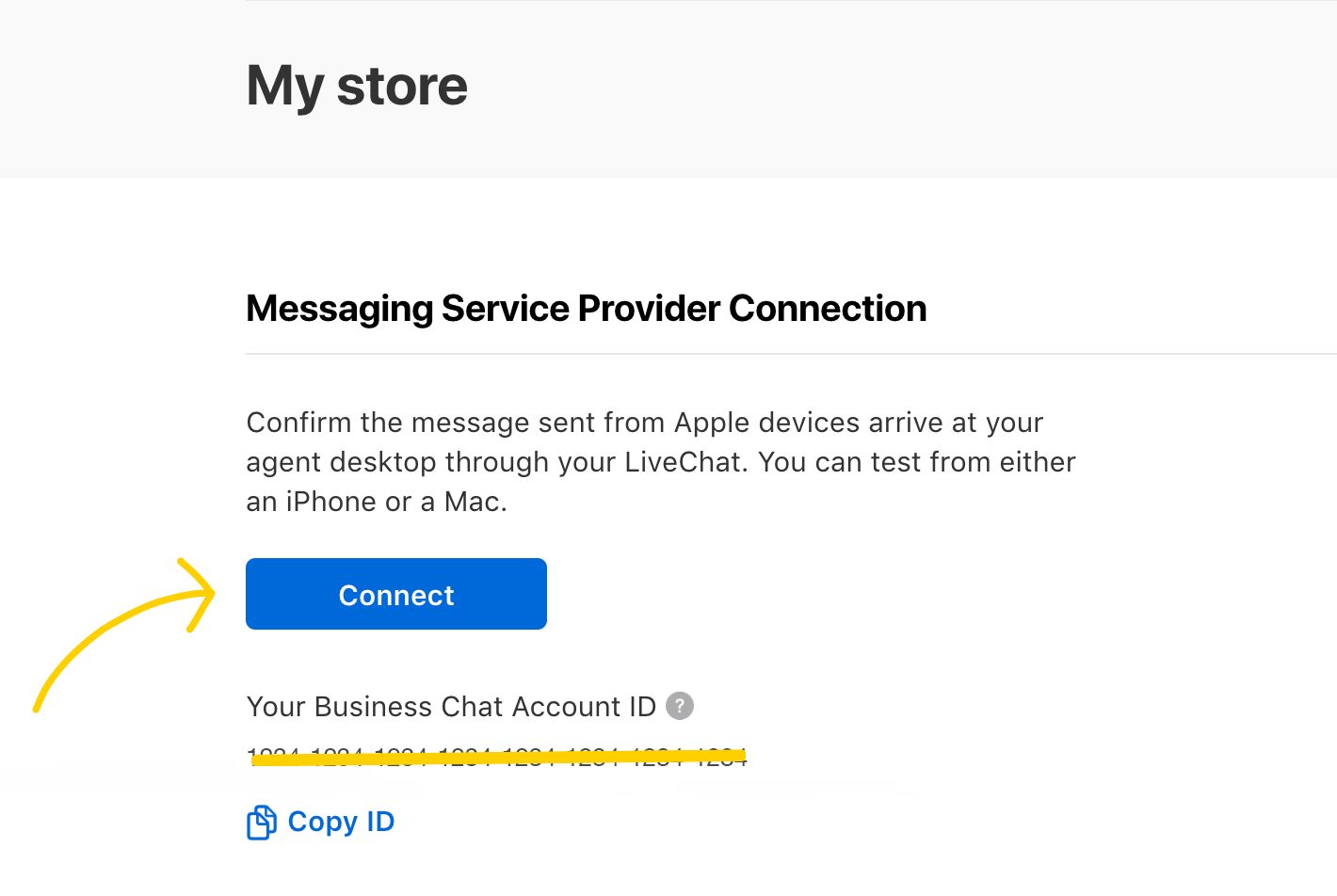 Sign in using your LiveChat credentials and follow the instructions.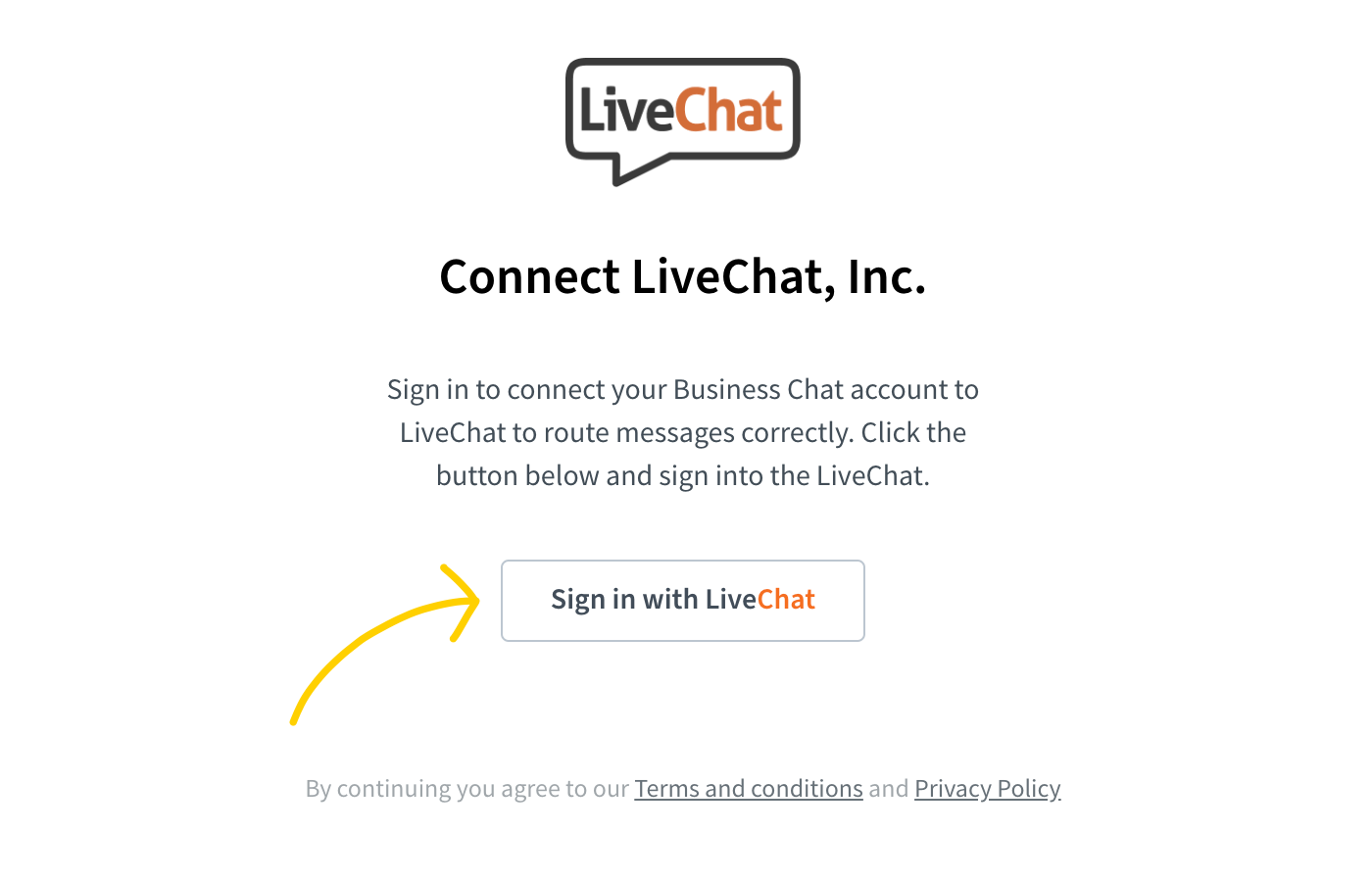 Your LiveChat license is now connected to your Apple Business Chat account.
Finally, check if all the information you provided is correct and click Send for review.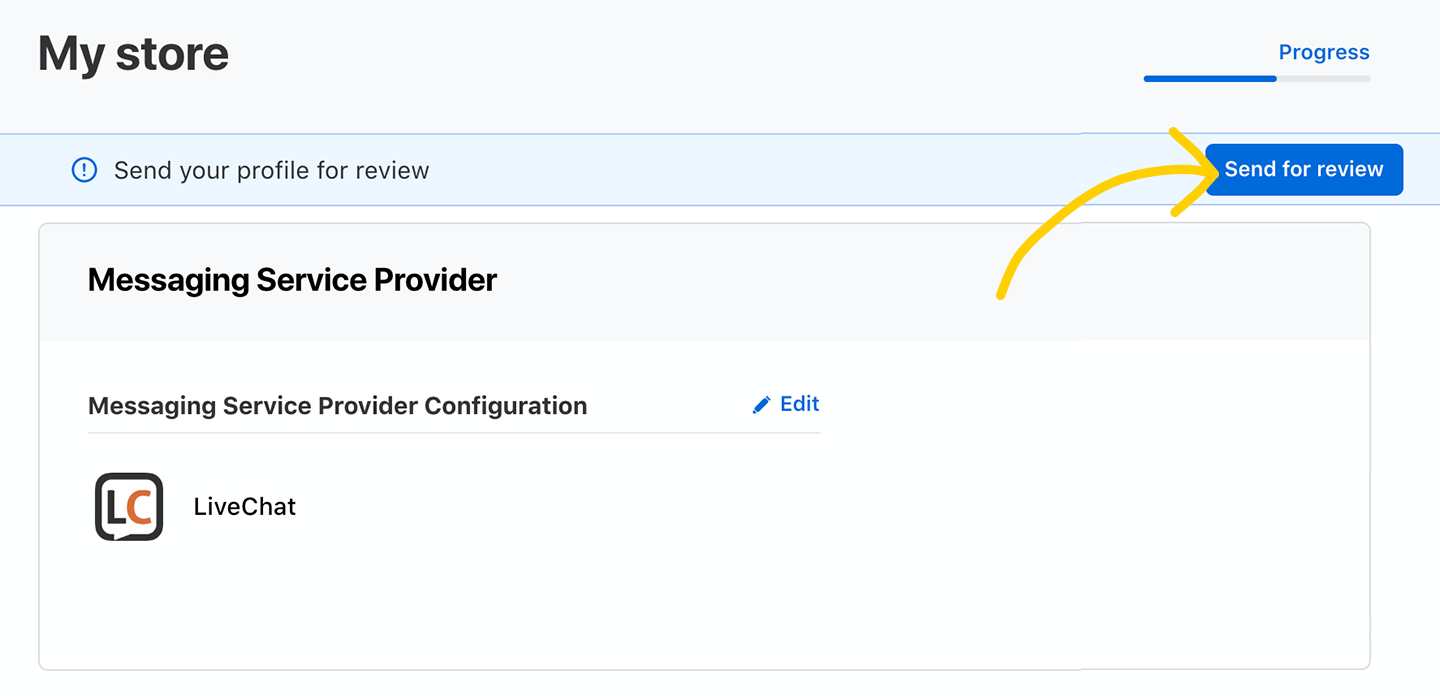 You will now enter the review process with the Apple QA Team. You will be provided with precise information about the next steps. If you are setting up Apple Business Chat for the first time, allow additional time for the review process.
You'll need answers for the following questions:
What are your use cases for Apple Business Chat?
Which entry points do you plan to use?
Is your Support Team ready to use the integration?
4. Setup entry points
To let your customers reach you via Apple Business Chat, you need to set up entry points:
How the integration works
Once it's implemented, your customers can send you messages. They will appear in the Chats tab (just like all chats do). You will find them in the Unassigned chats section on the chats list.
To reply to a message, select the chat from the list and click on Assign to me. Then you can send a message as usual.
Unassigned messages stay on the Chat list until assigned to an agent and closed. So you can answer whenever is convenient.
You can also use a few extra features that make for an even better chatting experience:
List
You can create a list of items, for example, of a few similar products that might interest the customer.
To send a list:
Go to a chat and open the Apple Business Chat app from the details bar on the right.
Fill out all relevant fields and click Send.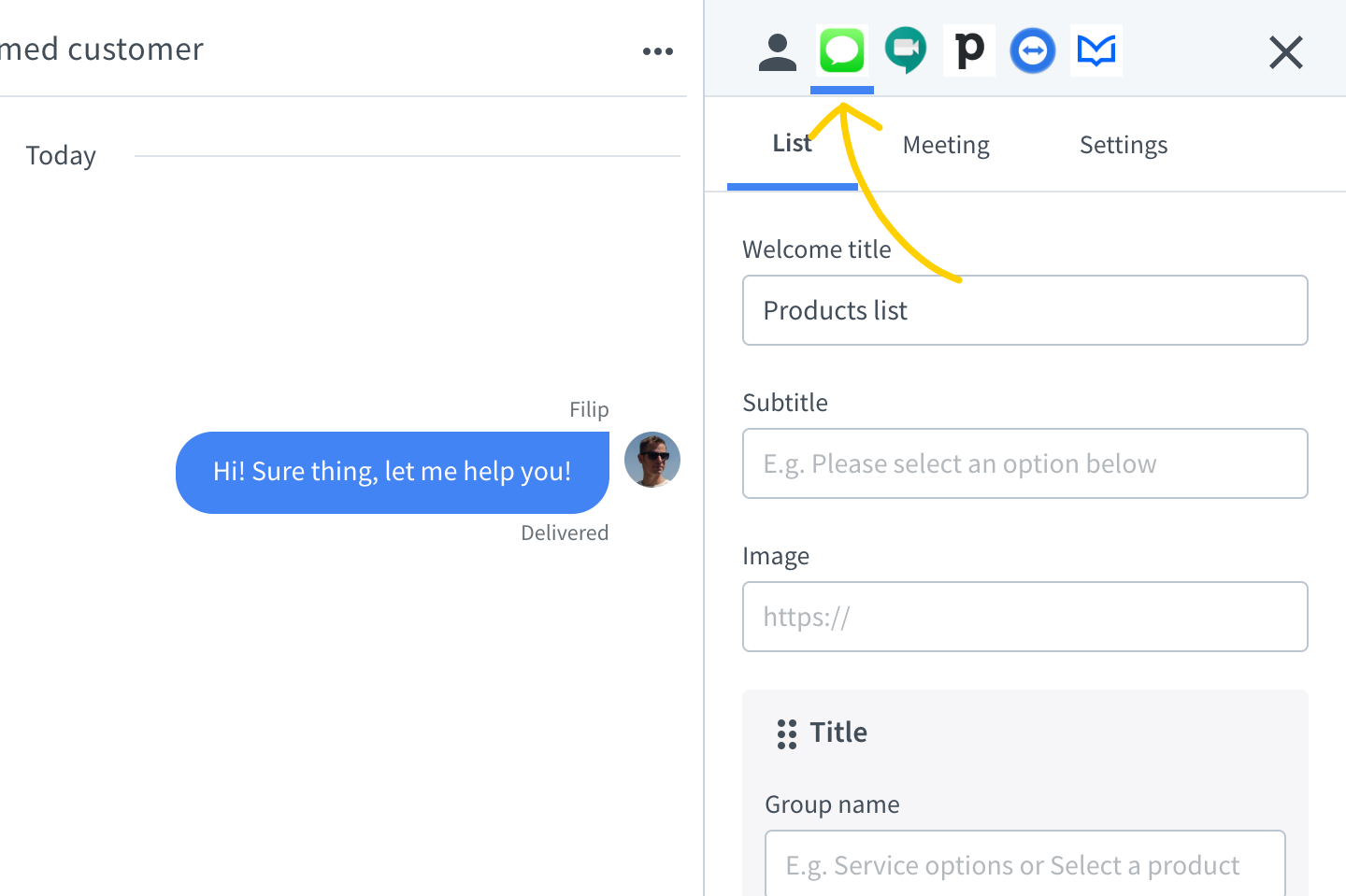 Meeting
Propose time and date options and let customers reserve one in chat. They see any conflicts thanks to automatic cross-checking with the Calendar app on their iPhone.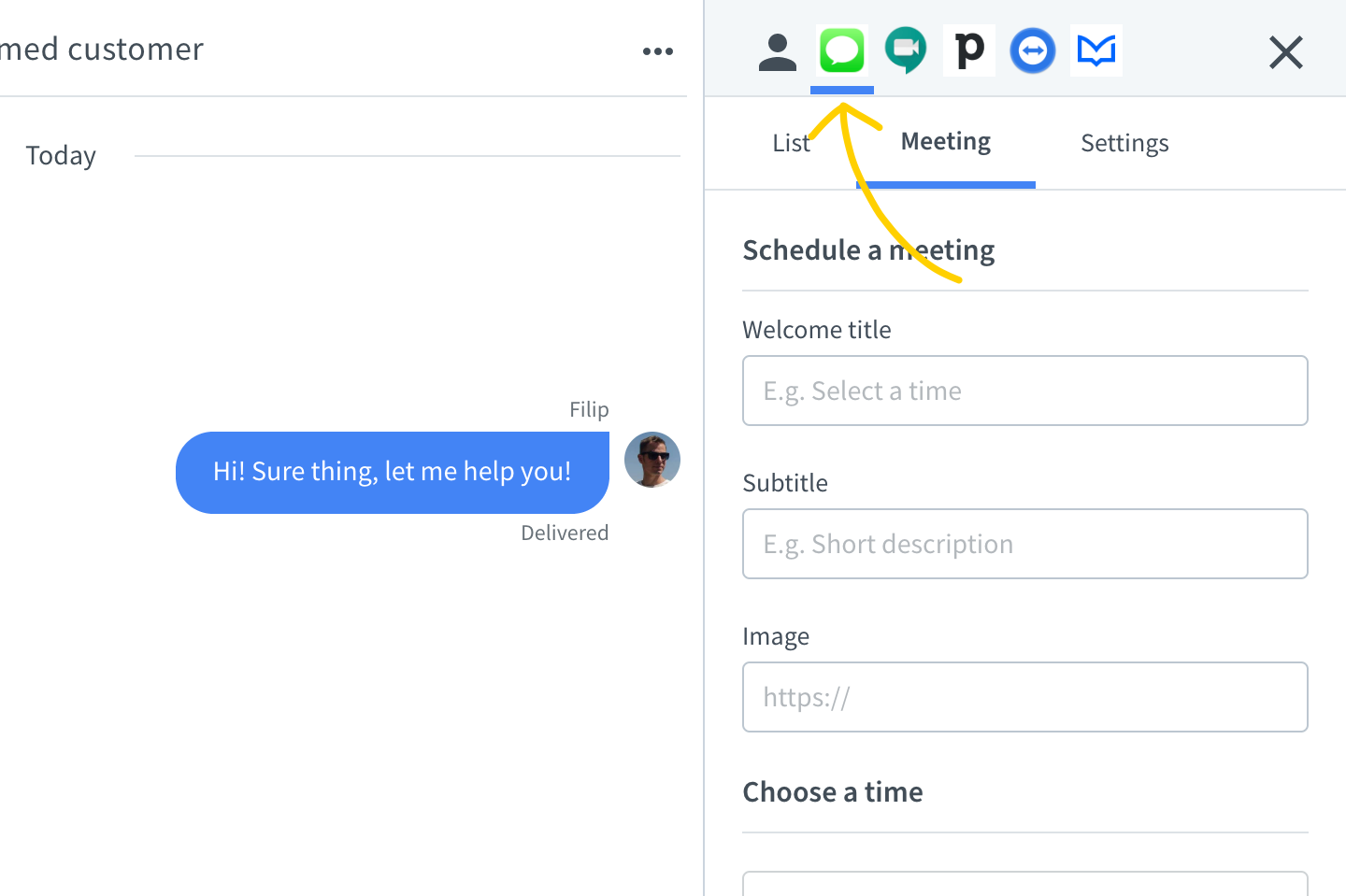 To send a meeting invite:
Go to a chat and open the Apple Business Chat app from the details bar on the right.
Fill out all relevant fields and click Send.
There are a few additional features, that need work on the developer side and can't be used out of the box. You can read more about them in the developer docs: Apple Pay, Authorization, and Custom extension.