LiveChat updates
We like to stay fresh!

18 May 2016
A few weeks ago, we released the engagement report. Despite all the positive feedback, we knew there was still more to be done. The engagement report only explained half of the puzzle – how your chats start. It was missing the juicy part about greetings and their effectiveness.
Today, we're bridging this gap with data to help you better understand your customers and your chat performance.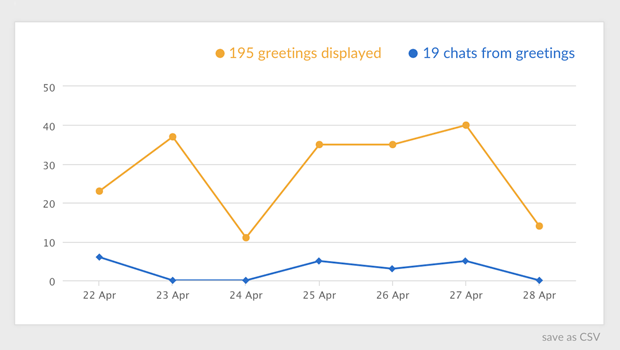 Greetings conversion, is an easy to understand report to back up what you think does or does not work when it comes to your greetings. This kind of insight is vital if you A/B test your greetings to see which work better.
For example, if you notice your 20-second greeting gets ignored, you can try delaying it or changing its wording. Then see which one converts better and use this knowledge to engage more customers. Easy!
Let us know what you think about the new report in the comments below. Or email us at feedback@livechat.com.
Tell us what you think