LiveChat updates
We like to stay fresh!

14 June 2018
With all the recent changes to Chats, Agents and Settings sections of your LiveChat, it is now time to get a new look for your chat as well. LiveChat introduces a brand new chat window!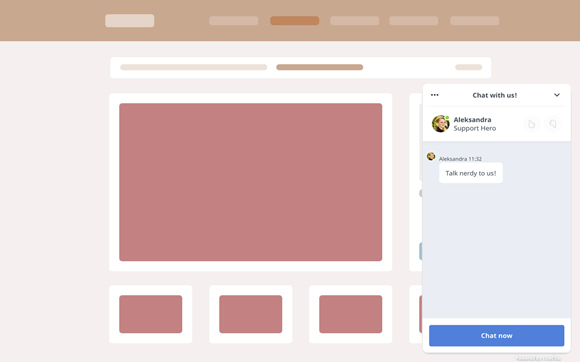 To learn how to turn it on, click here. But, before you do, take a moment to check out what exciting new possibilities are waiting for you!
New Chat Window: what it's all about?
There are several things that come with the update to your chat window, both in terms of the looks and the technical aspect of it. Let's go through them one by one.
New Look for your Chat
The first thing that you'll notice is that the new chat window is now animated! Actions like receiving new messages in a chat, minimizing the chat window or having the window pop-up for your customers are now brushed with a neat animation.
This may seem like a small update but it accomplishes a lot. New animations will make the chat window look much more responsive in the eyes of customers visiting your website, making sure that they'll be more likely to use a chat during their future visits.
New Feature: mute chat on your website
The Mute button is an entirely new addition to the chat window. Your customers can now use it to disable all sound notifications coming from the chat.
Don't worry though! The mute button will not limit the core functionality of the chat. Your customers will still be able to continue a conversation with you, no matter what.
Customize your chat window
Along with the new look, we provide you with new ways to modify the chat on your website. From now on, you can change the color of your chat window, straight from LiveChat app. You will also be able to choose which parts of the chat window you'd like to show or hide: transcript, agent rating, and agent avatar – all of that without dabbling in CSS.
We've got something for our Marketplace users as well! Soon, you will be able to pick and choose a custom theme for your chat. The Marketplace will offer access to high-quality themes, without having to rely on an in-house developer.
So how to turn it on?
The process of turning on the new chat window is quite simple! Head over to the Customization section of your LiveChat settings and click on the Discover new look button.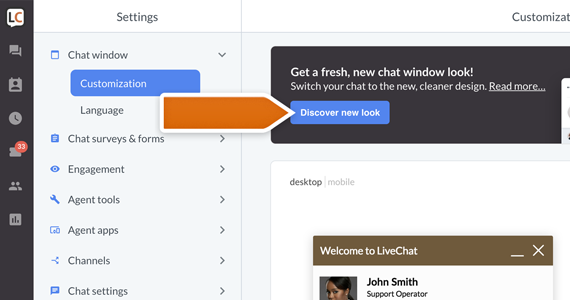 You should see a new chat window configurator, together with the preview of your brand new chat widget. To apply changes, click on the Save changes button.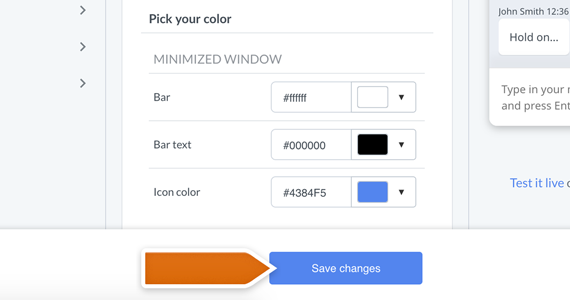 And that's it! The new chat window is now visible for you and customers visiting your website!
Oh, and one more thing
The current release of the new chat window is just the beginning. If you are curious on what we have planned for you in the future, both as an end-user or as a developer who'd like to max out the possibilities given by our chat window, click here.
Konrad, our chat window magician, has prepared a dedicated post on our Developers Blog. This post will once again guide you through all the new features available in the chat window, as well as show you what exciting new possibilities are waiting for you on the horizon!
Tell us what you think