Recruitment Process
---
We are huge fans of fast and efficient communication with our customers, based on the meaningful interaction between the two sides.
The same goes with you, our candidates.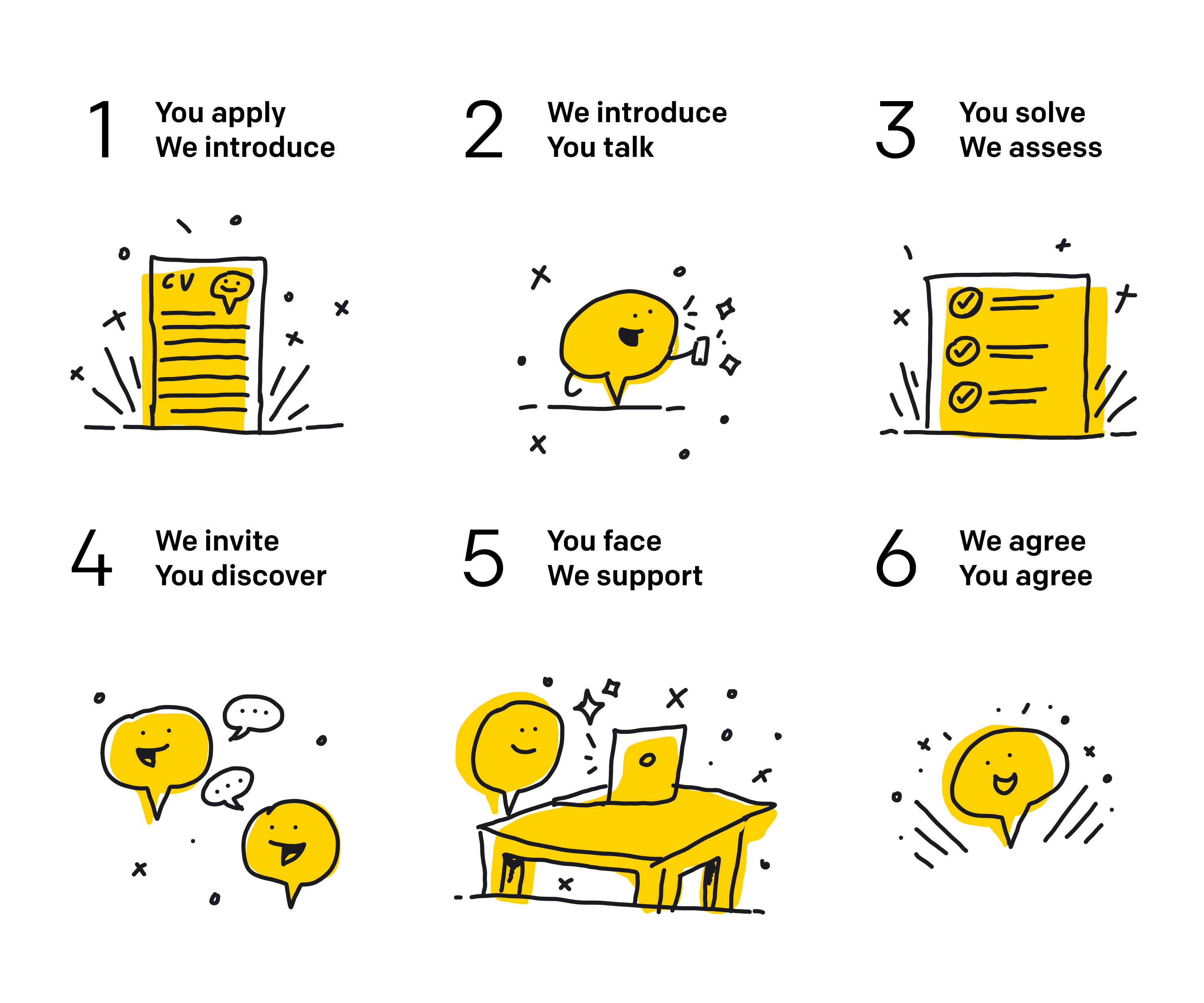 Application. CV, portfolio or samples of your projects – you choose which piece of information describes you well. If you are away from the keyboard, you can also apply using the mobile version of our website and add a link to your LinkedIn profile or personal website. Do you prefer to write a poem about your professional career rather than sending the résumé? No problem, drop us a line on jobs@livechatinc.com. We would like to take a closer look at your profile and come back to you if we feel you're THE one.
Screening call with one of our recruiters. This is the moment at which we will hear each other for the first time. Prepare yourself for a couple of questions, such as: "What brings you to us?", "What were your responsibilities at your previous job?", "What tools do you use on the daily basis?". Then, you will have the opportunity to find out what's inside LiveChat and what you could help us with.
Task. Taking up challenges is in our DNA – now it's your turn to feel the thrill! Every position has different responsibilities, and the recruitment task is a reflection of that. Setting the task deadline is on you – but expect the feedback on this from us as well.
Interview. Things get serious, so we would like you to meet our team. Ideally, it'd happen in person and for coffee at our office, but we're open to a video call as well. We want to discuss the solution to our task, your experience, and your plans. During the technical interviews, we usually perform a live-coding session. Never been to our office? That's the perfect occasion. We finish every meeting with the tour around our office.
Trial day. What would it be like to work at LiveChat? The trial day is an identifying mark and the last stage of our recruitment process and we hold it to let you better understand our everyday reality. For you – that's the perfect chance to see our organization inside, for us – the unique opportunity to check your skills in practice. Prepare yourself for some cool projects to work on and be ready to show us the results at the end of the day!
Offer. We followed the recruitment path together until we got to the final point – the employment offer. And now, there is no doubt that we will conquer the world of online communication together. Just say 'yes' :).
In case of any questions, see our FAQ.