Add Migam to your LiveChat app and let your Deaf and hard-of-hearing customers communicate with you in their preferred language. All your customers need is an internet connection and access to a camera and microphone, and they can sign right in the Chat Widget. Currently, Migam supports Polish and Ukrainian Sign languages.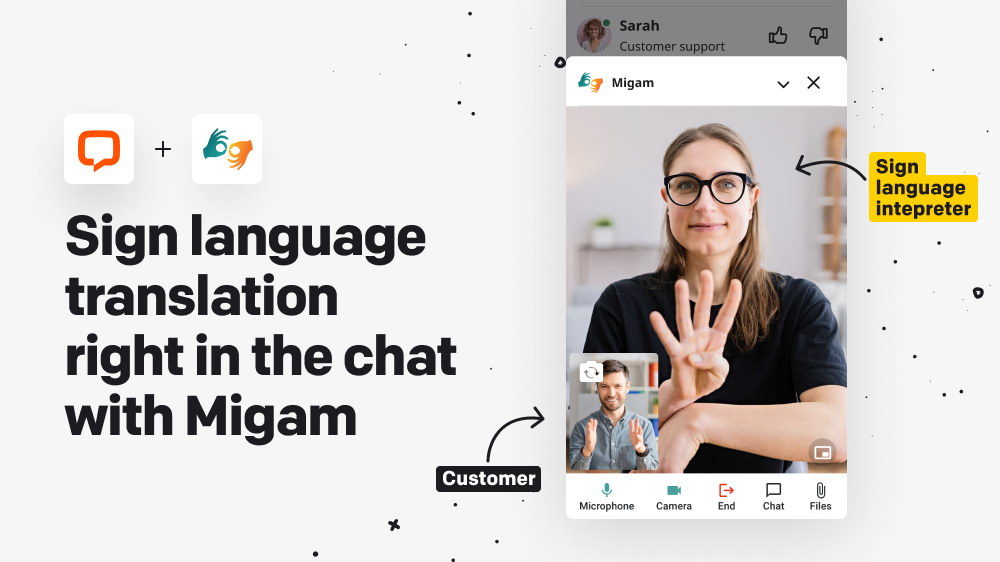 Increasing accessibility means expanding the reach of your products and services. This improves not just the number of chats, but also chat satisfaction. No one would intentionally make their customers jump through hoops to get in touch, and Migam helps you remove another hoop between you and your customers. This is just good business.
What is Migam?
Migam offers Sign language interpreters to businesses and institutions. 
The Deaf are a cultural minority in their countries of origin, and in most cases, the official language of their countries is not their mother tongue, but a language that in order to use, they need to study as a foreign language. 
With Migam, you provide customer service to the Deaf and hard of hearing community in their preferred language, thus removing an obstacle between you and your customers. 
Using any web browser on any device with a camera, microphone, and internet access, Migam Interpreter allows users to establish a video call connection with a Polish or Ukrainian Sign language interpreter. 
How do you install Migam?
The installation couldn't be any easier. Log in to your LiveChat account, and go to Marketplace.