Even though we made a name for ourselves in the industry with LiveChat (pun intended), LiveChat has not been the only tool in our toolbox for quite a while now. More and more customers use ChatBot, HelpDesk, and Knowledge Base, all made by our company, to make their customers' experience the best there is. That's why we want to introduce LiveChat Accounts. It's one place to manage all our products.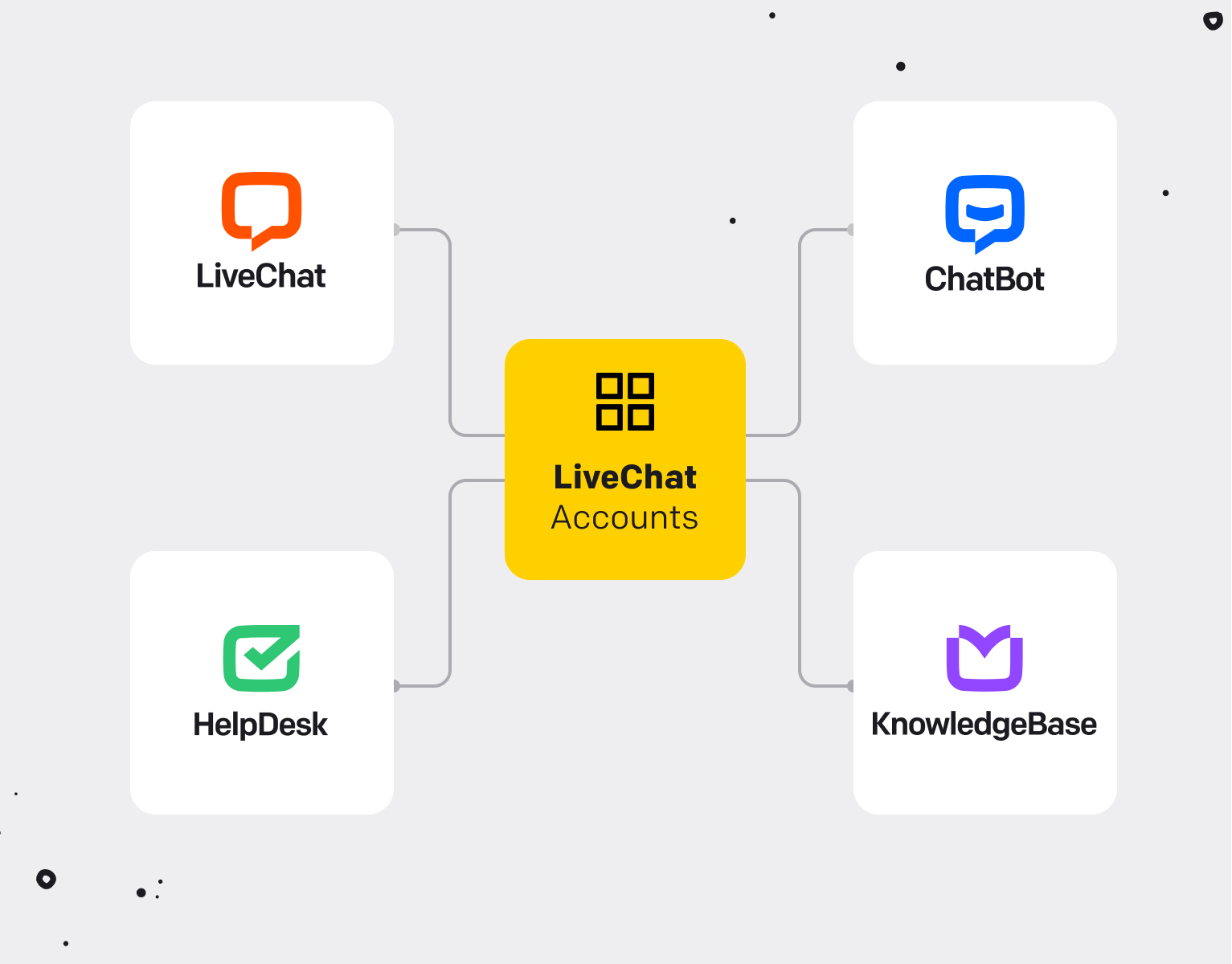 What are LiveChat Accounts?
Ultimately, LiveChat Accounts will enable our customers to log in to all our products with the same login. We are beginning by introducing the LiveChat Accounts sign-in page to our LiveChat customers.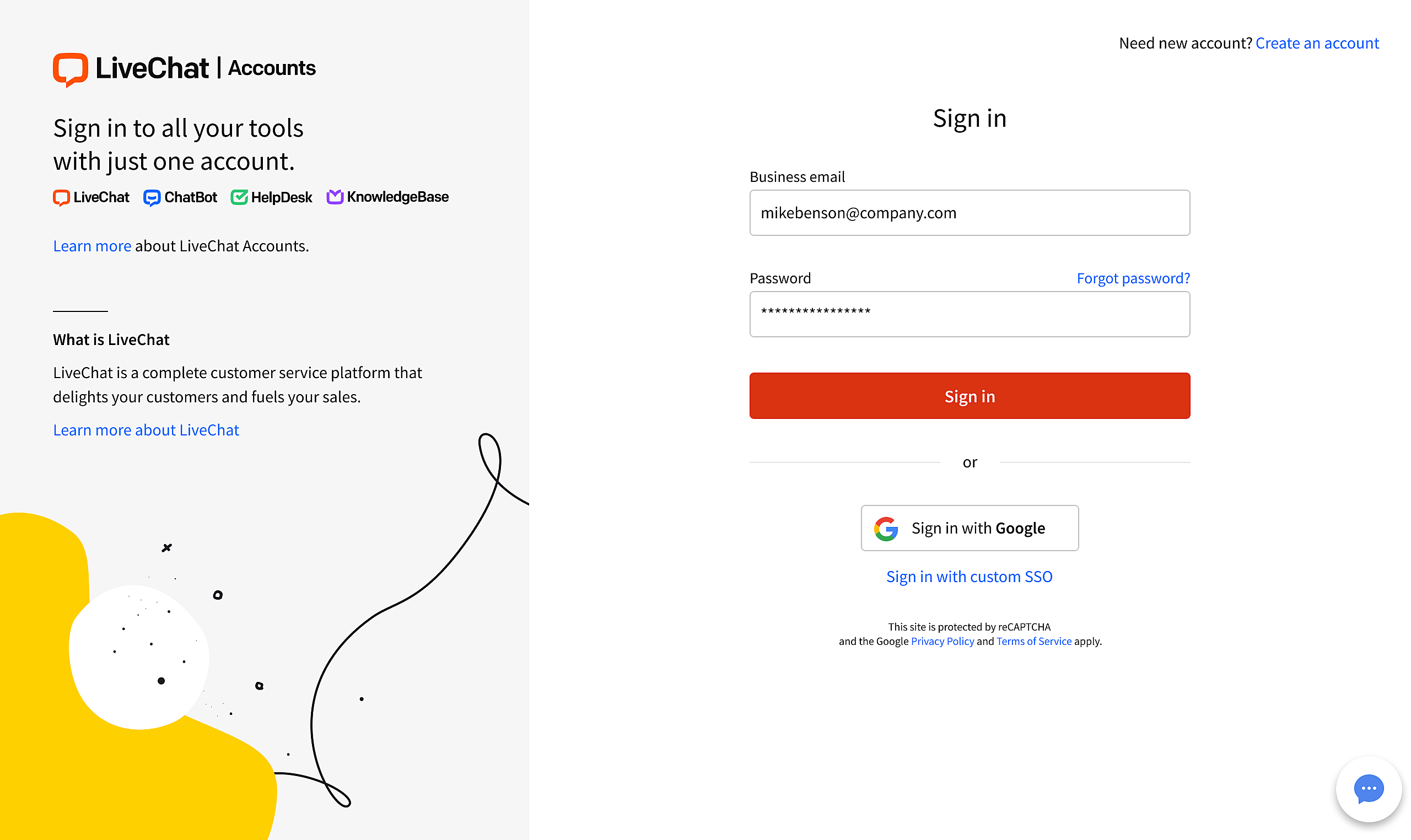 If you are a member of our Community, or if you ever used the Dashboard or Knowledge Base, you already know how it works. You log in once, and, when you open any of the above in a new tab, you're already logged in. We are planning to add HelpDesk to this in the near future, and ChatBot will follow suit after we introduce LiveChat Billing. LiveChat Billing is a way for our customers to manage the billing for their LiveChat tools, as well as integrations, all in the same place. We are planning to complete these changes within the next 18 months.
What are organizations?
To make your work with our products even more seamless, we are planning to introduce a new entity: organization. An organization will allow you to manage all your LiveChat products in one place. Right now, when you create a LiveChat account, a Chatbot account, and a HelpDesk account, you need to log in to your account in all of these products separately. You also need to manage them separately. With LiveChat Accounts, when you create a license in any of our products, an organization will be created. You'll be able to add other LiveChat products within the same organization. In the long run, we're planning to introduce a panel where, after you log in, you'll have all our products at your fingertips.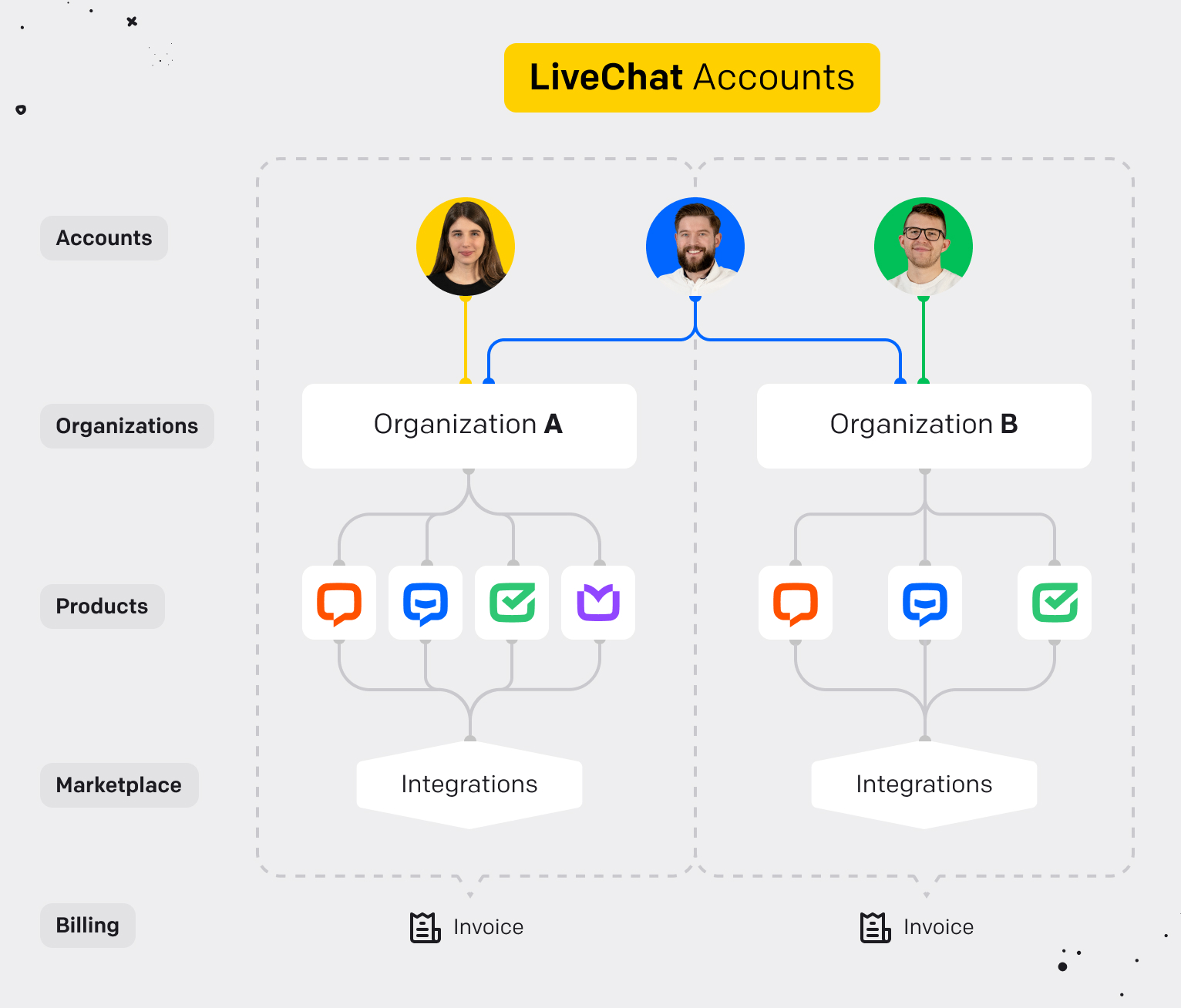 With LiveChat Accounts, all your LiveChat products will be available under one organization in the organization panel. It will also allow us to introduce product suites in the future, e.g., LiveChat+ChatBot+KnowledgeBase, LiveChat+ChatBot+HelpDesk+KnowledgeBase, or LiveChat+HelpDesk.
Some of our customers need more than one product license. For example, you have a production license in LiveChat, but you also need a test license for the development environment. With LiveChat Accounts, you'll be able to log in to more than one organization with one email. So, when you log in, you'll be able to choose if you want to access your production environment (organization A) or your test environment (organization B). In each organization, you'll be able to access products added to this organization, be it LiveChat, ChatBot, Helpdesk, or Knowledge Base.