Wrocław, Poland
9:00 AM |
August 2nd & 3rd 2018
LiveChat Junior Academy #1:

Your first integration
We were all Juniors!
REGISTER FOR THE EVENT
Registration is closed.
About
Our LiveChat Junior Academy is a series of tech challenges for beginners that combines competition and recruitment purpose. During each of events, we would like to choose one winner and offer a six-month, full-time and paid Junior position in LiveChat Academy program. After that trial period, we have a plan to summarise your efforts and progress, then decide together about permanent cooperation.
We are looking for team players who are not afraid of new challenges and competition. You don't need to have any experience – we count on your self-motivation, communication skills, and analytical mind.
The_idea_behind
Even though we've gained tons of knowledge and experience, the motto: "Every day brings me the chance to learn something new" is still close to our hearts! That's why we decided to become mentors and give others the possibility to develop their skills, under our wings. We'd love to share our stories and best practices with Juniors that want to start their new professional adventures. And, happily, learn from each other on a daily basis.
LiveChat is not only the company where you can find product experts but also tech enthusiasts who feel the need to pass their expertise to others. Now, with 100 people on board, we are more than ready to welcome passionate Juniors and build our future together.
Each of events will have different formula, focus on various technologies and topics. Our plan is to start with the hackathon and then, switch to workshops. During our seven-hour challenges, you will get the chance to meet our experienced teammates, face the task or take a part in workshop and provide a creative solution. And all that in LiveChat workplace: our natural environment.
1:1 Feedback Session. The Feedback Session will take place during the next day, after the finished event. We are going to provide feedback to everyone, whether it is positive or negative. Also, during that day, we are going to organise 1:1 recruitment meetings with best participants of the event.
General_info
Task
Create your first integration for LiveChat based on ready-made examples. During the event, you will get access to several sample integrations built for LC. Your goal will be to extend/propose changes for these integrations.
Task presentations
After the whole day of coding, we want you to prepare a short presentation (max. 5mins) and show us your task solution. Feel free to choose any tools or programs.
IMPORTANT: Take a look at projector specs before the event and make sure that everything will work!
Host
All events are hosted by LiveChat.
Entry fee
All events are free of charge.
Agenda
August, 2nd
8:30
Registration of participants
9:00
Presentation of rules and task; Q&A
18:30
Announcement of results
August, 3rd
9:00-11:00
1:1 Feedback Session (15mins slots)
13:00-15:00
Interviews with HR & Tech Lead (30mins slots)
August 2nd, 2018
August 3rd, 2018
Check out the venue of the event and our workplace!
Hack&Talk #4 – our last hackathon
About_LiveChat
We're a team of 100 passionate people developing and supporting the most efficient and easy-to-use live chat software for business. And that's not the whole story. We also stay behind the chat.io, KnowledgeBase and ChatBot. What we enjoy the most is seeing our customer's business grow with the help of our products.
Our mission is to deliver fast and simple communication and to make the online sales process easier. At the same time, we want to have fun while working and constantly self-develop!
Sneak peek of LiveChat's new platform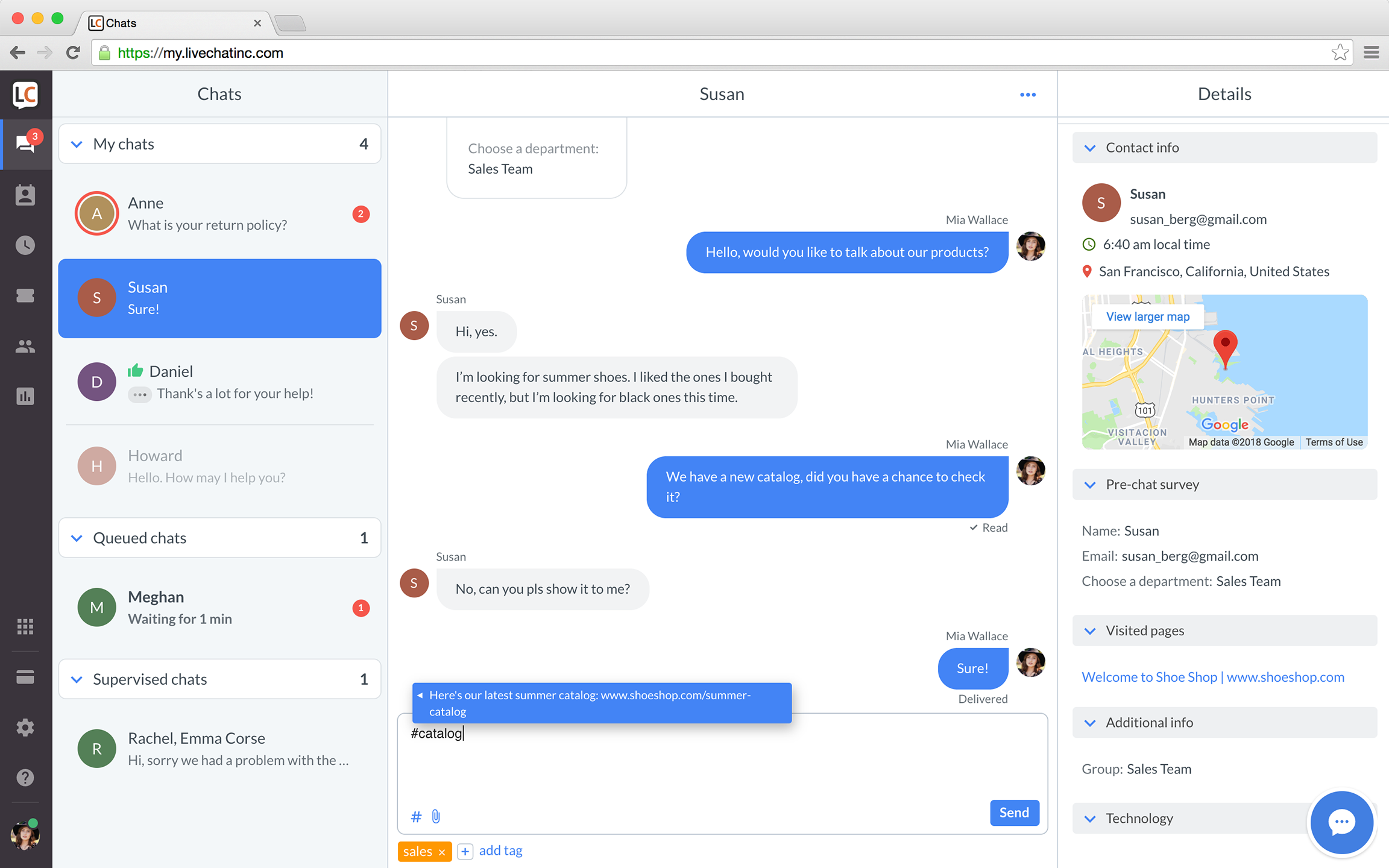 COMING SOON
LiveChat Academy #2: Mastering React
LiveChat Academy #3: Meet Vue.js
… and more events to come!
REGISTER FOR THE EVENT
Registration is closed.