Setting up a Facebook for business is a good way to start building your online presence and brand recognition.
It allows you to show your business from a bit different perspective to a huge audience. If you don't plan on using adds (and you probably don't have to, but more on that later), you won't have need anything but a bit of your time to set it up and manage it later on.
Here's a step-by-step guide on how to create your own Facebook for business page.
1. Reserve a name
If you don't have a page set up yet, you should do it ASAP. With thousands Facebook fan pages cropping up each day, there's always the risk that somebody can take the name you wanted to use.
Unless you plan on using very specific name, it won't hurt if you go to Facebook right now and click on the Create Page button available in Facebook's menu. You will also need to reserve a specific Facebook address (more on that in step #3).
2. Pick the right category
When setting up a Facebook for business, make sure it ends up in the right category. This will affect the way people will reach your site so you want to make sure its A-OK.
You have 6 main categories to choose from, which are divided further into a range of subcategories. Pick a category that would best fit your business.
Next, select the best-fitting subcategory. Depending on which category you chose, you may be asked to provide some additional details. For example, a local automotive company would have to provide a bit of information about its location and contact information.
3. Add basic information about your business
Next up, you will be asked to provide some basic information for your Facebook for business page. You will be able to add a few additional categories. These will help Facebook users to find your page.
Apart from categories, you will need to provide a short description of your business. You will be also asked to provide your company's website address.
You can then choose your unique Facebook address. This is the thing you need to do ASAP. Once its taken, nobody else will be able to use it so make sure you get your's quick.
Facebook will ask you if your business is real and if the page will be authorized and official. Check 'Yes' for both these options and click on the Save Info button.
In the next step, you will be asked to upload a profile picture. More on that later so let's skip this one and proceed further.
You can add the page to your favorites to be able to quickly access it from the Facebook menu. It's optional but it's handy to do that.
Next, you will need to select the preferred group of users you want to reach. You will be able to select the target age range for your business as well as list a few interests by which people can find your page.
4. Unpublish your Facebook for business page
Once you get the basics done, your page will go live. However, there's still little to see there. Instead of showing an empty page, you can hide it for the time being and make all the necessary changes without worrying that somebody will see an unfinished page.
To unpublish a Facebook for business, you need to go to page Settings and Edit the Page Visibility settings. Tick the Unpublish Page box and click on Save Changes.
Once that's done, your page will be visible only to you. You can now set everything up and even add a few posts to the page. This way, it won't look completely empty. You can have a couple of posts added a few days apart to make it look more natural.
5. Add a longer description
Apart from the short description, which is limited to 155 characters, you can also add a longer one in the page information settings.
The long description allows you to tell a bit more about your business. The biggest perk that comes with it is the ability to list links to all your other social media profiles and websites.
To set up a longer description, go to the About section of your page and click on Page Info. Once there, find the Long Description section and click on the Write a long description for your Page link.
Makes sure to include links to your other SM profiles and all the websites you want your fans to see.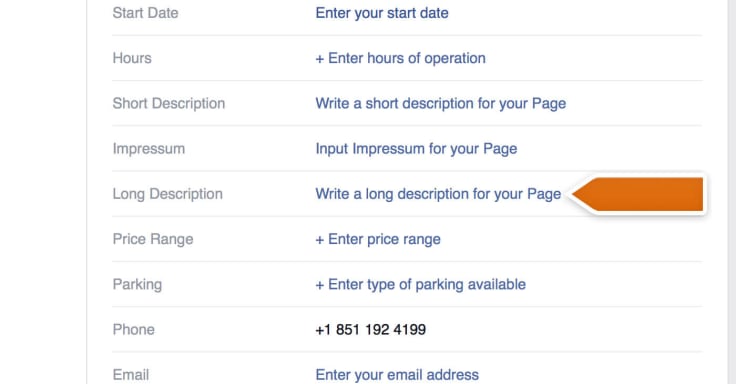 6. Setting the graphics
Your profile and cover pictures will be the first things people see when accessing your profile. These pictures will be also how people recognize you when seeing your posts in their feed. This makes them quite important. Make sure you get them right!
The profile picture file should be 180px by 180px. The cover photo file should be 851px by 315px.
Now, there's a whole lot you can do to make your profile picture and cover photo combo Interesting. For example, you can make it look as if the profile pic was a part of the cover.
There's a fan page dedicated to displaying the proper profile picture and cover photo dimensions. Check it out if you want to double check your file and to see how is the profile picture displayed within the cover.
7. Set up working hours
To let people know when they can get a hold of you online or visit your shop, you can set up working hours. They will show up on your Facebook for business page and change color depending if its within (green) or past (red) your working hours.
Click on the Add Hours button to do that. You will be able to select the days when your business is open and set hours for those days.
8. Create a call to action
You can direct people on your Facebook for business page to perform specific actions by setting up a call to action. For example, you can create a Shop Now button that will lead them directly to your product listing.
To do that, click on the Create Call to Action button. There's a wide range of calls to action you can pick, e.g. book now, contact us. Choose the one you want to use and add a website address for it. This can be a link to your contact form or to your product catalog. Select Create to finish.
Setting up a call to action like this is one of the fastest ways you can get somebody from your Facebook for business page to look at your products or services so you definitely should set it up.
9. Share some posts before going public
Before you make your Facebook for business page public, you should go ahead and create a few posts. This can be anything: photos of your products, information on ongoing deals. The goal here is to have your page look like an established business and not a fledgeling company that just starts out.
You can space them out a bit in time so they look more natural. For example, you can add one post on Monday and one on Tuesday before publishing the page on Wednesday.
You can publish your page the same way you unpublished it before. Go to Settings, Edit the visibility options and untick the box.
10. Get some fans
Once your page goes live, you still need to get some fans to make it look like a genuine business.
You've probably seen offers where you can get hundreds or thousands of followers for a couple bucks. However, this will only hurt your page.
Here's why: Facebook will try to suggest your page to users who are similar to your existing fanbase. However, the fans you can buy are usually fake accounts from all over the world.
Buying into likes will not only hurt your wallet but also your business in the long run. Instead of showing up in the feeds of normal users and potential customers, your posts and updates will reach only bots and fake accounts.
What you can do instead is use the suggest page feature on Facebook and ask your friends and family to like your page. This way, you will be able to start growing an organic fan base as you will start showing in several feeds to people who might be interested in your products or services.
Don't forget to advertise your page to your customers and followers on other social media channels. There's a good chance that satisfied customers or people who already follow you on one channel will want to follow you on Facebook as well.
You should also add a Facebook icon that would lead to your profile to your website footer. You can do the same for your email footer and your newsletters.
Next steps
Once you get a basic page going, it's all about consistent updates. Start posting things your potential fans want to see and slowly grow your following.
There's also the possibility of using paid ads to spread the word about your Facebook fan age for business. It's not necessary but you can give it a try if you have some marketing budget to work with.
It's like renting additional reach. It probably will help you in the short run but the more fans you have, the less you will get in return.
If you are using LiveChat, you can also use ourLiveChat Facebook Messenger integration to chat with fans from the LiveChat app.
Already have a page set up? Feel free to share how publishing the page went and what other things you've set up.
Photo courtesy of Montecruz Foto via Creative Commons.