Showing top

0

results

0

results found
Showing top

0

results

0

results found
7 min read
Mar 6, 2021
Providing an amazing customer service and support is one of the essential pointers, which can help brands corner the market. Easier said than done, there are many online businesses that are working round the clock to provide the best customer experience. However, not all of them make the cut. While there are several reasons behind this, the most crucial one is a clear lack of a customer-centric website.
Simply put, these are ecommerce websites that enhance the digital shopping experience for the customers right from the moment they arrive at the checkout.
The crux lies in knowing what your audience wants, optimizing the website for a hassle-free experience and using neat tactics to boost conversions. It's all about retaining the customers' interest and driving them to take a call-to-action.
Don't waste any time and gear up to create a customer-centric ecommerce website with the following tips in tow:
1. Do a Thorough Keyword Research
One of the sure-shot ways to increase the number of footfalls on an ecommerce website is to use the right keywords or the search terms used by potential customers on search engines. You can use several tools for this purpose such as:
Google AdWords: Keyword Planner – When you got to do keyword planning, get started with the Google Keyword Planner (although it is used mainly for advertising purposes). You can customize results for your competitors, enter products and services you offer, product category and use it to research the organic keywords. These are just the basic features of the tool and you can make use of its wide-range of features to meet your purpose.
KW Finder – KW Finder has a unique interface, which displays the trend, CPC (Cost Per Click), search volume and the level of difficulty in results.
SEMrush – SEMrush is another tool on the block that packs a punch with its impressive features that include SEO and PPC research, keyword analysis, long tail keywords research and so on and so forth.
Ahrefs – One of the most popular keyword tool is Ahrefs because it offers extensive detail. The tool has an awe-inspiring UI and lets you create a list of keywords, which you can directly target from its dashboard.
MOZ – Moz's Keyword Explorer tool provides several features that can help you gain traction when it comes to picking and choosing the right keyword for your website.
LongTailPro – A paid keyword research too, LongTailPro assists in finding the right keywords from niche/micro-niche sites. You can also give their competition checker a try to pick and choose the right keyword.
These tools will help you get the keywords for your ecommerce business and help you proceed to the next step, which is to place them on your website.
2. Content That Speaks to the Audience
When you've the keywords ready, the next step is to cleverly use them in your content on your homepage and product pages. Of course, this doesn't mean you ought to get rid of fresh, appealing copy!
Just ensure that you use keywords that are highly relevant to the products and services and include a high search volume. That will serve your purpose.
For instance, if your customers are searching for "best white sneakers," it has to be there on your website so that your prospects can easily reach your site. One of the best ways to include a wide range of long-tail keywords within your website is to include it them in your blogs. This will help you rank higher in the SERPs.
At the same time, you need to make certain that you place high quality content on your website such as authentic and to-the point product description, blogs and FAQs, which help your audience understand your products and services better. This will increase your chances of being featured on Google's Featured Snippets, which, in turn, helps you gain more traffic!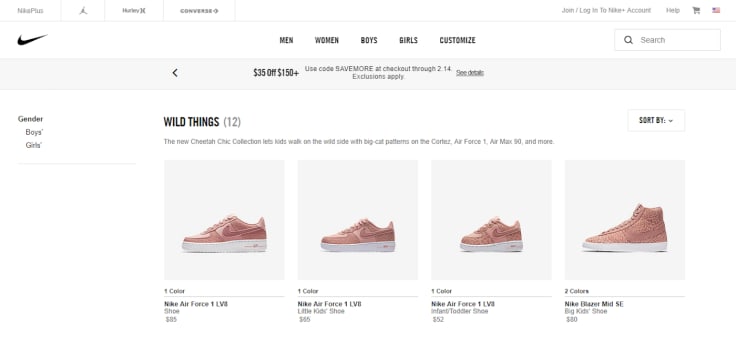 3. Let Your Mission Statement Do The Talking
The connection between customer loyalty and mission statement can't be ignored. Sample the following company statements:
Amazon - When Amazon launched in 1995, it was with the mission "to be Earth's most customer-centric company, where customers can find and discover anything they might want to buy online, and endeavors to offer its customers the lowest possible prices."
Ebay - Our mission is to be the world's favorite destination for discovering great value and unique selection.
Nordstorm - An incredible eye for what's next in fashion. A passionate drive to exceed expectations.
There are brands that people love to buy from. Their unwavering loyalty not only stems from the products and services offered, but also from the brand values. This is why it makes sense to put more thought and focus in your mission statement. It establishes a connect with customers, turning them into your brand ambassadors.
Of course, this will take time but you can at least begin with this step first!
4. Provide Clear Calls to Action
If you want to drive your prospective customer through the sales funnel, consider using clear calls to action. Make it easy and effortless for them to follow all the steps all the way to the button.
It can be a buy now button for your products, know more button for your services, download button for resources such as pdfs, learn more button, a subscription box or a follow button for the blog.
Every page of yours need to include a call-to-action to bring the customers closer to the conversion funnel. The more it matches with their interest, the easier it becomes to drive them to take the CTA. A case in point is that of Amazon, which is littered with compelling CTA buttons. It is there above the fold, below the fold and everywhere there's a slight chance of placing them.
After all, the thumb rule for an effective CTA is to keep it simple and crisp and know where to place it. Here are some brilliant examples of CTA, which will give you a better perspective.
5. Add Customer Reviews
Even when you have great products and services on your ecommerce website, nothing can replace customer reviews! Take the instance of BrightLocal's Local Consumer Review Survey 2017, which revealed:
68% consumers in the USA said that positive customer reviews make them more likely to use a local business. In 2016, the number was 50%.
85% of consumers trust online reviews as much as personal recommendations. This figure was up from 84% in 2016.
25% of people have to believe the reviews are authentic before they trust them as much as personal recommendations.
Moreover, apart from generating favorable responses from your potential customers, it will also ensure your page has fresh content. That's a huge plus!
6. Customize The Checkout
No one's a fan of tedious checkouts that keeps them from buying products added to the carts.
Make it easy for visitors to check out by simplifying the process. What you can do is customize the experience to hit the right note with your potential customers. For instance, if there's a coupon code that's applicable on their orders, make it a point to pre-add it in their account. Make them search for coupon codes on Google, and they're less likely to return and complete their purchase!
All in all, you need to ensure that the checkout takes less number of steps, consumes less time and is immensely trustworthy for the users. Most importantly, make the process easy for mobile users for a win-win situation.
7. Rope in Chatbots
Chatbots are on the rise and it makes sense to integrate them in your ecommerce websites as they are taking customer services to a whole new level.
Make no mistake, they are advanced form of the old chat function on ecommerce sites. It takes hard work to know how you can build a unique conversation path based on likely customer queries.
Chatbots can also address issues such as abandoned shopping carts, offer coupon codes on the products selected, generate curiosity about new products, be available 24/7 and add a dash of humor in the responses for better engagement. Do you need more information about chatbots? Go to this Chatbot Guide to find out what makes them valuable for businesses.
So, go ahead and add them to the site. You'll not regret it!
Customer centric website
Developing a customer-centric website is no rocket science. It all boils down to knowing what your customers want and work towards it. There are bound to be mistakes and like Rome, no successful ecommerce website was ever built in a day, ever!
Keep trying with these tips to the rescue and you'll surely see favorable results in the long-run.