Showing top

0

results

0

results found
Showing top

0

results

0

results found
With less than two months to the end of the 2012 presidential campaign, both candidates are working hard in hopes that this work will translate into votes later on.
Social media plays a large role in this year's campaigns. Use of mass communication channels and new technologies is something every marketeer could learn from presidential candidates.
Agitation through a social media campaign
Although the use of a social media campaign for political gains is not an entirely new concept, its true emergence can be associated with the previous campaign, when Obama was clearly ahead of McCain in terms of the Internet presence. The 2008 election gave us an idea how powerful a good social media campaign can be when used correctly, since creating a lot of buzz around your candidate allows for a wider reach and easier way to broadcast not only ideas, but also news.
In terms of using a social media campaign, the 2012 presidential campaign seems very similar to the 2008 one. Once more, we can observe a lot of activity from the Democratic party candidate and considerably less from the Republican party candidate. President Obama seems to garner a lot more attention on the Internet than Mitt Romney. Romney seems to be a lot less active on his Twitter feed (@MittRomney) than Obama on his (@BarackObama). The number of tweets and followers speaks for itself about the amount of importance each candidate gives the social media.
This disproportion may be due to the general voters base that uses such platforms. It would seem that social media platforms are more appealing for younger voters in general, however, Romney's social media followers tend to be a bit older than their democratic counterparts. This can be important for those who decide what kind of content to post on the social media platforms. Different kind of content will be appealing for different demographics.
Providing new tools for organizers
Even though the use of new technologies has taken a turn for the better in the recent years, i.e. more and more political parties and figures embraced the idea of using new technologies for gaining support, this year's campaign seems to have slowed down a bit when it comes to technological improvements. Since the last election, apart from the social media feeds, both candidates embraced the idea of using apps for gathering useful information about their voters. What is interesting, the App presented by Obama's campaign offers a function that has no precedent so far.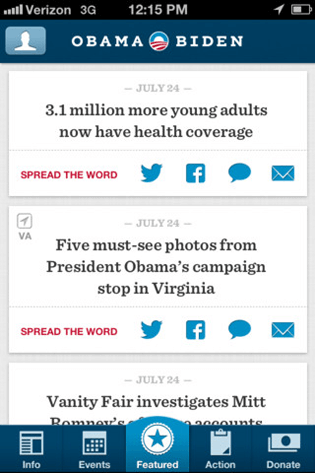 Obama for America App
The app contains all the valuable information every voter may require: news, events, facts. It's all there. However, the app doesn't only provide information about news and events tied to the campaign.
The most interesting and innovative thing about this app is the Canvas section, allowing community organizers to feed valuable information about their neighborhood to the campaign HQ.
It makes it possible to send information about voting preferences in a particular area to the campaign headquarters, which allows for much more direct participation in a campaign from normal citizens.
If this trend continues and future campaigns will also try to make use of new technologies to gain voters' support and gather data, it is possible that, in the future, the voice of a normal citizen will have a much greater impact on the way the campaign is doing and in which direction it should turn. It's all about getting the message out there after all, the supporting community will continue to spread it through various channels.
Creating such free pieces of software gives people the opportunity to help businesses too. Empowering dedicated customers allows them to spread the word about your brand and gain new supporters, ones that never heard about your company before. Providing free tools for community organizers might be your first step towards a larger client base.
Kindling the buzz flame
The importance of producing viral messages that will spread like wildfire on various social media channels can be clearly observed on the example of the Democratic National Convention. The speech given by President Obama lit a spark that would soon turn into millions of tweets.
At its peak, the Twitter craze over the speech produced over 52 thousand tweets per minute. Twitter users were going crazy during the whole speech setting a new record for the highest frequency of sent tweets. The Democratic National Convention generated over 9 million tweets, which is over a double the number of tweets the Republican National Conversion received.
Although the DNC social media campaign provided a lot of buzz-generating moments, the RNC has also had its fair share of memorizable moments. The one that seems to have created the biggest hype among Twitter users is the speech produced by Clint Eastwood. It started a new Internet trend called Eastwooding, where the speaker is talking to an empty chair, pretending to be talking with a person. In this case, Eastwood was talking with President Obama. This went viral in the matter of minutes and given rise to a lot of alternative versions.
https://www.youtube.com/watch?v=933hKyKNPFQ?rel=0 Will the social media turn the tide at the polls?
Creating a lot of attention and producing viral content is something every entrepreneur should do. Such content helps your company because the more attention you are getting, the higher your numbers will go. A piece of content that is interesting or provoking is so much more valuable because people will spread it free of charge.
We are yet to see if the social media hype and buzz generating actions will convert into ballots later on, when the whole nation will go into polls. Will we see a higher turnout for the more social media-active party or will the social media efforts translate into votes?
All is still undecided, however, future presidential campaigns can certainly draw some valuable lessons from what we can observe right now and create even more effective ways to turn the voting scales in their favor. What kind of technological improvements to presidential campaigns we will see in the next four years?
Photos courtesy of jtpully85, Geoff Livingston and pjohnkeane.