Showing top

0

results

0

results found
Showing top

0

results

0

results found
Facebook is the biggest social media platform with a customer base of 2 billion active users. The company is still growing in numbers with changes in every aspect of technology: visual, search, personalization, image processing, and design.
Last year, Facebook introduced a new, major update to its news feed algorithm which made a drastic change in the visibility and reach of business page contents. The Facebook expert Mari Smith called this update as Facebook Zero:
These are the major insights from the algorithm update:
Content that gets less visibility:
Business page post
Clickbait posts
The post that initiates mentioning people like a chain
The post that leads to political controversies.
Content that are promoted in the feed:
Content from friends and connections
Shared content from friends and family
Content with authentic comments
Content which initiates discussions in groups
More targeted ads
New features introduced recently
Facebook introduced 360-degree photos and ability to post them as cover photo and normal image posts. You can also use 360-degree photos in different kind of Ad formats like offer claim ads, canvas ads, and dynamic product ads.
Facebook introduced 'market places' last year. People can easily buy and sell things through it.
Facebook introduced Augmented reality based filters and masks for their camera for stories.
They recently rolled out a new feature in the post editor for adding checklists to your posts and you can also add colored backgrounds to the text.
In the post editor, they have also included an option for asking recommendations about anything around a particular location.
To make it easier for you to post / advertise on Facebook, we've prepared a cheatsheet for you. We hope it will help you to learn the basic rules of posting on this social media platform.
Page post link/offer
You can add website links in Facebook posts. Facebook will automatically pull the open graph image (OG Image) of that page and will display it as the post image or you can add a custom image.
Facebook allows you to write a headline of 25 characters and a link description of 30 characters.
The exact image dimension for custom image is 470 px X 246px.
Page post image
Facebook image ad can be used for creating awareness about pages. You can use call to actions like Book now, Call now, Download, Get directions, Learn more, Send message, Sign up, shop now and lot more.
The recommended image upload size is: 1200px X 900px
Display resolution :470px X470px
Aspect ratio: 9:16 to 16:9
Headline: 25 characters
Link description: 30 characters
As per Facebook's criteria, the image should not contain more than 20% of text in it.
Images with more than 20% text will receive less visibility than others.
Page post event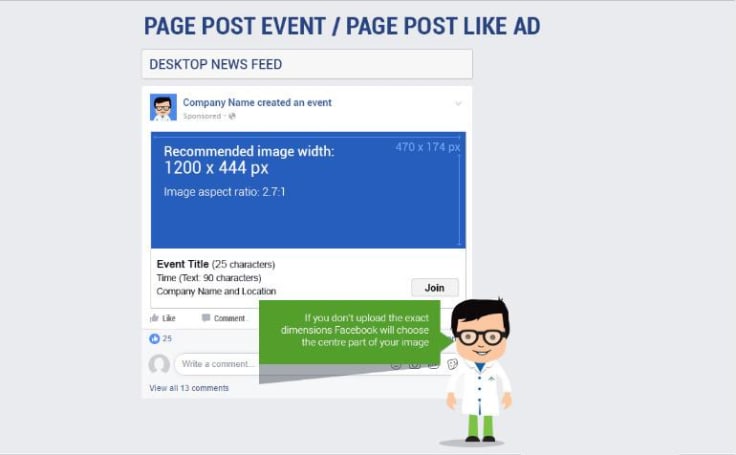 You can use both image and video for event response ads. In case of images, the 20% text rule will apply here also.
Image ratio: 9:16 to 16:9
Recommended resolution: Use highest resolution image available.
Text: 125 characters
If you add a link in the post the image will be cropped to 1.91:1 ratio
The recommended resolution for the link image is: 1200 X 628 px
Headline: 25 characters
Link description :30
Page post video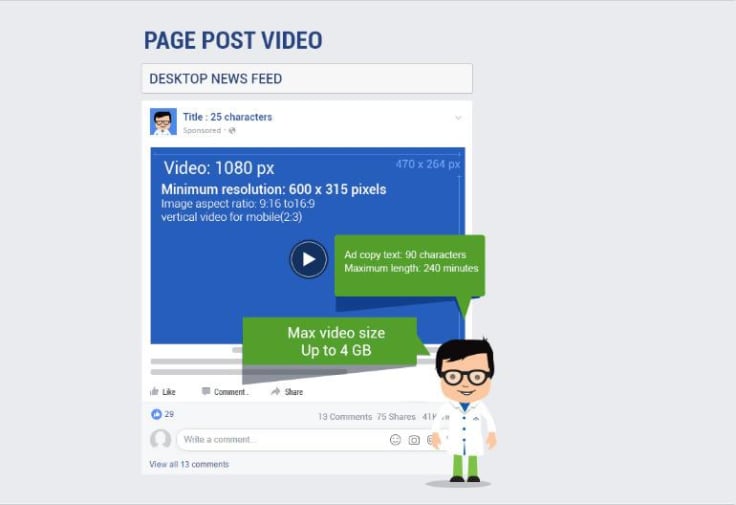 Facebook Video Ads can be used for various objectives like increasing reach, Brand awareness, traffic generation, boost engagement, page likes, app installs, events, etc.
It also comes with a wide range of call-to-action buttons to support the objective and to convert a user into customer.
Specifications for a video:
Video ratio: 9:16 to 16:9
There is no limit for resolution. You can upload high resolution videos.
File size: 4GB max
Video length: 1 second to 240 minutes
Text: 125 characters
The video thumbnail image should not contain more than 20% text in it. You can also use a link in the video Ad. In that case the head line will be 25 characters and the link description will be of 30 characters.
Facebook also supports 360 videos as an interactive form of video ads.
Event Responses
You can create events using event response Ads.These type of Ads are created for promoting an event. Most of the call to actions used in events ads are Join, Get directions, Book now, Call now and so on.
Recommended image size: 1920 X 1080 px
Ratio: 1.9:1
Link description: 30 characters
Mobile app Ad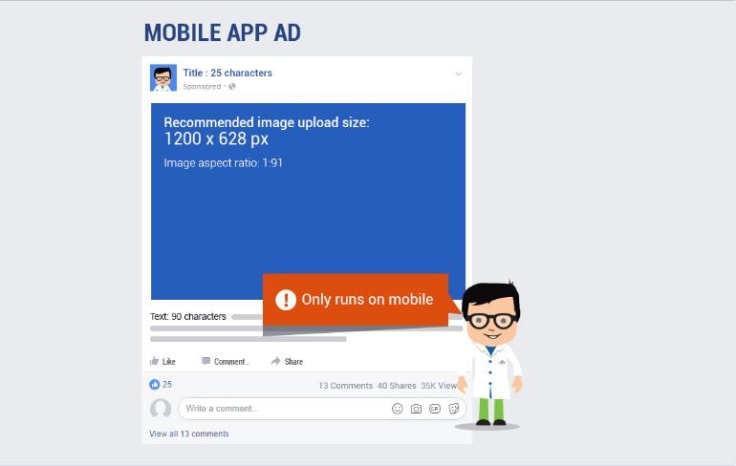 These are Ads that specially designed for mobile app feed. You can create single image post and can include a link(optional). The call to action buttons used in this kind of ads are Request time, Apply now, Book now, Contact us, Download, Get showtime, Learn More, Listen now, Watch More, etc.
Recommended image size: 1200 X 628 px
Recommended image ratio: 1.91:1
Ad copy text: 90 characters
Carousel Ad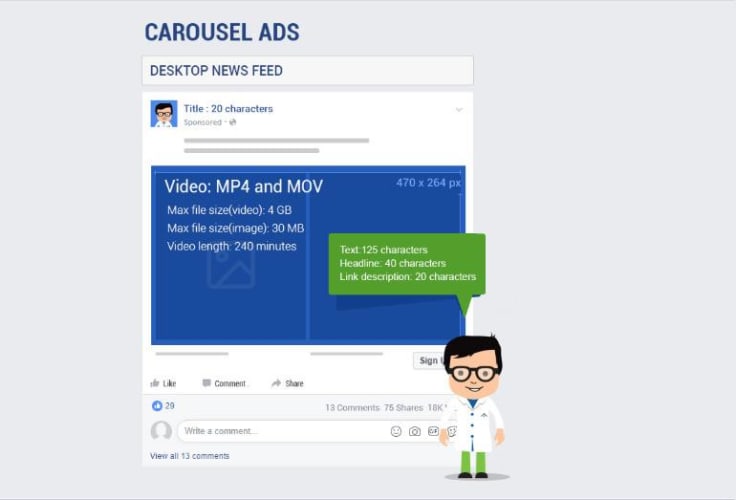 Carousel ads are different in appearance than other type of ads. It allows you to show up to 10 images or videos in a single ad each with its own link.
Number of cards: 2 to 10
Video max.size: 4GB
Video length: Up to 240 minutes
Recommended resolution: At least 1080 X 1080 px
Ratio: 1:1
Text: 125 characters
Headline: 40 characters
Link description: 20 characters
Dynamic product Ad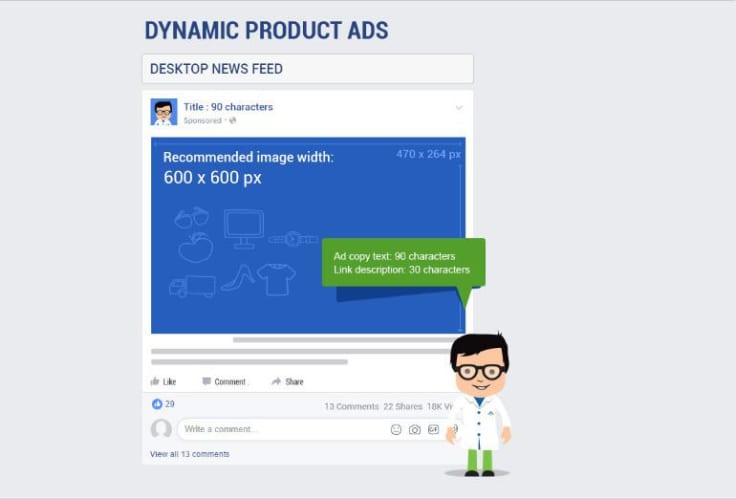 This is a type of product listing ad. Users can easily browse through the products. There will be a cover image or video that shows a group of products and below that there will be thumbnails of all products on the cover. The user can expand the thumbnails to images.
Headline: 30 characters
Text: 90 characters
Minimum Width: 600px
Minimum height: 600px
Aspect ratio: 3%
Offer claim Ad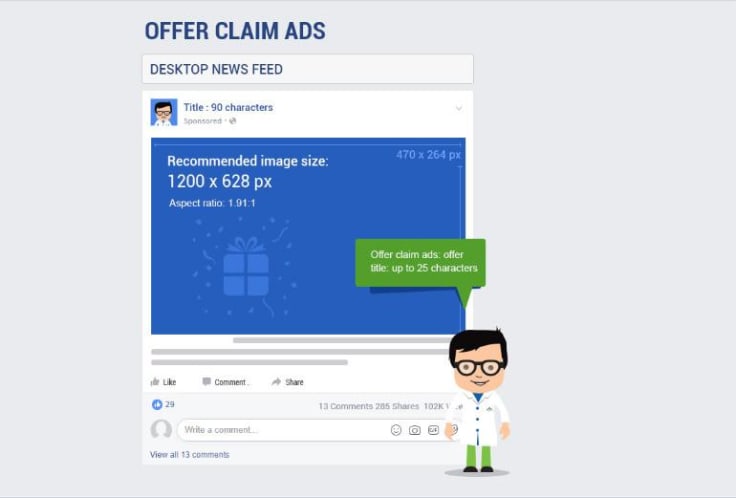 Using Facebook's offer claim Ad, you can create unique and limited time offers for our products and services. Here you can use image, video and carousel.
The dimensions and resolutions are same as that of image and video ads.
Canvas Ad
Canvas ad opens an interactive corridor for the user to interact and engage with your products. It is available only on mobile apps. The main advantage of canvas ad is that it will load 10X faster than standard mobile ads.
Recommended image size: 1200 X 628 px
Text: 90 characters
Headline: 45 characters
You can use elements like
Header with logo
Block text
360 images
Site link
Auto-play video
Product list
Full screen image with tilt and pan function.
All the images uploaded to Facebook are suspected to changes with respect to their updates. Also, the display resolution will vary according to the screen size of the device used.