Showing top

0

results

0

results found
Showing top

0

results

0

results found
Branded content is an extremely powerful tool that every business, big or small, should consider using. It helps a company build visibility and expand their audience, promote their goods or services and create a certain brand vision. The audience itself, however, might have quite a different opinion on this.
Let's face it: companies need branded content, but the audience generally doesn't like it - well, unless it's written properly. Including branded content into your marketing strategy is a risky thing, when you don't have much experience in writing it. Because great branded content could indeed benefit you a lot - but the poorly written one could turn off the clients. So you need to do your best to ensure that your content will be good.
And here's what you need to focus on in order to make it good:
1. Find what matters the most to your audience at the moment
We know that a content needs to provide real value to your audience - but what would be the most valuable to them now? While there are things that generally interest your audience, you should try to spot the ones that would be the most important to them not in general, but now - and make the most out of it.
For example, the simplest way to promote a writing service is to publish a post with process analysis paper topics suggestions. Sounds easy, isn't it? But let's assume that this post is published during the summer break - would the students need it then? We don't think so.
So instead such company should focus on giving students some tips how to make the most out of their holidays or how to build up their writing skills during summer.
2. Make your content easy to find and to share
If you do want to build an audience with the help of your content, don't limit it to your website only and don't make it difficult to save and to share. The more widespread your content becomes, the more it will benefit you.
The great example of interesting, entertaining, and shareable content are the videos made by British Airways. While all of them are amazing, this one is an especially great example - it is comic, it includes so many well-known actors, and is actually fun and interesting to watch.
3. Mind the tone
<p.don't make="" it="" all="" about="" your="" brand.="" in="" fact,="" mention="" brand="" less="" and="" focus="" on="" emphasizing="" the="" benefit="" of="" content="" more.="" audience="" needs="" to="" understand="" clearly="" why="" is="" worth="" their="" time="" attention.<="" p="">
One of the best examples of that is well-known Dove video that quickly went viral. While it's branded, the branding itself doesn't distract the viewers from watching the video: we only see a logo in a corner and a message from the company in the very end.
The message itself isn't focused on Dove as well, though is somehow related to the company's product. The message is simple yet powerful: people need to learn how to appreciate their natural beauty more. And that's amazing - because the company does include promotion but at the same time doesn't make it a center of its content, instead focusing on bringing some inspiration to their target audience.
4. Post often and be innovative
The consistency is very important for building a loyal audience. Moreover, you should also try to be innovative and experiment with the types of content. Why follow the trends when you can create your own ones?
At the same time, keeping up to date with the latest trends and trend predictions is also important, especially if your team isn't experienced enough to create their own trends. So always monitor the reliable sources to learn all you need to know.
5. If you fail, learn from it
Testing your content before releasing it could help you minimize the risks - but not avoid them completely. Failures do happen, but if you learn from them, you'll be able to adjust your content and to make it better. Of course, you'll need to analyze the data and to measure your performance in order to do so.
In 2016 Cinnabon has posted a tribute picture to honor the late actress Carrie Fisher. They did use the same picture before, on May 4th, known as the «Star Wars Day» among fans. Back then, the picture was accepted well - however, the same trick didn't work twice. The fans were offended by the usage of this picture, finding it inappropriate. They also accused the company of using someone else's death for promotion.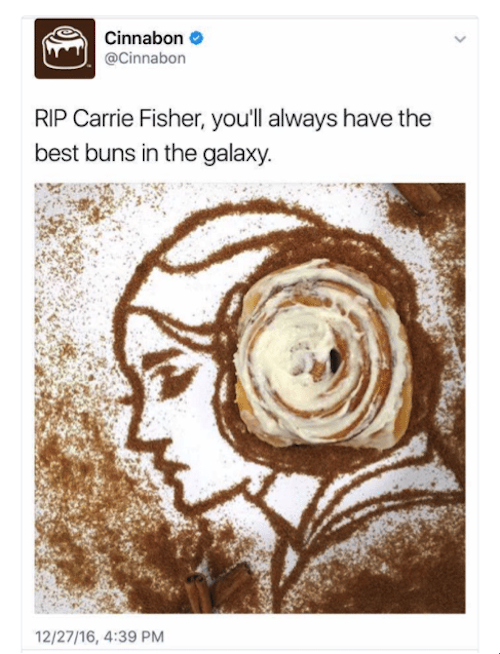 Though the company is well-known and definitely has a strong marketing team responsible for content strategy and for the creation of the branded content, the failure was still massive. Cinnabon did the best they could under such circumstances - published an apology. And while this doesn't eliminate the whole situation, this still contributes to the image of the company, as they show that they accept the responsibility for their mistakes and apologize for them.
Writing good content
Creating strong branded content is no easy thing. However, this isn't impossible as well. Do your best to learn both from tips and from the example of the others, monitor the reaction of the audience - and you will succeed.
</p.don't>