Heroes Assemble pt. III: Follow me, team!
with Grzegorz Woźniczko and Marcin Borowski
♪
We are the champions
♪
You have assembled a team of extraordinary people. You've welcomed them in your HQ and shown the way around. Now that your team is all ready, you need to learn how to manage them right so they can save the world. For your customers, at least.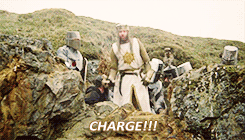 I was joined by Grzegorz – the team leader of level 1 customer support at LiveChat. Together we went through the things you need to take into consideration when organising a team, specifically:
Deciding on chat availability
Agents location (remote vs office)
The tasks for agents
Ways to share the knowledge
How to assess team's performance
How we do it at LiveChat!
As always, it was followed by a Q&A session afterwards!
Gif courtesy to Monty Python and the Holy Grail
Video from webinar
hosted by
Grzegorz Woźniczko
L1 Team leader
The team leader of customer support level 1, Grzegorz is constantly working on improving how it all runs together. Beside lurking into Excel spreadsheets and motivating his team, he's a dedicated LARP player and enjoys watching cheesy action movies from the 70s-80s era.
Marcin Borowski
Support Hero
When not helping our customers, Marcin is fighting villains and saving damsels in distress during LARP (live action role playing) sessions. He's a zealot when it comes to fantasy genre. Marcin is in charge of a LARP association called Fantazjada.