LiveChat updates
We like to stay fresh!

5 April 2016
Ahoy Android lovers! LiveChat 2.7.8 for Android is now available in the Google Play Store to download.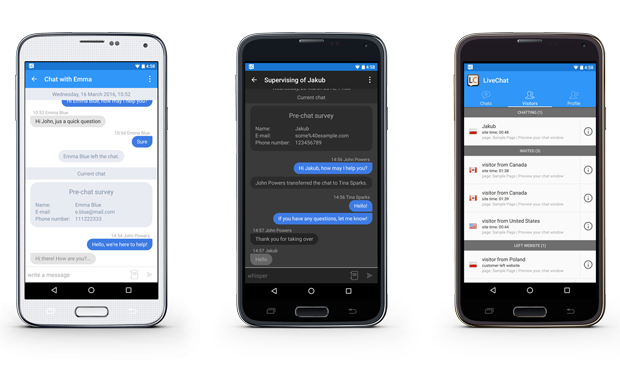 Here's what's new and improved in the version 2.7.8:
The looks
The chat screen got a shiny new design. It's now cleaner and simpler with smoothened edges to be easier on your eyes.
In addition, you'll see a new design of the supervised chats. With its machete-sleek, black background, it's now clear if you're supervising or chatting.
More information
On the Visitors tab, you'll now see your visitors' browsing time.
On the Chats tab, we've added the information about chat duration.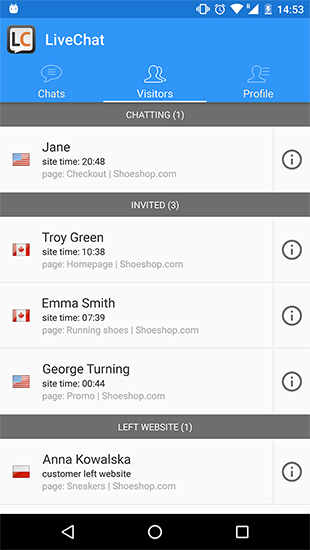 Better notifications
We made some changes to the notifications. They don't pop out at you anymore, covering a quarter of the screen. They're now less pushy, showing on the snackbar.
We also solved the issue with new notifications overwriting existing ones. You'll now see separate notifications for each chat and know exactly how many chats you have to answer.
Other changes
The sneak peek finally comes to Android!
Before this release, you could only chat in the portrait mode. It now works in the landscape as well, with a wider keyboard for easier and faster chatting.
And lastly, some performance improvements to make the app a little faster and smoother to use.
We hope you like it. And, as always, you're welcome to share your feedback and suggestions in the comments below.
Tell us what you think