Showing top

0

results

0

results found
Showing top

0

results

0

results found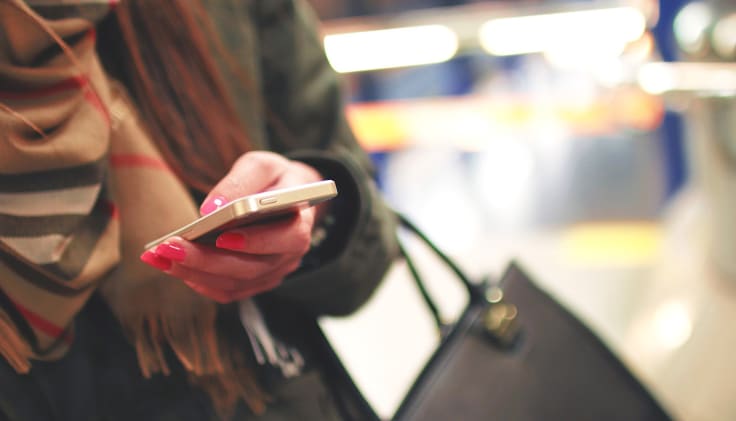 Customer service is a top priority for any business. And that's because customer service makes a difference in brand reputation, customer loyalty and revenue. Did you know that 69% of Americans would recommend a company that they had a positive experience with to others? And that companies that prioritized customer experience had a 10-15 percent increase in revenue and a 20 percent increase in customer satisfaction?
All businesses who have good customer service as their priority need to find fast, efficient and convenient ways to communicate with their customers. Today, that communication platform can be texting. A full 81 percent of consumers find it frustrating to be tied to a phone or computer while waiting for customer service help. It's clear that texting is the preferred channel for customers.
It's also the preferred channel for businesses. Texting is affordable, convenient and efficient. It delivers fast service and has high customer satisfaction rates. It saves employees time wasted on leaving voice messages no one listens to and emails few people read. Texts have nearly a 100 percent open rate, so your customers will get your messages.
Here are some of the top ways texting is beneficial for customer service.
Leverage the power of timing
People tend to open text messages within a few minutes after receiving them. Which means that texting is the perfect way to reach out to customers for appointment reminders, notifications, alerts and flash sales. The immediacy of SMS allows retailers to capitalize on it by sending out last-minute notices about sales, promotions and events. They can also let customers know the status of orders they've placed. In this case study for Hanook Tires, they use a business texting service to coordinate shipping information between their truckers and their customers.
Another case study involved sending appointment reminders to clinical trial participants. The texting service resulted in a 10.07 percent increase in attendance and a 91.6 percent reduction in other resources (phone calls, emails) used to remind patients of their appointments. Texting gives businesses an instant connection between them and their clients. For time-sensitive issues, texting is the ideal platform for customer communication.
Location isn't a big deal
No matter where your customers are located, SMS can reach any mobile phone. Travel companies with last-minute updates can reach their customers anywhere they are in the world, even on a remote island. Saving their customers unnecessary trips to the airport or pricey long-distance phone calls can earn you extra points in customer service.
Delivery companies can contact customers about the status of an overnight express delivery, especially useful for people who do last-minute shopping for the holidays. Texting doesn't rely on internet or have the same limits as phone calls.
This case study from QiQ Communications PTY LTD shows how companies with international customer databases can use texting to provide efficient and effective service to their clients: "With a global client base time zones and other logistical constraints mean we are not always able to reach customers via phone call. We decided to invest in using text messaging particularly for times where out dated email addresses were held for clients."
Any business can reach any customer anywhere quickly and easily with texting, making it the most effective platform to use when handling hard to reach clients.
Use the interactivity of SMS
One of the best things about SMS is that it gives your customers the ability to respond to you quickly and easily. With phone agents, customers have to wait to talk to a representative. Most customer service calls are recorded; however, the customer doesn't have access to the recording. Texting allows clients to write to the company and have their own written record of the conversation.
Texting frees up time they would have spent waiting on hold and allows them to communicate with the company at their convenience, not the company's convenience. In this case study for AllOne Health, the US Military developed an SMS platform to care for injured soldiers who had returned home. The program provided soldiers with real-time access to a health care worker who could respond quickly and easily with advice and support.
Conduct mobile polls
Want to know what your customers are thinking? Just ask them. Mobile polling is a great way to find out your customers' opinion of your business. And the best way to be able to serve your clients is to know what they love and what they don't love. People are more likely to finish a mobile survey than they are to fill out a paper form or respond to an email survey or pop-up survey on a website. Here are some tips for getting the most out of your mobile polls:
Multiple choice and single choice are easier to analyze than open-ended questions. However, open-ended questions could yield responses you wouldn't have anticipated, giving you a richer, more spontaneous source of customer feedback,
Increase your poll's response rates by rewarding customers who finish it with a discount, prize or entry in a sweepstakes,
Get your customers' opinion on their past experiences with your business,
Ask customers their opinions about a new line you're planning to launch, upcoming changes in your store's appearance or new items you're planning to introduce to your menu. Find out what they like before you go ahead and change things,
Make the poll short – that way they're more likely to finish it.
We know customer service is a priority at your business. So make sure you're using the best platform to reach all of your customers quickly and efficiently. Give them the chance to contact you when they need to, and take the time to ask them about their opinions of your product or service. A great way to do all of these things is through texting. Try it and see!