Showing top

0

results

0

results found
Showing top

0

results

0

results found
Omnichannel marketing has been a buzzword for some time now, and for good reason. Rather than putting all your eggs in one basket and concentrating solely on, say, email campaigns, omnichannel marketing uses multiple channels to provide your customers with an immersive, integrated experience.
It is this integration that sets omnichannel apart from its closely-related cousin, multichannel marketing. While multichannel marketing is brand-centric, using multiple channels separately to send out the same messages regardless of context, omnichannel marketing is designed with the customer journey in mind.
Omnichannel marketing delivers messages that are adapted to complement previous interactions in the customer journey. In doing so, omnichannel marketing ensures the kind of highly-relevant, personalized experience that consumers have come to expect.

This article looks at some sales-boosting methods to use in your omnichannel marketing efforts. These methods will help you to increase your open rates, win back lost customers, and maximize sales to your existing customers. But first, let's have a closer look at the performance of channels currently the most popular in the omnichannel marketing mix.
Email
Email marketing is the most comfortable and effective channel for marketers and consumers alike, and there's no sign of this changing any time soon. Online shopping continues to increase during the COVID-19 pandemic and beyond. So, it makes sense that consumers look to familiar channels like email for their information and product discovery.

This was confirmed in a Q2 study by Omnisend which found that promotional email open rates rose 29% over the same period in 2019. That's an impressive 88% gain in campaign conversion rates. The upward trend continued in Q3, proving that retailers utilizing trusted opt-in channels like email are rewarded with engaged customers who are actively browsing and buying from them. If you're not looking at ways to grow your email list, perhaps you should be.

SMS
SMS is another opt-in channel showing promise for ecommerce businesses. Increasingly seen as an essential ingredient in the omnichannel pie, SMS combines well with email to deliver personalized messaging with an added sense of urgency. With over 90% of SMS messages being read within three minutes of receipt, SMS is ideal for quick reminders and time-sensitive campaigns.
Like email, SMS is on an upward trend. Omnisend reported a 237% increase in year-over-year sends by retailers in Q3. Customers are also responding with higher click and conversion rates. Consider collecting mobile numbers along with emails to take advantage of this highly effective and increasingly trusted channel.

Web push messages
Although it's the new kid on the block compared to email and SMS, web push messages are nevertheless another growing and effective marketing channel with a lot of potential for ecommerce businesses. Like SMS, push messages are instant and eye-catching. They deliver short and timely messages directly to a customer's browser, and that makes them an ideal omnichannel tactic. Simply add them to your automation workflow, and follow up on previous interactions with important, time-sensitive information.
While many retailers are still finding ways to maximize the potential of this new but growing channel, the statistics show an impressive 53% view rate and a 30% conversion rate for push messaging. Omnisend reported a sending increase of over 1000% this year. If you haven't looked into bringing push messages into your omnichannel mix yet, now might be a good time to start doing so.

Omnichannel marketing tactics
So, we've looked at some trending channels. Now, it's time to think about ways we can combine them effectively as part of an overall omnichannel strategy. The following tactics are tried and tested examples of omnichannel marketing and are guaranteed to increase your sales if properly implemented.

1. Sending SMS to subscribers who didn't open emails
Emails are the go-to channel for marketers for good reason. With an ROI of $44 for every $1 spent, it continues to far outperform any other channel. However, during busy periods such as the holiday season, email open rates drop as consumers' inboxes are cluttered with a sharp increase in promotional messages.

So what can you do to cut through the noise and stand out from the crowd? Resending your campaign can significantly boost your results and is a great way to capture those subscribers that still haven't seen your message via SMS.
SMS is another owned marketing channel that demonstrates huge customer engagement and can help you to achieve your marketing goals. So start collecting phone numbers, and make sure to find an email provider that can provide you with a seamlessly integrated SMS marketing service. 

2. Benefit from browse abandonment
With an average of 89% of site visitors leaving without going so far as adding an item to their cart, there is a lot of work to do to turn casual browsers into customers. A good way to reengage with these potential customers is with an automated browse abandonment workflow. This includes targeted messages sent to subscribers based on the products they've been checking out.

Browse abandonment messages often end up becoming one of the most profitable messages in a retailer's email marketing program The customer data and intent provide a valuable means of personalization. You're able to approach subscribers with precise product recommendations and incentives based on their previous interactions, with a simple email/SMS combination being the most effective. Below is an example of a workflow involving these two channels.
Your SMS can be a short, sweet reminder. For example, something along the lines of, "Hey! Do a double take. This popular item is selling out fast!" Shoppers who simply browsed your store might not yet have a compelling intent to purchase, so this is not a high-pressure campaign. You can consider trying different messages to different audience segments. For instance, to loyal customers and to those who are yet to make a purchase.

In your email, include the products that were browsed, highlight your bestsellers, and include any perks like free shipping, easy returns, or loyalty rewards. There's no need to offer discounts just yet. Let's hold off on that until the purchase intent is more clearly identified and an item has been placed in a cart.

Which brings us to ...

3. Win back abandoned carts
By now, you're probably familiar with the statistic showing that 70% of online shopping carts are abandoned, with unexpected costs and general indecisiveness being the main culprits. While you'll never solve the problem of abandoned carts completely, you will be able to get a percentage of customers back to the checkout page by using an automated abandoned cart workflow.
This workflow is a series of messages that are triggered when a customer leaves your store with items still in their cart. An omnichannel combination of a push message, followed by an email, and finally an SMS makes for a logical progression. You could alternatively add yet another channel to the mix, as in the example below.
As you can see, an SMS reminder has been replaced by Facebook retargeting. Advanced, omnichannel-focused marketing platforms will offer this option. It can automatically find, move, and target your customers with Facebook ads based on their preferences and previous shopping behavior. For those that left an item in their cart a few days prior, a visual reminder of the product on their Facebook feed can be just the nudge they need to complete the purchase.

Keep in mind that Facebook retargeting is a little more expensive, so think about using it only if your push messages and emails have failed to yield results.
4. Reactivate your lapsed purchasers
It's perfectly normal for some customers to drift away from your brand no matter how awesome your products and community are. However, this doesn't have to mean that they are gone forever. You can reactivate many of these valuable former customers by launching a customer reactivation workflow by setting up automated messages to send once a customer is deemed to have churned.

The timing and intervals between messages should be adjusted according to your customer buying cycle. In the example below, the first message was sent after 30 days of purchase inactivity by using a handy combination of email and SMS sent at weekly intervals.
These messages rely on an incentive to tempt the customer back to your store while showing appreciation for their engagement. An SMS to kick off the workflow is important here because it grabs the attention in ways that easily ignored emails simply cannot.

Again, Facebook retargeting can be a handy channel to add to the mix when looking to reactivate lapsed customers. It'll keep you visible to customers that already know and trust your brand and will bring them back when they are ready to shop again.

4. Upsell with transactional emails
Order and shipping confirmation messages are a staple for any ecommerce business, and they boast incredibly high click and open rates. In fact, these messages gain some of the highest open rates of all emails sent, meaning that they have the potential to generate significant revenue if used wisely.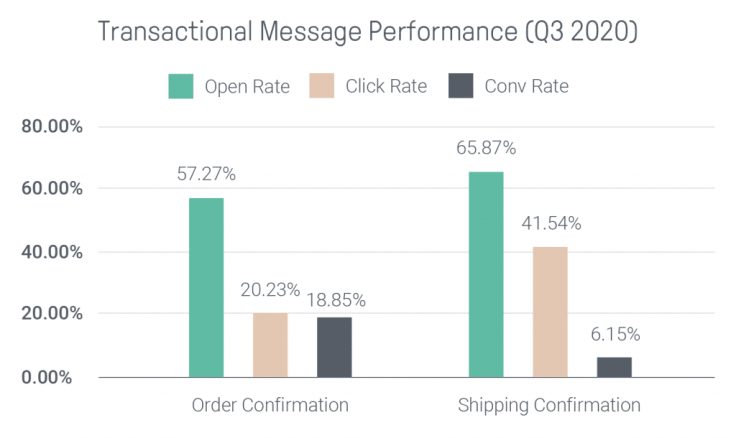 A simple way to upsell with your transactional email is by offering a new deal for the next purchase alongside order or shipping information. It doesn't have to be complicated. A short SMS sent with your email can do wonders, as in the following example.
Take advantage of the high open rates of transactional messages but don't be too pushy here. A quick incentive on the next purchase is enough to keep the interest flowing.

A 250% increase in purchases with omnichannel marketing tactics
With customers responding favorably to the personalization that omnichannel marketing brings, it makes sense to be implementing these kinds of tactics in your strategy. According to research, marketers that use three channels or more in their campaigns earn a 250% higher purchase rate, suggesting a clear benefit for marketers and consumers alike.

So what are you waiting for? Try out some of these tactics for yourself, and watch your revenue grow.