Showing top

0

results

0

results found
Showing top

0

results

0

results found
We've just launched the LiveChat Affiliate Program so I thought it would be a good idea to share some handy tips with you on how to become a successful affiliate.
For me, running such a program is not just about having lots of banners all over the Internet but about creating a network of LiveChat ambassadors who believe in our product and help us promote it.
As an affiliate, you can get a 20% in recurring commission for the lifetime of each customer you refer. Applying to the LiveChat Affiliate Program is simple, free and requires no technical knowledge. Anyone is eligible to join. We will, however, decline any sites that contain objectionable material, such as pornography, explicit language or violent content.
We understand that before you feel comfortable recommending someone to LiveChat, you may want to test our product yourself. Don't forget that we offer a 30-day free trial. Of course visitors who sign up from your referral link will be also able to take the advantage of our free trial.
To become LiveChat affiliate, you need to:
Visit LiveChat Affiliate Program website to create your account.
Choose your favorite banners and place them on your website or share your referral link directly with your potential customers.
Additionally, you can take advantage of social media or even put a link in your newsletter. We have a great range of banners to help maximize your revenue. We will happily provide additional copy or banners on request.
You can also create your own links to any page on our site. Don't forget to add your tracking code to the URL: /?partner=yourcode
Potential referrals
The cornerstone of an effective affiliate promotion is choosing the right product which is easy to sell. Imagine that you are an affiliate of a private university. Your target group would be limited. Basically any company with a website is a potential user of LiveChat which gives you lots of opportunities. If you are looking for some examples, you can read about the businesses using our product.
If you are a web developer or an online marketing expert, you can extend your offer to implementing and customizing LiveChat on your client's website. Your clients are looking for the best solutions for their websites so why not tell them about the chat tool?
Our product is easy to implement. We have already over 40 integrations and we are constantly building new ones. If your clients use, for example, Shopify you can send them a link (with your referral code) directly to a page with information on implementing LiveChat on this platform.
Here's how the affiliate programs works:
A visitor clicks a link or banner that includes a special tracking code.
A cookie is saved. The cookie lifetime is 120 days. This means that even if a customer signs up during the last, 120th day after clicking your affiliate link, you will still receive a commission for your referral.
The LiveChat affiliate program allows you to earn a 20% recurring commission for every sale you send to our site. Once you reach $50, you can withdraw your earnings to your PayPal account. You can update your payments details in the Billing section of your affiliate profile.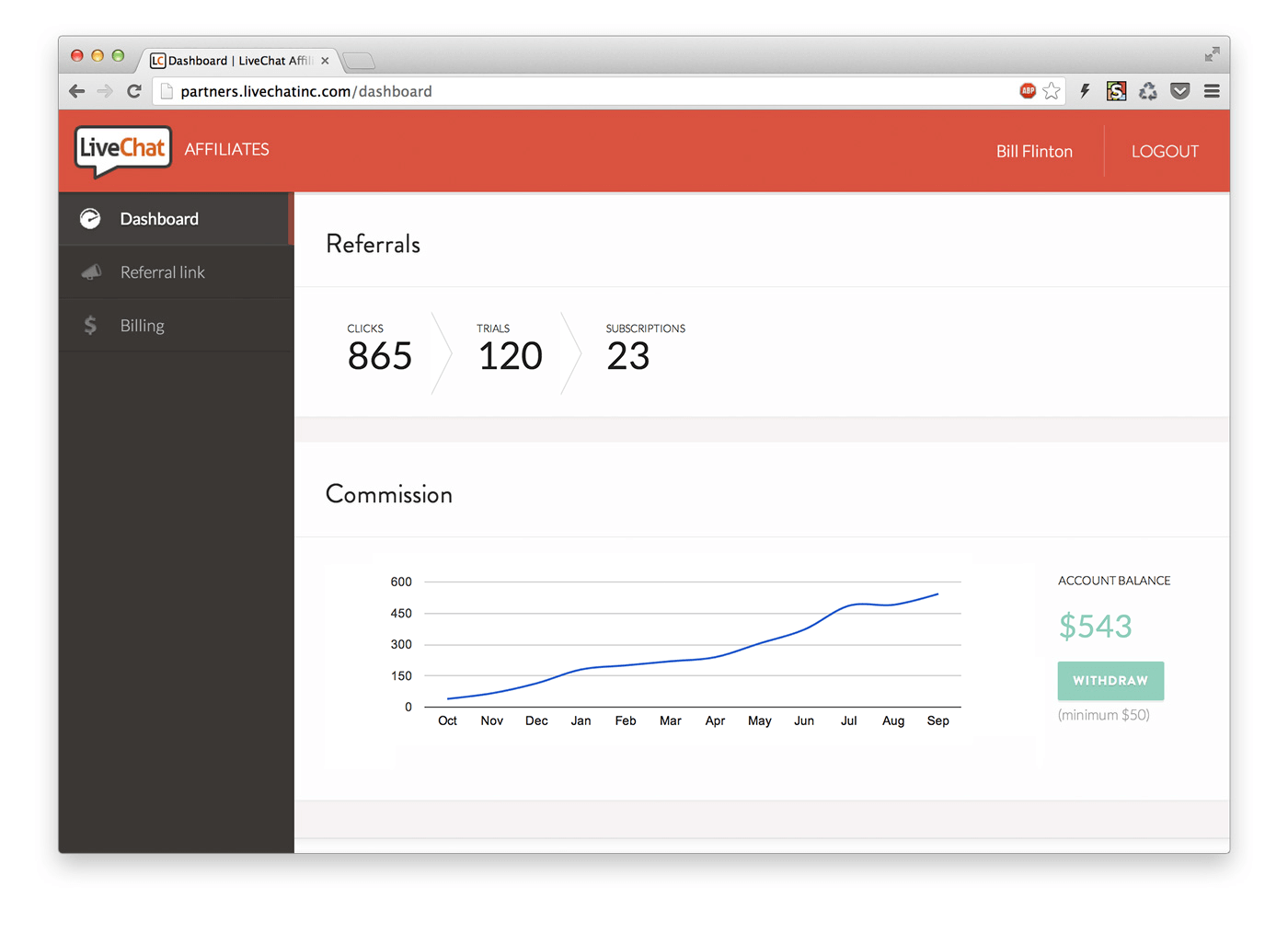 Once you have signed up for our program, you will be able to access your affiliate profile. A dashboard contains real-time statistics and tracks all the unique clicks, trials and sales & commissions you generate.
How to become successful and make real money in LiveChat Affiliate Program
The best practices below will help you drive sales and increase your earnings. It's true you can just place a link on your website. However, if you are looking for a long-term income potential, it's worth to spend a couple more minutes preparing a good promotional campaign which can bring much higher conversion.
1. Build an Integration
People like easy solutions. Your customers may be more interested in signing up for LiveChat if you build an integration with your product. You can find a tutorial on how to do it on our website . When it's ready, we can list in on our Integrations page so one more advantage for you.
2. Be Trustworthy
Visitors are aware that you get paid for ads on your site but they also want to believe that your content is genuine. Please avoid superlatives in your reviews or product description. If you are not sure what to write, check the media pack in your affiliate profile.
3. Do not spam
We understand you want as many people as possible to click your referral link. However, posting a commercial content on the forum where you are a new user or sending emails to random people won't help you with customer acquisition. Focus on creating a valuable presale content instead.
4. Be helpful
Your website visitors or your clients may ask you questions. If you are not sure about the answers, please do not hesitate to contact me or our Support Team. If you help them understand how LiveChat can increase sales and improve the communications with their visitors, you'll increase a chance that they'll sign up and become paying customers.
5. Use several traffic sources
You can promote LiveChat simultaneously on many other traffic sources, not only your website. We encourage you to take advantage of Social Media. Feel free to mention us (@LiveChat) to make your posts more genuine.
Affiliate marketing requires time and does take strategy. It is, however, cost effective. Joining does not require a fee, you can work from home and it can bring you serious money. The most important tip I can give to anyone who is a new affiliate marketer is: do not give up and do not be afraid to ask for advice. If you have any questions, please do not hesitate to contact me directly at partners@livechatinc.com and I'll be happy to help you. I can't wait to see you among our partners.