Showing top

0

results

0

results found
Showing top

0

results

0

results found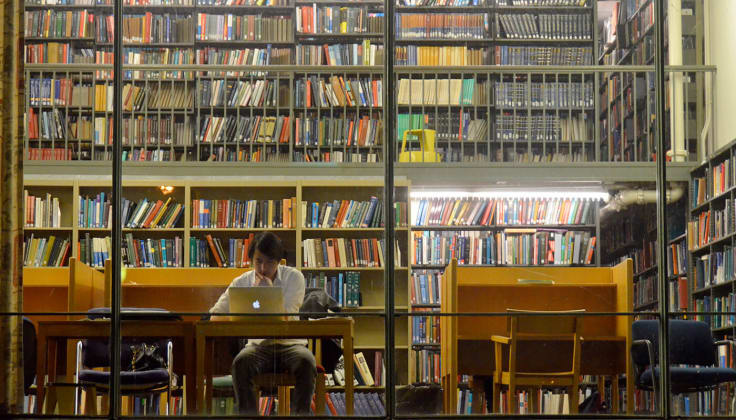 There are few things that can save you as much effort and man-hours as having a functional knowledge base on your website.
Without a knowledge base, your agents need to provide all kinds of information during one on one conversations with customers. The information is there, but the delivery method is far from efficient.
This kind of heavy load makes any attemtps at proactive customer service really difficult.
Read about the methods we used to build our knowledge base to more than 100 articles and around 1500 daily visits.
Starting out
Preparing a knowledge base may seem like a daunting task that involves a lot of planning and hard work. We've prepared a list of helpful tips and things we learned when creating our own knowledge base to make it easier for you.
Using this information, you will be able to start working on your own knowledge base and slowly develop it into an information power-base for your customers.
Note that we went a little bit over the top and the article ended up longer than usual. Here's a list of all the tips for easier navigation:
Feel free pick one of them or simply start with number one and work your way down. You can always bookmark this article and come back to it later.
1. Start small
First of all, you don't have to prepare the whole thing in one go. Start small and prepare a few basic articles to get things going.
When we first launched our knowledge base, we had seven basic LiveChat-related articles. Over time, our article count slowly grew to well over 100 articles, and a beefy FAQ section to boot.
At the beginning it's more about getting the hang of publishing articles. After you prepare the core, you can start expanding it further.
2. Develop a style
To make your articles easy to grasp, you need to develop a writing style and stick to it. This way your readers won't have to get accustomed to new elements and writing style with every new article.
Things like bolding, linking and organizing your guides may seem insignificant but they weigh heavily on the overall readability of your articles.
To get you started, I've listed a couple of things we use in our own writing:
- the use of bold: We tend to use bold to point out to various things a visitor is expected to find and/or interact with.
For example, if you have a sentence like "Next, you need to add a chat button", you can make it easier to understand by bolding the specific CTA (call to action), which would look something like this: "Next, you need to select Add a chat button option."
This way, the reader can locate this particular button more easily and will have no problem with going to the next step of the tutorial.
When it comes to pointing out to things on the screen, we try to keep the original wording of the bolded phrase, along with capital letters, question and exclamation marks, dashes and such (as long as it doesn't look weird, like in the case of the plus sign in the example above).
- make instructions shorter with linking: When trying to lead a reader to a particular site, you don't have to explain how to use your site's navigation. Instead of telling the reader to choose a particular option from the site's menu, you can make the whole process much shorter by simply linking to the target page.
When using links, you can form the sentence to include a particular call to action. So, instead of having a sentence like "To get an account, complete the sign up form." you can go for something like "Sign up to get an account."
You can avoid whole sections of tedious instructions by linking to a particular place on your site, in your application or online store.
- make code stand out: If you work for a software company, you may need to display bits of code in your knowledge base articles. Stylizing the code snippets will make it much easier to notice and copy.
We have two ways of displaying code in our knowledge base: code blocks and highlighting particular parts of code. The blocks are useful when you need to provide a piece of code the reader is supposed to copy and paste somewhere later on.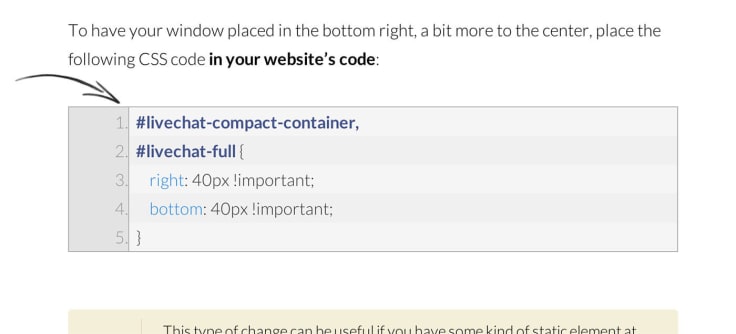 You can use the code highlights to explain particular bits of code or describe specific parameters.
- familiarize you readers with certain article order: By standardizing a certain article order, you will shorten the time needed to get into the important bits. When going from article to article, readers familiar with your writing will be able to jump straight to instructions while new readers will be able to go through them from start to finish.
We tend to have three parts in our articles: introduction, instructions and suggestions. In the intro, we briefly describe the topic and possible benefits. The instructions are the core of the article and include all the helpful bits. In the suggestions we propose viable next steps for readers who've just finished setting up a function.
These are just suggestions and over time you will develop your own style guide. The most important thing is to stick to the same style, even if you have a couple of authors preparing articles for your knowledge base.
3. Love lists
When trying to convey instructions, nothing beats the good old list. In our writing, we use the numbered list for most instructions. It makes the critical parts of your articles easy to follow and understand.
Even if you don't want to use a list, break down your text into shorter paragraphs so that each steps gets a separate paragraph. Remember that you can also create quasi-lists by using adverbs like 'firstly', 'secondly' etc.
Lists are easier to spot and your readers can jump right into action by skipping the intro. Just make sure that there's nothing too important that's not on the list.
4. Show what you mean
A picture can mean a thousand words. A screenshot, on the other hand, can save you a good couple dozens of words of instructions and explaining when you want to lead the reader in a particular way.
It's a good idea to provide a screenshot every time you point out to a particular thing on your website. If something was displayed earlier and the action needs to be repeated, you don't have to provide the same screenshot again (same goes for the instructions, which can be shortened to 'repeat step X'.)
Additionally, we often use arrows to point out various things on the screenshot. To keep the screenshots tidy, make sure you are using the same style of arrow with all of your screenshots. Again, it's easier to understand for the readers when they see a familiar arrow. You can ask your graphic designer to prepare one that would fit with the style of your website.
Apart from describing which part of the screenshot is relevant, you should make sure to crop it properly. You don't want too much redundant information distracting your readers from the important parts.
Another useful thing to remember about screenshots: try keeping the 1:1 size ratio. The screenshots should represent the factual state of your website/service. When you scale it down or up too much, readers won't be able to recognize those parts.
We also optimize our screenshots for Retina display. It's not that crucial and serves only a cosmetic purpose. However, the optimized screens are very clean on the Retina display screens so it might be worth the effort, especially if the rest of your website is optimized for this type of screens.
5. Helpful tips
Sometimes you really want to add a particular bit of information but you don't because you worry it will ruin the order of the article and make it too hard to understand. It's a hard call between additional information and simplicity.
We struggled with this problem until we started using helpful tips, which look like this:
The tips are a way to provide additional, relevant, but not crucial information without making too much mess. Thanks to the different look of the tips, you can clearly tell them apart from the actual instructions.
Using the helpful tips, you can pass along all kind of additional information and suggestions. We tend to use them to tell about possible options or advanced settings of a particular feature. Give them a try but make sure that they stand out from the rest of the text!
6. Chain articles together
What a better time to suggest more valuable resources than at the end of your articles? After setting up a particular function, readers might want to delve further into the topic or explore other possibilities. This is why you should provide more advanced materials as suggestions at the end of your articles.
Apart from suggesting particular resources at the end of each article, you can also prepare a related section, which shows articles from the same field. With the related list available, someone interested in, let's say, your API can learn more about it and dig deeper. And the more your readers know, the easier your support agents' jobs will be.
Depending on the way you have your knowledge base set up, you can try using categories to determine which articles are similar to each other or set up the categories manually for each article.
7. Offer chat for readers
Even though the articles are a great way to enable self-service opportunities for your customers, a chat can be a useful addition to you knowledge base. As your readers progress through articles, they are bound to have some questions and you should be ready to answer them.
Having a chat option in your knowledge base is important for two reasons. Naturally it allows you to offer on-demand help for visitors. However, it is also a source of valuable feedback about your articles. You can use that feedback to optimize your writing and highlight some aspects more prominently.
8. Keep it simple
Do you know how to spot a well-prepared knowledge base? You can open any of the available articles and you can understand it without further reading.
Each article should be understandable on its own. Even if you have explained a particular matter in your other articles, there's nothing wrong with going over it again if the information is relevant.
There's some leeway to the amount of basic information you need to mention. In the introductory articles, you will need to go into more detail about particular matters. However, in the more advanced articles you can make the descriptions shorter or simply mention particular matters and link to a relevant article.
Striking a fine line between too much and too little information is key here. When in doubt, it's always better to explain something than risk producing material that is too hard for beginners.
9. Provide a search option
A search function can do wonders for the accessibility of your articles. When they start piling up, it becomes almost a necessity.
Using the search bar, your readers will be able to reach the information they need much faster and without your help.
Keep in mind, that the search tool has to be extensively tested. Make sure that phrases that are likely to be entered in the search tool return the right results. You might need to adjust the tool or even the article names to have it working properly.
To make the search function even more helpful, we added a chat option to each search. If a website visitors can't find a particular material, our agents are there to help.
10. Look to Google Analytics for article ideas
After creating the core of your knowledge base, and maybe even expanding it a bit with some additional materials, you will be able to prepare a few more focused articles. These articles are aimed to answer the most pressing questions your readers might have.
To get an idea what our readers need, we looked to our Google Analytics data for some suggestions and clues. We checked what kind of searches our readers were doing using the search bar. Since our search functions adds a ?search= parameter to the website address, GA is able to pick up all the queries. Here's how the data looked like:
As it turns out, our readers were looking for several things like API, language configuration, Wordpress installation guides etc. From the topics listed, the only thing our knowledge base lacked was an introductory guide to our API. Since all the other bases were already covered, we could focus on answering the demand for an article about the API.
We quickly drafted the article, providing some basic information about the API itself and possible available use cases. We included links to our API documentation page and a recent blog post about interesting API use.
The article proved to be very helpful for our customers. Now, our support team has a ready-made resource to distribute via chat when asked about the API.
You can do the same using the data from your GA account and also the feedback from chats and emails. See what your website visitors are most often looking for and prepare that material for them.
11. Keep your knowledge base up to date
As your business grows and develops, your knowledge base will need to adapt. You need to make sure that it is always up to date to avoid misinformation.
Make it a weekly routine to go through several of the available articles to check for any discrepancies. You don't have to go through all of them weekly as there won't be that many changes necessary. Just make sure that you don't forget about any articles.
Whenever you implement a new feature or function in your product or shop, it's a good idea to remember to update your articles (if the new product/function affects them in any way). This way, your articles will remain up to date without having to spend too much time on checking them each week.
Your customers and support agents are also a good source of information on the required changes as they spend collectively much more time checking out the articles then you will be able to during your checks.
Starting a process
Creating a knowledge base is a continuous process. It's never finished as your business will keep on developing.
When working on your articles, you will develop much more methods of improving your knowledge base. It takes time to discover and adjust them to achieve the best results so don't rush it.
Pay our knowledge base a visit to see these methods used in practice.
If you have any questions about preparing a knowledge base, you have your own methods or maybe you want to showcase your knowledge base, feel free to share!
Photo courtesy of Chris Devers via Creative Commons.