Showing top

0

results

0

results found
Showing top

0

results

0

results found
6 min read
Jun 9, 2017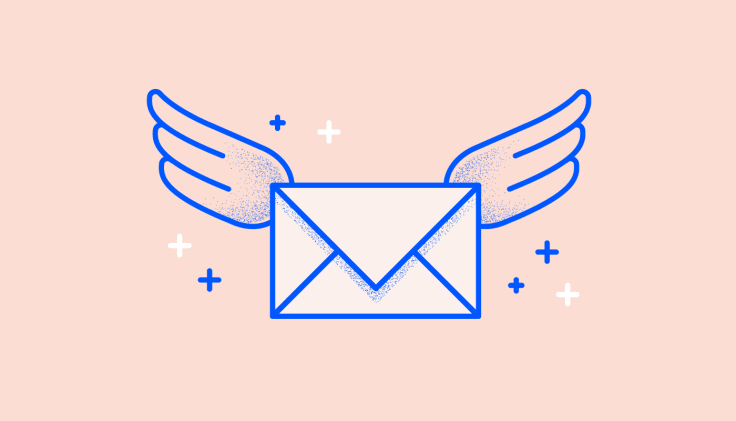 If you've read the previous post on how to get started with email marketing, you will hopefully have a better understanding of this mysterious and overwhelming world. More importantly, you should be 100% convinced that it is still one of the best ways of directly reaching users and customers, no matter how big or small your company is.
So today we're going to dive deeper into the nitty-gritty of it all. We'll see what features you should look for, which providers offer them, how to grow your user base, and how to make the most of email marketing with LiveChat.
What email marketing features do you need?
This really depends on what kind of business you run. Sometimes you will just want to let people know about a new development, and sometimes you will rely heavily on emails for increasing your sales. But as a primer, we've written a brief overview of the main features you will find, listed in order of complexity:
Promotion and newsletter
We're all familiar with those. Quite simply, they are emails that you send to multiple people at once. The only difference is that promotions are typically unique (you only send them once), and newsletters are a regular affair usually covering a multitude of topics. This is the most basic way of using email marketing.
Autoresponders
Also known as "the lazy marketer's best friend". Autoresponders are sequences of emails sent on specific dates during your user's sign up cycle. For example, you could have an autoresponder that sends a thank you message 1 hour after a new user subscribes. You could also have another sent 1 year later, with a special anniversary offer. Autoresponders are also often used for educational content that helps people gradually learn more about a product or topic.
Automations and split tests
This is where the fun begins. Email automation is one of the biggest current trends in email marketing. As the name suggests, these emails are sent automatically but based on different user behaviors. For instance, we all know that LiveChat is great for converting sales while users are on your shop. But with the right email automation, you could also track which users left your ecommerce site just before paying, with your email software sending them a friendly reminder about their cart.
You could even create two emails with different subject lines and see which version performs well! This is an A/B or split test, and a great way to tweak and optimize your marketing skills.
Newsletter software - which one should you choose?
Here again, there is no right or wrong answer, and the best newsletter service will change depending on your needs. And as you've now seen, you need to base this choice on your budget and the kind of features you need.
For instance, if you would rather use a free plan, Mailchimp's freemium offer is very generous, even if it lacks certain pro features in the automation department. However, if you need really advanced automation, we usually recommend ActiveCampaign or GetResponse.
You can read more about the pros and cons of each newsletter software at EmailToolTester.com. There's also a newsletter calculator that helps you compare prices.
Growing your list - a case study
Of course, your marketing campaign is only as good as a number of people it reaches. So it's time to let your user numbers grow! For this section we'll be looking at our own experience as well as some concrete numbers from our website WebsiteToolTester, where we currently get around 400 new subscribers a month.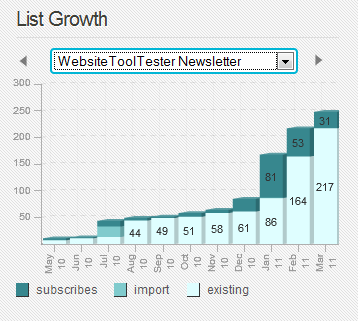 As you can see from the screenshot for our year 2011 - it took a while to get started, but the numbers really shot up around January, as soon as we started offering a free ebook.
While our number of visitors was also growing, there is nonetheless a 10 fold increase, from 5 to 50 subscriptions a month during that year. But wait, there's more!
Website Popups - what to do and what to avoid
Now we know what you might say: I hate popups, why would I put them on my site? The answer is that there are ways to actually make them useful for users. For instance, this is what ours looks like:
And we tried very hard to respect a few rules to make it as successful as possible. These are:
Make it valuable
As you can see, our free ebook actually makes sense for our users because they are here to learn about website builders. Can you create original content that is particularly relevant for your visitors?
Keep it unobtrusive
We keep our popup exit-intent, which means that it only appears when users move their mouse towards the browser bar. Moreover, we don't show it again for another 30 days, and we don't show it on mobile devices. After all, we don't want it to damage our brand.
Don't be too aggressive
Similarly, try and avoid any psychological warfare tricks such as "I reject the free ebook". People see right through them! And please please please make sure your website doesn't pile up pop-ups on top of each other.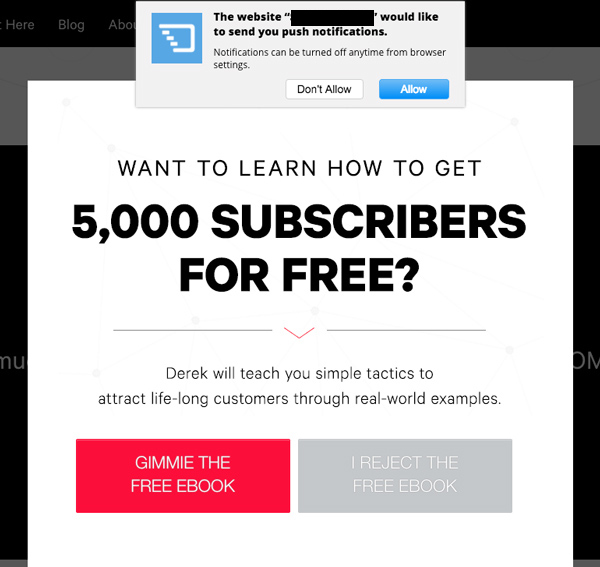 How LiveChat can improve your email marketing
Now that we've seen a few good practices, it's time to make the most of your email marketing by combining it with the power of LiveChat. The great thing is that it integrates seamlessly with major newsletter services. Below are some ways you can make the most of it.
Create a LiveChat user opt-in
As you can see from the screenshot below, users can sign up to your mailing list directly from LiveChat. A direct integration is available for all three newsletter tools mentioned above (GetResponse, ActiveCampaign and Mailchimp).
Time your newsletters around agents' availability
If you don't offer 24/7 LIveChat support, make sure you send your newsletter when agents are live. This will give your campaign a lot more impact. In fact, you can even use a special greeting for users who come directly from your newsletter!
Mention LiveChat in your newsletter
This is a perfect example of two tools working together to make your company more approachable. Users like to self-serve - and the more options you can give them to answer questions, the more likely you are to succeed in your business goals.
So - ready to take the plunge yet?
Hopefully, you should now have more ideas of how versatile email marketing can be. Sure, it might seem overwhelming at first, but combine the fact that it is super effective with the fact that you can truly get creative with it, and you should have enough reasons to get started on your first campaign today!
If you've got any questions or any other feedback, please leave a comment!