Showing top

0

results

0

results found
Showing top

0

results

0

results found
A happy customer is the beginning of a positive chain reaction leading to better sales, strong word of mouth and hopefully, recurring revenues. Indeed, cumulative data from over a decade shows that companies that are customer experience leaders outperform those that are CX laggards by a whopping 3X!
We all know from experience that bad news travels fast, while good news tends to take the scenic route. Which means the more often you tick off your customers, your reputation and consequently, your revenues get pummeled soundly.
If you see your company committing any of these complete no-nos, you need to mend your ways pronto!
1. Dishing out indifferent customer service
The very reason customers call on your helpline numbers is – duh – because they need help. When you present an already hassled customer with a customer care representative who couldn't care less, where do you think that customer's going to take their business?
While a rude or indifferent customer service rep is a poor user experience, even a well-meaning representative who can't solve the problem or worse, offers the wrong solution to the customer is a bad situation to be in.
The Fix:
Foster a customer-obsessed culture at your company from top-down. Just telling your reps to be nice to customers is not enough. Demonstrate your customer friendliness in every policy and action you take as a company. This anecdote of Warby Parker's legal department head going out of her way to replace a customer's glasses for free when she saw him forget his pair on the train is one of my favorite customer experience stories.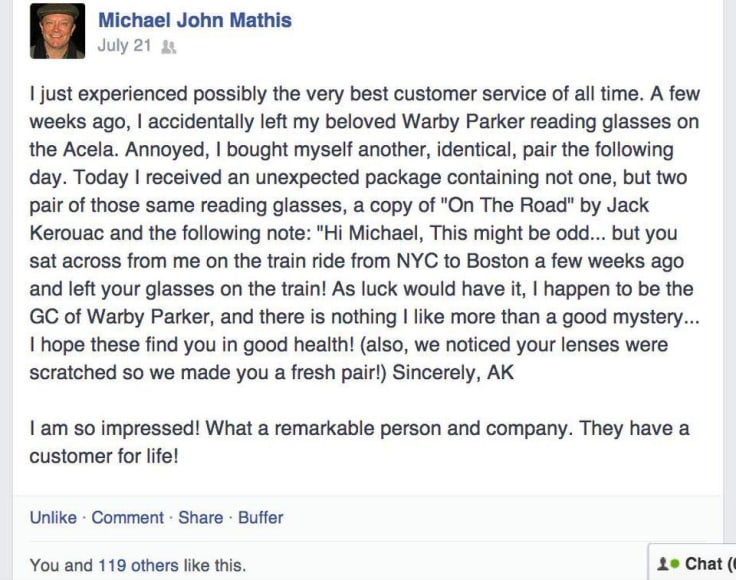 Offer ongoing training to your customer service teams to ensure that they are up to date with every product and service you offer. A dedicated module on soft skills will go a long way in pacifying angry customers and treating them with the TLC they deserve.
Develop a "living" Customer Service Handbook with continuous updates about your newest offerings, a section with unique customer complaints and solutions for them etc. Make sure your handbook is available on your internal Customer Service platform and is easily searchable for specific queries on the fly.
If it suits your industry, consider having the option of sending a customer service representative to your customer's doorstep to fix technical issues on site a la Best Buy and their GeekSquad.
2. Doing away with humans
Don't you just hate listening to an unending menu of options on a customer service call and then being bounced around from one menu to another with every choice you make? When you do get to an option to speak with a human being, you're put on hold seemingly, forever.
You're not imagining it. This study claims that the average person will spend 43 days of their lives on hold on customer service calls. You read that right. 43 days!
Given this dire state of things, it's not surprising to know that 82% of US consumers want more human interaction when they contact a company, according to PwC. While employing more customer care representatives to shorten the call queue can be exorbitant, there are other ways you can address this problem.
The Fix:
80% of millennials find calling a company for customer service issues extremely inconvenient. Gen-Xers and Boomers are not far behind either. Cater to this shift in attitudes with a tool like LiveChat that lets customers converse with a customer service representative instantly.
Alternatively, say hello to chatbots that leverage AI to customize their responses to user' queries instead of giving them the multiple menus run around. Instead of mechanical conversations that follow a template, your AI based chatbot will "learn" on its feet and answer each customer in his own unique style. Pick a chatbot development platform like MobileMonkey, which piggybacks on Facebook Messenger, to help you build your own chatbot from scratch.
3. Getting salesy when they're in pain
Anytime is a good to pitch your services to a customer, right? Wrong. Too many companies try and squeeze in a sales message edgewise wherever they can.
Fact is, there's a time and place for everything. When a customer calls you with a problem or trying to find answers to a question that is not the time to pitch them some totally unrelated product or service you may have, just because you've gotten the poor soul on hold on the phone. That is a surefire way of driving the customer completely up the wall and having them hang up on you.
The Fix:
Avoid this trap and focus on the solution to the user's problem. Help them avoid the trouble of being on hold entirely by reminding them to check the FAQs section of your website to see if there's a ready solution to their question.
Put the power of choice in your customer's hands. Take a leaf from Apple's customer care practices and let your customers choose if they want to wait on hold listening to music of their choice (you even get to pick the genre!) or simply enjoy the peace and quiet of complete silence.
Share useful information with your customers instead of pushy sales messages while they wait for a customer service rep. Things like the local weather for the next few days or the latest news headlines are examples of things that are generic, yet useful to a potential caller.
4. Leaving the trail cold
Do your customers get what they're looking for on your website in just a few moments or are they playing hide-and-seek forever? While time spent on site is considered a positive metric, when combined with a high bounce rate, it's indicative of a website that confuses users and does not give them the information they were seeking.
Poor website navigation can cost you money by making it more difficult for users to discover new products or find crucial information that they urgently need. Ineffective site search is another way of handicapping yourself by not offering the customer what they want quickly.
The Fix:
Invest your time and resources on developing a website that does justice to your products as well as your customers. Use prominent navigational elements to showcase your services, contact details, troubleshooting information and other important data in an aesthetically pleasing yet functional way. Here's a good evaluation of the top website building software you can consider for your labor of love.
Avoid the impulse to hide your contact information in a bid to control customer service costs. Remember, a customer who's angry with you is way more expensive than a few extra calls coming in to your call center.
5. Giving a robotic touch
It's easy to give standardized responses to customers' questions. Before the dawn of AI, automated chat assistants operated from scripts and sounded too mechanical for customers to connect with them or take them seriously.
It's not just the actual bots that sound like robots. Simply too many customer service representatives do the bare minimum that's expected of them and go about their daily tasks like they're doing everyone a favor by answering those calls.
What a wasted opportunity!
With a little bit of interest and creativity, customer care representatives can foster brand loyalty for life.
The Fix:
You don't need humans to fight robots; technology enables you to provide instant support. Amazon developed a live, video-based system called Mayday to help users of the Kindle Fire HDX. Customers could connect to support agents with a single tap, get a response within 15 seconds, and solve their problems with two-way video and screen sharing within minutes.
Yes, everyone's not Amazon. You probably have neither the technical nor the monetary resources to develop a custom support solution. Warby Parker shows us how it's done yet again, with simple YouTube videos. When faced with complex questions on prescriptions, manufacturing processes, or frame material or design, they had their employees get on camera to answer the question quickly, accurately, and completely.
Customer delight manifests itself when reps treat their customers as friends and get creative with solutions for them. Mind you, you can always set limits to their "creative impulses" by limiting the amount of time they spend on each call or limiting the freebies they can part with to make a customer feel special.
The customer is all yours
I'm going to sign off with a customer care experience that's made me consider flying with United Airlines, at least in the near future, despite their recent negative publicity. A friend was planning a family trip out of the US and was scouting around for the best flights. Her credit card earned her air miles on United, so she called them to check out flight options for her family of three and learn how she could use up her air miles in the best way.
The helpful agent first worked out every possible iteration of flights to arrive at the cheapest option possible. When it was time for her to "pay" for her flight with her miles, it turned out she was 50,000 miles short to completely cover the cost of all three tickets. She offered to buy the extra miles, only to discover that this cost more than all three tickets combined!
This story could have ended here, with her either paying for her flights with a regular credit card or simply looking elsewhere for an alternative. That is where the customer service rep saved the day for United. She offered to split the tickets into two bookings – one fully covered with miles and one paid for out of pocket. The ingenious solution helped my friend get three return air tickets for less than the price of one!
The rep then proceeded to sweeten the deal by offering my friend premium seats with a baby bassinet for her toddler at no extra charge, using freebies within her discretion. And that's the story of how at least a few people will probably fly United for future trips!

What is your organization doing to turn your customer care department into your brand advocacy department?