Showing top

0

results

0

results found
Showing top

0

results

0

results found
7 min read
Aug 3, 2018
It's easy to envy great brands for their loyal customer base or their fabulous products. However beneath that sheen of success, we don't get to see the thousands of hours spent in building businesses that are ready to weather any storm, withstand intense competition, and please the most exacting customer.
While there are many elements that contribute to the success of a business, there are four fundamental aspects that winning companies share in common. Here's a ringside view.
Know your customer
We've all been there. Interminable waits on the phone to fix a basic problem with your phone or blender or insurance – you name it. After endless minutes of giving all your personal information to a machine, when you finally get a human being on the line, you're expected to give them all your details from scratch.
More often than not, you're transferred to the "specialist" in another department and have to repeat everything all over again. Grrr….
My favorite companies are ones that spare me the rigmarole entirely. They know me right when I call – they already have my phone number to identify me with, the customer service representatives greet me with my name right away and the problem gets tackled in a jiff, all thanks to the magic of information.
Like nearly every other business today, your business is likely sitting on a trove of valuable customer information. A strong CRM platform like Microsoft's Dynamics 365 or Zoho CRM helps you connect the dots with ease during every single customer interaction.
Mine your customer data with your CRM platform and apply customer specific information like preferred products, geographical location, purchase frequency etc. to tailor communications that are hyper relevant to each customer.
Relevant communication is the key to stronger conversions and a smooth overall user experience.
GEICO stands out as a shining example of a service company that puts its customer data to great use where customer service, marketing and sales are in glorious sync. They're so efficient at targeting customers that there's a separate Wikipedia page that talks about their advertising campaigns.
It's no wonder GEICO was voted the most trusted insurance brand in the US in 2017.
Be where your customer is
I don't remember the last time I walked into a store not knowing exactly what I wanted to buy.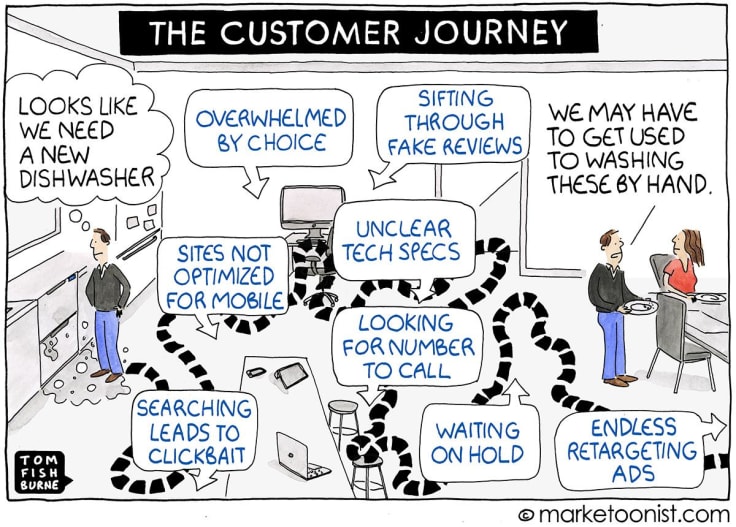 Most days, I simply Google the item I'm looking for on my phone and either buy it online right away, or check out the nearest store that carries it and pick it up from there. If I'm at work, my shopping moves to my laptop and if I'm driving, it's time to prod Alexa into action.
Needless to say, I'm no different from the next guy. If I expect to search, browse or shop in my car, on my couch or inside a mall, the average customer is no different. For brands, it's not about being multichannel any more, it's about being channel agnostic.
Customer journeys have gone from being linear to long winded to now complex, multi-route, multi-device and multi-platform experiences. The only way to make a dent in the customer's mind space (and wallet) is by being present across every channel that they frequent.
Mere presence is not good enough either. Can you sell on any channel of your customer's choice?
This is where a multichannel point of sale (POS) system like Shopify's outshines the rest. Not only does it unify your inventory data across all channels in one location, it lets you sell wherever you please – from physical stores to pop up shops, to your website or social media pages.
Further, all customer data is integrated and stored in one place, from where you can target them with personalized emails or content, depending on which stage of the sales funnel they are at.
Never rest on a successful product
It's been 11 years since Steve Jobs released the very first iPhone to an expectant world on June 29, 2007. The long lines that awaited the first iPhone at Apple Stores were an indicator of things to come for this iconic product that firmly established Apple's dominance as a technology trailblazer. Apple sold a million iPhones in just 74 days from launch.
Despite the mind boggling success that the original iPhone enjoyed, Apple went ahead and launched the iPhone 3G just a year later, on July 11, 2008. This version had an array of features like GPS, the App Store and more, that left the original iPhone already looking outdated.
This is a pattern that we've seen repeating year after year, with a shinier, better and more sought-after version of the iPhone released to adoring Apple fans like clockwork.
It's not just Apple that embraces this continuous product development curve. Most successful companies make sure their product development wheels are constantly in motion. From McDonald's to Ford to Salesforce, product innovation is the bedrock of sustained, long-term business success.
You might be forgiven for thinking that product improvement doesn't have much to do with the customer directly. However,
New versions keep your product constantly on top of the customer's mind. Brand recall stays at high levels.
Every time a new line is released, customer engagement skyrockets. This is even more true when you already have an established base of die-hard fans and brand advocates. More engagement also influences new customer acquisition.
Continuously tweaking your product helps you keep delivering value to customers, year after year. This is key to retaining them.
Updating your product with new features to suit your customers' evolving needs allows for better customer segmentation; you can target different models of the product at these segments.
While it may not be possible for every business to release a new version of their product every year, the idea is to keep working on the core of your business to stay relevant, attractive and profitable.
Care. Genuinely care.
No matter how awesome your product or how snappy your app, whether or not you can keep and attract customers boils down to how you make them feel about themselves. Do you truly care for the customer and his problem or is he just another number in your balance sheet?
Great brands know instinctively that the road to greatness is built on the bedrock of heartfelt customer care and not automated customer service.
The barista at my local Starbucks greets me by my name a huge smile each time I drop by to grab a cuppa. With everything else being the same, she is the reason I prefer to drive past Dunkin Donuts that's actually closer to home and get my daily caffeine fix at Starbucks.
The contrast between how Southwest Airlines and United Airlines handled their respective air disasters in the last few months showcases the distinction between a brand that truly cares for its customers and one that does the perfunctory niceties.
Invest in building a culture of customer first at every level of your organization. From a seamless user experience on your website or app to a delightful in-store experience to friendly employees that exude warmth, there are various ways to demonstrate to your customer just how valuable she is to you.
Tools like LiveChat that help resolve customer queries or issues in real time are a great bet for taking your customer experience to the next level.
What's your master stroke?
We've all heard of the customer lifecycle and analyzed it to death. However, there is also a sort of "customer winning" lifecycle which enables companies that put customers first to develop a habit of winning.
That comes from a deep-rooted understanding that they are central to the profitability and sustenance of your business, knowing how to identify them, making an effort to reach out to them, showing them how important they are to you (as much as your product itself) and then asking for their love – er, business.
No one ever said that building a successful company with loyal customers was going to be easy. But it sure helps to learn from the experiences of others to navigate these choppy waters. Got some winning mantras of your own? Share your thoughts and spread the love in the comments!