Showing top

0

results

0

results found
Showing top

0

results

0

results found
Content creation is not all rainbows and unicorns. Sometimes the most basic step, like coming up with content ideas, can be the most difficult. If you're a content writer who already has a decent number of posts under your belt, you know that to be true. It seems easy when you're starting out, so what makes continually coming up with content ideas so difficult?
Sooner or later, most of us fall at that first hurdle. I've been there, too. Sometimes, I'd catch myself staring at a blank screen for what seemed like an eternity. I couldn't come up with the title of an article, let alone what I wanted it to be about.

As I gained more and more experience, I discovered different avenues to explore in search of inspiration. When I think about my past struggles, it's funny how I couldn't see all the content ideas laid out before me all over the web. To save your sanity (and your time), read on to find out what to do so you don't repeat my mistakes.
1. Make friends with Quora
Quora is a Q&A website founded in 2009. The concept is as simple as it gets—you ask questions, other people answer them. You'll come across all sorts of questions.
Some of them are silly and leave you wondering why someone would ask about that. Others require top-level expertise from the people who answer. Even though it launched over ten years ago, I only learned about it in 2015. I've been using it ever since then, and I have to admit, it was love at first sight.
Back then, I used Quora as a community manager for my previous employer. My goal was to educate its users about the benefits of social media monitoring. It wasn't until I started transitioning into a content writer role that I figured out that it's a perfect content idea generator. Why?
Let's skip basic stuff like creating an account and polishing up your bio. Our real focus is on the search bar.
The key to making the most of Quora is to have a list of keywords that are relevant for your content strategy. Then, type those keywords into the search bar to find out what people ask about.

In the example above, I chose a broad keyword like SaaS, but the questions that the search returned were highly specific. If you run a blog on a similar theme, questions like, "What is the difference between IaaS, SaaS, and PaaS?" or "What must every entrepreneur working on a SaaS/B2B startup know?" could be the article titles for you to consider. Bonus points if you add your own twist to them.
2. Dig into relevant subreddits
Reddit has been around even longer than Quora. Founded in 2005, Reddit is a news and content aggregator dubbed "the front page of the internet". It consists of subreddits (think of them as subforums) dedicated to all sorts of topics. These subreddits are not just memes and silly content, which is what many people think about when they hear the word Reddit.
Many subreddits offer invaluable advice you might not find elsewhere on the web. As a digital marketer, I subscribe to mostly, but not only, marketing-related subreddits.
Regardless of what topic you're interested in, or what kind of business you run, I am 99% sure there's a subreddit devoted to it.
Imagine you're a small business marketing consultant, and you also run a blog about the same subject. Is there a better place to look for inspiration for post ideas than a small business subreddit? I doubt it.

Take a look at the submissions to get a feel for what resonates with the Reddit audience. To truly get the best ideas, you need to make use of filters.
And here are some of the results:
While not all of them will make amazing headlines, they will provide you with several ideas for your future blog posts. Plus, the real gold nuggets are often hidden in the comments and not the original posts.
3. Google Autocomplete has got you covered
The simplest solutions can be the best ones. However, sometimes we overlook them because we want something more sophisticated. It's not like the two solutions described above are overly complicated, but why not use the mighty Google, too?
Roughly 8% of search queries are phrased as questions. While that doesn't seem like a lot at first glance, Google Autocomplete will help you discover numerous ideas related to your questions and keywords.
All of the above could serve as separate blog posts, but they could also be paragraphs of one single comprehensive article about email marketing.
You can find other useful suggestions in the "People also ask" and "related searches" sections:
As you can see, a simple search can provide enough ideas to keep you busy for weeks. In some instances, they can even become a foundation for pillar content.
4. Jump on the trend bandwagon
Trends come and go. Some of them stick around longer, while others fade away before we even realize they were here. If you're having a hard time coming up with a content idea, hopping on the trend bandwagon is a perfect solution.
Notice how the trend aligns with your brand. You don't want to create a piece of content that is going to be entirely irrelevant for your audience.
One of the best ways to see what's trending is Twitter Trends. If your target audience is people in the UK, you can take a look at the UK-specific trends to try and come up with a topic related to them.
Alternatively, you can personalize your trends based on your location and the people you follow.
Another way to discover more trending topics is Google Trends. To see how it works, take a look at one of the predefined examples. As a huge football fan, I used the World Cup.
It shows how the volume of searches changes over time. Using this information, you can determine when it's a good idea to create content related to that topic. You can tweak the data to suit your needs so it matches your location, timeframe, etc., more accurately.
If you feel like you still need more data on the latest trends, scroll down the homepage to the 'Recently trending section'.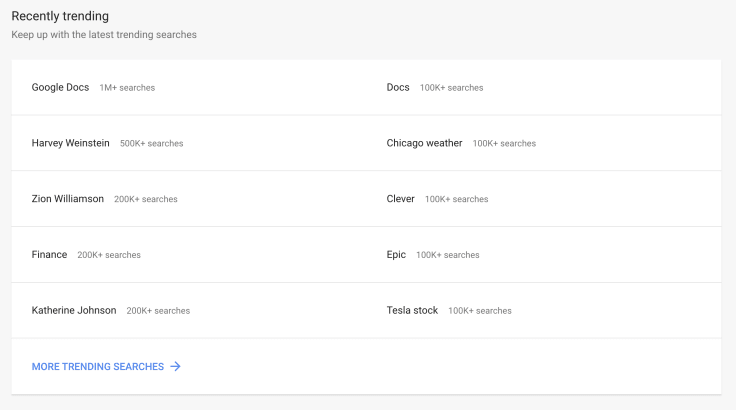 5. Monitor social chatter
Social media monitoring, also known as social listening, can be helpful in a few different ways. Most importantly, it helps you manage your online reputation. You can also use it for competitor analysis, lead generation, and more. One of the most valuable uses is that it helps you keep track of what your industry is talking about at any given moment. 
You can use a free tool, like TweetDeck, or you can go for more comprehensive solutions like Brand24. If you're wondering how these tools work, you simply set up a keyword search, and wait until your tool picks up mentions of your keywords. Here's what it looks like with TweetDeck:
As you can see, I set up three different search columns for three different keywords: customer service, customer support, and customer experience. Apart from some obvious rants, I can see articles related to those keywords that give me a comprehensive overview of what people in the industry are talking about.
If there's a topic that's widely covered by many outlets, it might be a sign that it's better to focus on a different idea.
6. Keyword research can be fun
I understand that some content writers only want to focus on writing and hate all the other tasks involved in publishing a blog post, like keyword research, SEO optimization, etc. I'm not one of those people.
I enjoy experimenting with tools like Ahrefs, SEMrush, or Answer The Public. The first two tools are robust and will help you in many different ways, like backlink or competitor analysis. However, it's Answer The Public that will provide you with long-tail keywords that you'd never come up with on your own.
For any keyword you use, you will get suggestions for long-tail keywords connected to different questions, prepositions, comparisons, and related queries that can also appear in search results.
These are just some of the ideas from a list of over 200 long-tail keywords derived from the "customer service best practices" keyword phrase. Not all of them will make for an amazing blog post, but they'll point you in the right direction in your search for inspiration.
Quality over quantity
We swim in a sea of mediocre content. Content creators chasing quantity are one of the reasons for that. It feels like everything on the internet has been covered a thousand times already, and rightfully so.
People crave quality content. While it might seem overwhelming at first, content ideas are out there, ready for you to snatch them out of the air. Add your twist to them, and that's how you succeed in today's content marketing.