Data-Driven Support Management
Your customer service in numbers
Customer service is definitely all about inter-personal relations with your clients, but it's also a numbers game. By identifying the right KPIs and collecting the data for them, you can clearly tell if your customer support is making progress or not.
The Data-Driven Support Management ebook is a comprehensive guide on making informed decisions based on the data you can get from your live chat. You don't have to guess or go by your gut when making changes in your customer service department. See what methods you can use to make sure all your decisions are backed by numbers.
This ebook will teach you how to:
Get customer service data,
Decide which KPIs you should monitor,
Get rid of the noise of spam and empty chats,
Know how many reps you need to cover all your chats.
Get access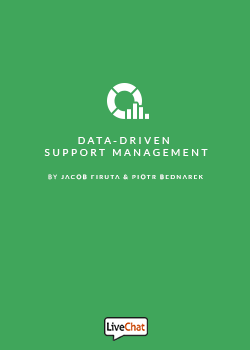 Start free LiveChat trial!
5-minute setup, test out the Team plan features for 14 days, no credit card required.