Agent's Handbook – Your guide to satisfied customers
Your first steps in customer service
Learn the bread and butter of customer service over LiveChat. This guide will go through each part of the LiveChat app and show you how to use them to deliver stellar customer service. The ebook also offers a crash course in customer service that should get you through your first chats.
Contrary to the name, the Agent's Handbook is not only for live chat agents. Managers can use it to get a better grasp on customer service delivered over chat and to be able to advise their agents on good chatting practices.
After reading this ebook, you will:
Know your way around the LiveChat app,
Be able to handle your first chat without panicking,
Know what matters in customer service,
Handle different types of customers and cases without breaking a sweat.
Get access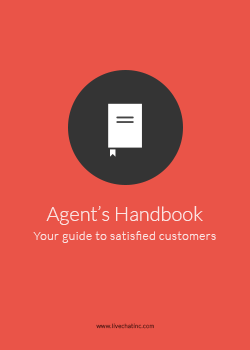 Other resources you might like
Start free LiveChat trial!
5-minute setup, test out the Team plan features for 14 days, no credit card required.