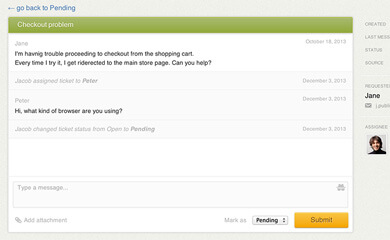 Ticketing system
Handle customer cases via tickets after working hours or when a case can't be closed within one chat.
The ticketing system will allow you to keep your chat and email communication with customers in one place.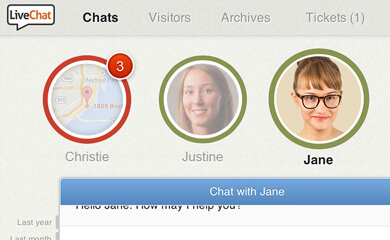 New look & feel
Polished, clean interface of the app lets you focus on the most important thing: talking with your customers.
We redesigned the product by getting rid of all the clutter and giving you only the tools you really need.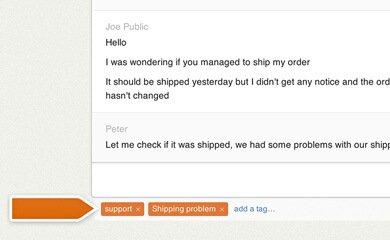 Chat Tags
Assign case-specific tags to chats and find them easily later on. Tags allow you to categorize and easily locate particular chats and tickets. You can also use tags to create custom reports. Read more…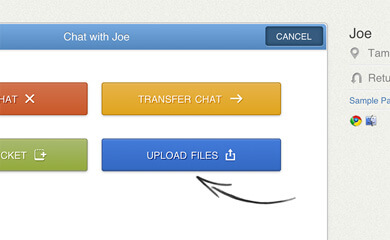 File sharing
Share all kinds of files over chat like marketing materials, tutorials and more. Your customers can also send files to you using the chat window. Read more…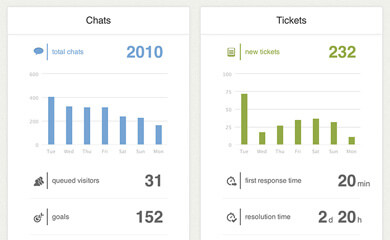 Improved reports
Analyze your pre-chat surveys results and see which agent performed the best in the past week.
You can easily automate your workflow — just have LiveChat send you a CSV report every week. Read more…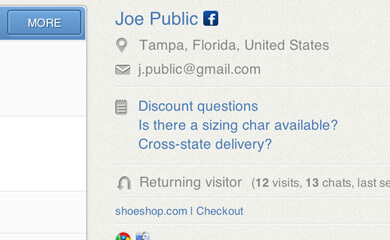 More customer information
See all necessary customer information like the list of submitted tickets or an excerpt from your CRM during chat. You no longer need to look up clients in other systems!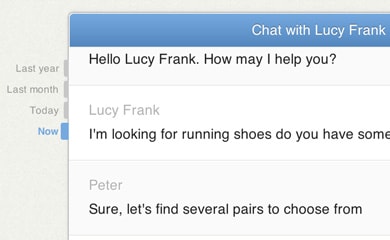 Previous chats always at hand
Use the chat history to jump right in and begin each chat prepared. The timeline gives you an insight into the previous communication with a particular visitor.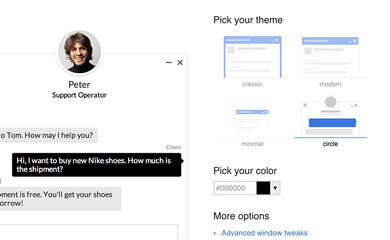 Chat window skins
Freshen up your chat by selecting a new chat window skin. Each skin can be customized further with custom colors and CSS.
Lightning–fast application
New LiveChat lets you work faster. The latest technologies let us achieve great loading times for all parts of the application.
Knocking on the table while waiting for the page to load is a thing of a past.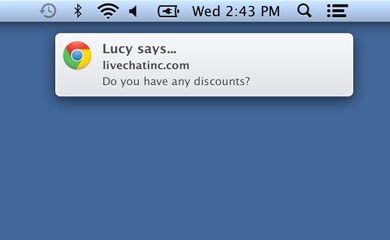 Reliable notifications
You can safely put LiveChat aside when you're doing something else. Whenever a customer wants to chat with you, you will be immediately notified.
LiveChat supports notification systems in all common web browsers: Google Chrome, Firefox and Safari.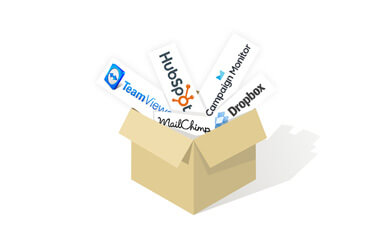 Lots of integrations
Access loads of new integrations that are already available in the new LiveChat! Integrations with Dropbox, MailChimp, TeamViewer and other products will quickly increase your productivity. Read more…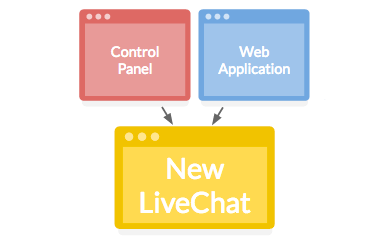 Chat and panel in one app
Never switch between your chats and reports again. LiveChat comes with a single app that covers everything you need to chat, analyze and manage your account.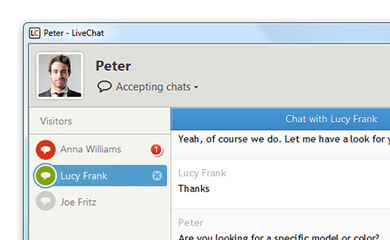 New desktop applications
Use the new and improved LiveChat applications to chat with clients. The refreshed look and simplicity of the apps will make your job as an agent easier and faster. Read more…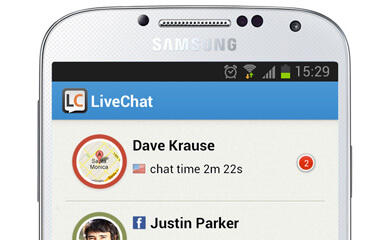 Updated mobile apps
Android app is now more stable and less battery-consuming. With its new look & feel, you will love chatting with your customers while on the go.
We've polished the interface of the iPhone app making it more clear and easy to use. Push notifications sent by the app are now much more reliable.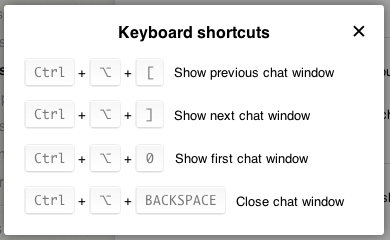 Keyboard shortcuts
When your agents use LiveChat for many hours a day, keyboard shortcuts are the way to speed up their workflow. They can easily switch between opened chats without a need to use a mouse, what leads to a faster response to your customers' questions. Read more…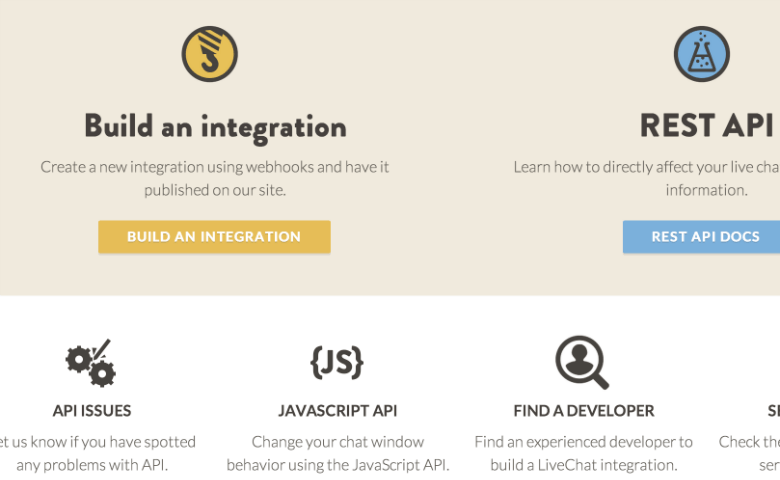 Tools for developers
LiveChat gives you a number of tools to integrate it with other systems. Advanced JavaScript and REST APIs along with the Webhooks mechanism will make it easy for your developers to integrate LiveChat with your own system. Read more…
---
Frequently asked questions
Will I need to pay more for the new LiveChat?

All customers migrating to the new LiveChat will remain in their current subscription plan with no additional fees.
However, when you decide to change your subscription (for example, purchase more seats), the new pricing will apply.

Tip: if you're planning to purchase more agent seats in the near future, we suggest to do this before migration. The price for additional seat will be higher in the new LiveChat.

Did you cut some features off the old product?

Yes, some of the least used features are not available in the new product:

Chats between operators are removed. We want to focus your attention on chats with customers. If you need to talk with your teammates, you can use dedicated tools like Slack or one of the free instant messengers like Skype or Google Hangouts.
Operator roles have been simplified. New LiveChat no longer offers the distinction between Primary, Secondary and Supervisor roles. All chats are distributed using the Round Robin algorithm. Moreover, all agents can always supervise other chats in order to advise their teammates when needed.
Push pages are no longer supported. You can use Canned Responses to send your visitors links to the sites you want them to visit.

Will I need to install new desktop or mobile applications?

This is not necessary. Old applications will remain functional and you can still use them during your work.
However, mobile and desktop apps have been refreshed and we recommend to update them to get the most out of the new LiveChat.

Will I need to reinstall LiveChat code on my page?

No, you don't need to make any changes in the LiveChat code installed on your page.