Connect LiveChat with 100+ web apps and create workflows easily.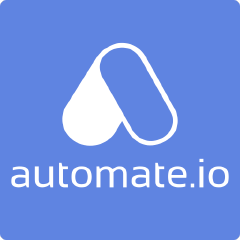 Automate.io
Connect LiveChat with 100+ web apps and create workflows easily.
The integration is free to use
< 50 teams are using it
Installation
Automate.io is a leading cloud integration and workflow automation platform that allows you to integrate LiveChat with 100+ apps to automate your marketing, sales, and business processes.
You can connect LiveChat with such tools as Typeform, Wufo, Google sheets, Google Drive, Gmail, Trello, Slack, Asana, Salesforce, Zoho, Jotform and many more.
Support
See the setup instructions on how to properly configure this app with your LiveChat account.
Contact vendor to get help and support. You can also suggest improvements or request new features in the upcoming versions of Automate.io.
Key Features
Connect LiveChat with 100+ Apps

Push data from LiveChat to popular apps like Slack, Mailchimp, Salesforce, Google Sheets instantly.

No Coding Required

Create simple or complex workflows that run as soon as you complete or tag a chat using a drag-drop interface. No IT help required.

Powerful Tools

Design workflows the way you want using our in-house tools—format data, add conditional logic, or time delay in your LiveChat workflows.
Benefits
Convert More Chats Into Customers

Boost productivity by automating your business processes. By avoiding manual errors and time spent in manual data entry, you can now focus on converting more chats into customers.

Improve Team Collaboration

Collaborate better across teams by connecting LiveChat with other project management and collaboration apps like Slack, Trello, and Jira.
Integration with Automate.io is free to use
< 50 teams are using it
Installation