About the Authors
Jacob Firuta
Jacob writes reports, blog posts and other pieces of content to help businesses offer better support and sales services. Over the years, he prepared over 140 self-service knowledge base articles. You can check his latest work on the LiveChat Blog and in the Resources section.
John McDonnell
John is a Knowledge Manager at The Chat Shop. John ensures that The Chat Shop's Live Chat Experts have all of the resources they need in order to deliver outstanding chats. He's dedicated to the continuous improvement of The Chat Shop's knowledge management process.
01
Introduction
Self-service materials are the most scalable form of help you can offer to customers on your website. One well-prepared article can help thousands of potential customers at a time. A feat that no support agent can achieve.
Not all situations can be resolved by giving a customer a help video or a support article. However, having these materials ready and available is a good first step.
It's a lot like using a map and a compass to find a way instead of hiring a guide that would show you the way. Some customers will prefer to figure out the road themselves, others will go straight for the guide. You need to be ready to offer appropriate help for both types of customers.
In this ebook, we will show you what goes into preparing the most popular types of self-service materials. We will show you how to start a knowledge base and fill it with articles, screenshots and videos. We will also show you how to make a smooth transition from self-service materials to real-time customer service. Finally, we will also show you how to create an internal knowledge base for your customer service agents.
02
What is a
knowledge base
A knowledge base is a collection of self-service materials like articles, charts, FAQs or videos that aim to help your customers.
A website visitor can access the page to find the helpful articles. Your agents can also send the link to these materials to provide some additional information or to quickly offer solutions to more complex questions.
The materials in a knowledge base are arranged in a way that allows users to quickly find solutions to their problems.
To make that possible, the materials are usually arranged into several thematic categories that group similar articles together. There's also a search bar that allows users to find a specific material quickly.
Creating a knowledge base is one of the best ways to provide good customer service at a scale. The initial cost of preparing a knowledge base article is next to nothing when compared with the time an agent would have to spend on explaining the same problem to customers over and over. A good knowledge base material can help thousands of users at the same time without any involvement of a customer service agent.
Key things to know about
a knowledge base
#1

collection of self-service materials on a website,

#2

the biggest bang for your buck in customer service,

#3

categorized in a way that makes it easy for your users to find a particular material.
03
How to pick topics for your knowledge base
To start creating a knowledge base, you first need to know what to write about. A knowledge base should offer solutions to popular customer problems. So the simple answer is:
Find the most common problems your customers are facing.
Prepare materials that help them deal with those problems.
Customers will be the biggest source of ideas for articles.
In every business, there are several topics that are discussed over and over. Instead of providing the same answer for the 100th time, take note and prepare an article that answers the popular question.
For every customer that asks you about a particular topic, there are 10 that didn't bother. Preparing an article on a topic like that will help not only with the customers who came to you for advice but also with the customers that didn't voice their concerns.
No matter how you pick your topics, there's one golden rule you should keep in mind: pick the most popular topics first. It's pointless to create materials for each and every question customers ask. You need to prioritize and here's how you can do that.
03.1

Knowledge base topic ideas from emails

Tagging your emails is a basic and time-efficient way of finding new knowledge base topics.

Whenever you answer a customer service question via email, make sure to tag it. You can use Gmail's tag option or move the email to a specific folder. This way, after some time, you will start noticing that some topics are more popular than others.

For example, let's say you're offering discount codes for your products. Whenever you get a question from a customer about using the discount code, tag it. After a while, you will be able to see how many questions like this you get and if it warrants creating a knowledge base material.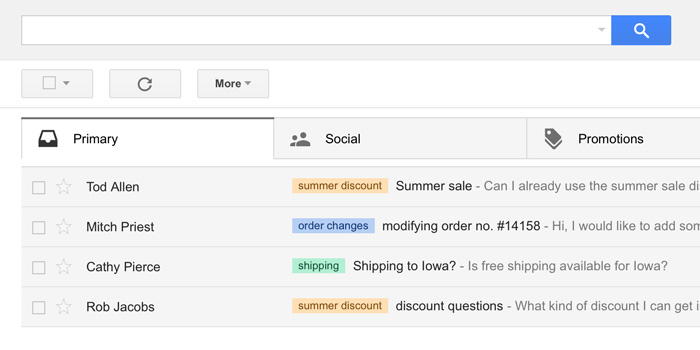 Tagging emails in Gmail to discover popular problems.
03.2

Topic ideas from search engine queries

The queries people used to reach your website can also be a good indicator to what problems they are facing.

If there are a lot of people googling for "Apple charger not working", it's a signal that a material showing how to resolve that problem could save Apple's agents a lot of work.

You can find out queries like this using Google Analytics. To do that, go to Acquisition, select the Search Engine Optimization option and pick Queries.

Here, you will find all the queries people used to reach your website. Go through them and check if there are any customer service topics in there.

Looking up queries in Google Analytics for topic ideas.
03.3

Topics from search bar queries

A search bar that allows your customers to quickly find specific materials is an invaluable source of topic ideas. Everything that users type in the search bar is a potential topic idea.

You can dig into these topics using Google Analytics. Simply go to the Google Analytics, pick your website and select Behavior. Next, you want to pick the Site Search option and select Search Terms. If your search is hooked up to your Google Analytics, you will be able to see what visitors are searching for on your website.

Depending on the method you use to offer search on your website, you may need to change to a query-based search if you want to see the results in Google Analytics.

The golden rule about topic popularity applies to search queries too. If there are few examples of a particular search term, there's no point in creating materials for it.
03.4

Picking topics using live chat

If you're already using live chat for customer service, you can also use it to decide which articles you need to write. Ask yourself: which questions are customers asking over and over on live chat? Answering the same questions over chat will take a lot of your time and resources. How about using that time to prepare self-service materials? It would allow you to save a ton of time, especially if it's a more complex problem.

The tagging feature on LiveChat is a useful tool to help with this. You can categorise the enquiries coming through in any number of ways. In order to keep tags manageable, ask your live chat agents to tag a chat if they think an article would be useful to cover the enquiry.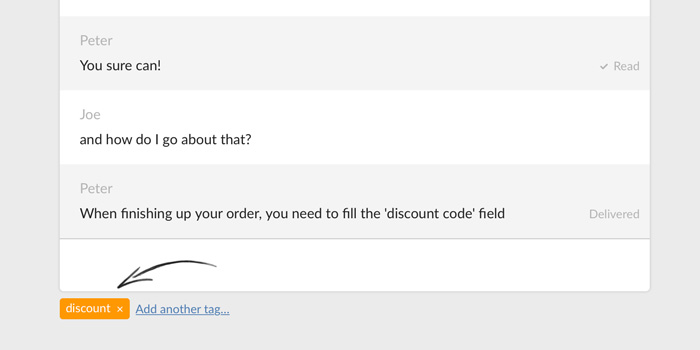 Tagging problems in live chat.
And not only that: LiveChat's CSV export will allow you to create a pivot table of the most popular websites where a chat was started.
Your self-service resource should cover the topics that your customer service agents spend a large proportion of their time explaining, even when a well-written guide could do the work.
You can even use live chat agent responses to help you write up a thorough resource for each problem area.
Your chat transcripts can help you plan out exactly what you're going to write on all of the topics. It's difficult to start writing them when you're staring at a blank page.
The problem is making sure that you're explaining the solution in a way that your customers will understand. Your chat transcript provides the basic bullet points of what you'll need to write about. However, you need to ask yourself: what does the customer have to know before they can fully understand your answer?
The customer may have started the conversation with just one question about your product, but they probably asked two or three other questions during the chat. These are the other topics you need to be touching upon and linking to!
Once you've got your self-service resources functioning, LiveChat can also be used to discover existing topics that need a little more work.
If customers use customer service after attempting to self serve, then they probably didn't find the answer that they were looking for. In some cases this is because you haven't covered the topic at all and in others you have but your resource just hasn't covered it well enough.
Again, use the CSV export and run a pivot table to discover the most popular webpage where a chat is started. This can indicate the articles that need a little work.
03.5

Using your own intuition

And finally, the topic generation tool you already have: your intuition. You and your team are first to know about everything that happens in your company. This gives you the best position to anticipate potential problems your customers may face.

Whenever you release a new product or make any changes to your service, you should ask yourself: can it be a source of customer questions?

Having knowledge base material at the ready will help you introduce changes in your company to customers without any hiccups.
Things to remember about picking a knowledge base topic
#1

questions from customers will be the biggest source of ideas,

#2

always go for the more popular questions first,

#3

you can use questions from emails, live chat, search queries as ways to generate topics,

#4

big changes in your company can go more smoothly if you have knowledge base material available on release.
04
How to write your first knowledge base article
Once you have your topic, you need to write your first article. You don't have to get everything right immediately but it's important to decide on a couple of things before starting.
You should treat your first article as a template. Once you have the template down, it will be easier to create additional materials as you won't have to think about the structure or design as much.
You shouldn't launch your knowledge base immediately after writing the first article. It's best to have a couple of them ready before launch to cover the most crucial topics. You can build on that later on. When we launched the LiveChat knowledge base, we had 7 articles and a short FAQ section.
04.1

Knowledge base article structure

Your knowledge base articles should have a certain structure. Preparing each article in the same way makes them easier. After reading one article, your customer will know what to expect and how to find the information they need.

Here's what worked out for us in terms of organizing the article.

First off, you need to start with picking the right name of the article. It will be the first thing that your customers will notice. Pick a name that users are likely to look for when facing a particular problem. The search queries they enter in the search bar may help you a bit with this task.

Next you should write an introduction that would explain what the article is about and what problem it solves. This will 'frame' the article in the customer's mind.

You can get extra points by including some popular use cases in your introduction. If you pick the use case carefully to your audience, it will answer any doubts the customer might have.

It's also important to show the end result. Your customers should know what they can expect after following the steps in your knowledge base article. It also doubles as an incentive. If there is a clear benefit to be gained, it's easier for customers to take the trouble of going through the tutorial.

Once you have the intro ready, you can move to the explanation. A good approach here is to offer a top-down explanation. This is going from the broadest/simplest ideas to the more detailed/complex. This will allow you to introduce some basic concepts first that will be necessary down the line when you need to provide an answer to more complex questions.
Always go for the simplest route to solving a particular problem. You want to provide the shortest way from point A to point B. For example, if a customer is experiencing payment problems, ask yourself what would be the easiest way to deal with them.
Only after the simplest route has been presented, you should offer some alternative approaches that provide additional benefits but are more complex.
After providing a solution, you can sum up and show the end result again. This is also a great moment to suggest other articles. You can do this in two ways:
Linking to other articles in the relevant parts of the article.
Suggesting similar articles from the same category.
04.2

Developing a style

Another thing that will make your articles more uniform and easy to understand for customers is the style. And by style I mean the methods you use to present information in your articles.

The familiarity rule that helps with the article structure applies here too. If you use the same style across all articles, your customers will know what to expect and how to find the information they need.

Here's a couple of pointers that will help you develop your style.
1. Lists make everything easier.
You will love using lists in your knowledge base articles. It makes the instructions so much easier to follow. Your customers can go back and forth between your product and the article without forgetting which step they need to make next.
Sticking to one instruction per step makes for the clearest instructions. This way, a customer won't need to memorize several steps at a time.
If you can't seem to fit one step into one list point, it might be a sign that you need to break it up a bit more.
2. Don't hesitate to use media.
Adding media like screenshots or videos is another style aspect that will make your articles easier to follow. Sometimes even the best description will be far more complicated than simply pointing to something on a screenshot.
When it comes to pointing out things on your screenshots, you should use the same pointer every time. We prepared a special arrow for our knowledge base and used it in all our articles. This is another example in which a uniform style will make things easier for your customers. After reading one article, they will know that the bright orange pointer is what they are looking for.

An arrow we use to point out to things on our knowledge base screenshots.
If possible, stick to 1:1 ratio for your screenshots. This is the size your customers will be dealing with. If the screenshot is a miniature, it will make finding anything harder. The same goes for enlarged screens: if you focus too much on one element, it can be hard to locate it in relation to other UI elements.
When preparing a screenshot that includes a lot of white background (so most online websites), it might be a good idea to add a border to your screenshot. This way, it won't spill into the rest of the website (if it's also white).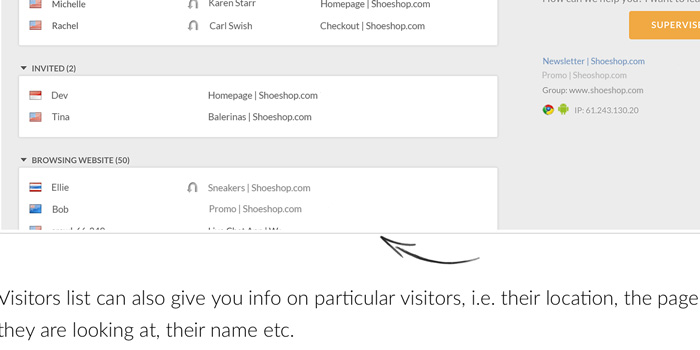 A border prevents the screenshot from 'spilling over' into the rest of the article.
You can get a border like that by adding this simple piece of code to the screenshot image HTML code:
style="border: solid 1px #ddd"
You can find out more about preparing visual aids for your self-service material in the next chapter.
3. Provide additional information separately.
If you want to include additional information, you can do it using something we dubbed as 'helpful tips.' These tips are either optional avenues customers can explore or details that make something easier to understand.
Using the helpful tips, you can go beyond the bare-bones explanation without messing up the whole flow of the article. These tips should be clearly distinguishable from the main body of the article.
Here's how they look like in our knowledge base: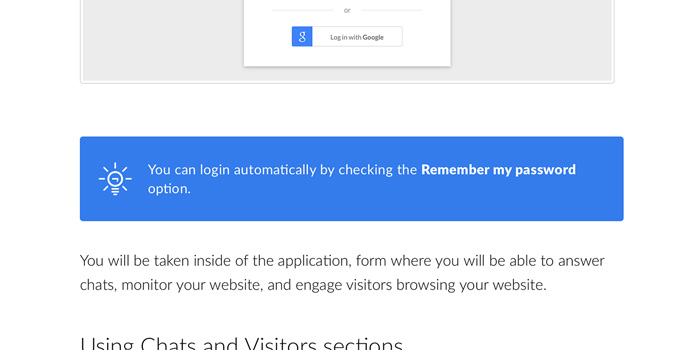 Helpful tip in LiveChat's knowledge base.
Anything that goes beyond the basic point A – point B explanation should be placed in a tip like this.
4. Keep it simple.
No matter what you are writing about, make it as easy to understand as possible. Using simple language and avoiding jargon is a good first step.
When it comes to the amount of information you provide, it's a good idea to make your articles autonomous. You can't know which article a customer will pick when entering into your knowledge base. This is why your articles shouldn't rely too much on other materials to explain a particular concept.
Even if you already explained something in another article, make sure to provide a basic explanation of a problem in other articles if it is required to set something up. You can reference the other article and provide a link for customers who need more information.
Think of it this way: write the articles as if it was the only article a customer will read. If they can get the answer with such conditions, you're set.
Things to remember about your first knowledge base article
#1

start small with a couple of initial articles,

#2

always stick to the same structure,

#3

provide a simple explanation, use cases and the end result in the introduction to every post,

#4

a uniformed style will make reading each article easier,

#5

use lists, media, helpful tips and simple language to make your articles clear for customers.
05
Visual aid for customer support
You know how they say, "A picture is worth a thousand words. Video is worth a million"? Well, it's true. Maybe that is why 93% of marketers are using video in their campaigns. Or why video is expected to take up nearly 80% of the web by 2018. But video is much more than a marketing tool. It's a productivity tool. It is a tool made for you to communicate processes and answer questions with simplicity.
More and more customer support teams are turning to screencasting as a vital part of their help desks. I'm here to show you how to do it best.
05.1

When to use Video over Screenshots/GIFs

Now, let's be clear, video isn't the solution for everything. You don't want to forget about screenshots and GIFs so I made up this little graphic that explains when to use what in relation to how many steps a process takes:
Screenshots
Sometimes, all it takes to explain a process to a customer is a still image. These work best for actions that only involve one simple step like 'Click here'.
GIFs
GIFs are screenshots on steroids. As silent moving pictures, they are perfect for processes with about 1-3 steps. They work best for instructions like 'Click the red button, and then scroll down'.
Videos
Video is the king if your process is long but simple or short but technical. You're going to want to use video for all processes involving 4 or more steps or anything that requires a voiceover providing an extra explanation. These are instructions involving multiple steps like: 'Click the cog, then you will be brought to a landing page. From there go to admin settings and find the toggle bar.'
05.2

Preparing a self-service video

Creating videos can be really simple. You simply need the right tools and a sense of direction and you can insert well-made videos into your help desk articles in no time. In fact, if you follow our advice, creating these videos should take less time than writing out long winded answers for each article.

First off, you don't absolutely "need" this equipment but we highly recommend it especially if you care about the quality of your videos.
Microphone
The first piece of equipment we recommend using is a simple clip-on microphone. This allows your voice to come out crystal clear when explaining a process to customers.
We highly recommend the Lapel Clip-on Omnidirectional Microphone because it is easy to clip on and offers great quality and ease of use. The description doesn't say it includes desktop use but we use it all the time and it works perfect.
Screen Recorder
When it comes to a screencast/gif solution I am fairly biased. Not only is ilos a high-quality, simple-to-use screen recorder, it has literally been designed for people just like you. We built it thinking of support and success agents who explain complex processes on a daily basis.
"I use ilos practically everyday at work for a variety of tasks. Primarily, ilos is extremely useful in creating and updating our Knowledge Base articles. Instead of just having a text walkthrough, I use ilos to generate step-by-step .gifs, which is such a value add to our customers because it allows them to see exactly how a process works in a matter of seconds."
– Constance-Marie, Salesloft
With ilos, you can organize all of your videos in one spot. It's fast, high quality, and really simple to use.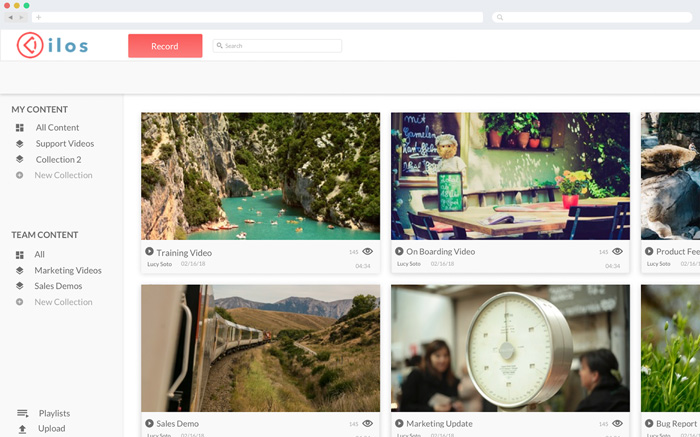 Quiet Room
Office chatter and background noise can be very distracting to your viewer. They also make you appear less professional.
All you need is a simple room with walls and a door and you're all set!
05.2

Self-service video best practices

Here's a couple of best practices you can use when making screencast videos.
1. Plan Ahead
Have you ever started something on an impulse and realized you were not prepared? Don't get me wrong, it's good to move fast, but the problem is that, without any planning, your videos will end up taking a lot more time.
Planning your visual content out will take only a bit of time and you will save yourself the trouble of starting everything from scratch just because you forgot a crucial point that simply has to appear on the screenshot or in the video.
Writing a simple script will help you immensely with that. Don't worry, you don't have to be a screenwriter and write some brilliant lines, just keep it simple.
Here is the process I use:
Splatter all the points you need to get across in the video
Format the points into clear sections
Place simple bullet points under each section
With a plan like that, you will be able to clearly convey the message in your video.
Just make sure you don't read out each and every line of the script out loud like a machine. The reason we recommend using bullet points is that the video will sound much more natural and personal if you are talking in your natural voice.
2. Get To The Point
Videos are made to save time and confusion, not to talk about what you're having for dinner tonight. You don't need a long intro (if any) or conclusion. People want answers and they want them fast. Your voice should simply accompany the video with a simple explanation of each step.
Stick to the key points to make your videos clear and concise.
3. Use Video To Show Processes
Andrew, our Head of Customer Success over here at ilos, makes videos every day. Whether it's answering support tickets or making helpcenter content, he has gotten pretty good at it! I asked him what his number one tip would be, and here's what he said:
"Make sure that the video you're going to make is more helpful than text before you start creating. If you're explaining why someone should do something, save that for the body text in your help article, but keep your video all about how to do something. Mark down all of the topics that would be easier for customers to understand with video as opposed to text, and keep that in perspective as you decide what to make, and how the video should flow."
4. Add background Music
Let's be honest, screen recording tutorials and onscreen explainer videos can be dull. Adding music to your video can make a huge difference. Let's walk through when it is appropriate to add some background music.
When to add music:
Explainer video – Don't have the money to hire a whole video crew to make an animated explainer video? No problem – start with something reasonable. Showing your software in action with a voiceover and background music gets the job done.
Videos made for multiple people – When it comes to public videos, throwing in music is a win-win. Your video is much more likely to be watched and you'll feel proud hearing your voice behind elegant music!
FAQ or Help Desk Videos – Clean up your Help Desk and FAQ page with helpful tutorial videos. Music decreases viewer churn and will make your FAQ or Help Desk page ahead of the game.
When not to add music:
Personal videos – If you are making a tutorial video for a specific customer, adding music might not be the best idea. One reason screencast tutorials are so cool is that they are personal. If a customer receives a screencast with music, it might not seem like it was made just for them.
Short, quick videos – Background music was made for long tutorials or explainer videos that you need someone to watch. If your video isn't over 15 seconds, it won't be as effective as you may think. Plus, background music in a short video can seem a little tacky.
5. Don't get too picky
One reason video can become difficult is that we become too worried about tiny errors, which, in the end, aren't really a big deal. It's better to avoid restarting a simple video eight times.
Don't worry, you'll get the hang of it!
Things to remember about visual aid self-service materials
#1

The more steps a customer needs to take in the tutorial, the more advanced form of a visual aid you will need (screenshots for one step, videos for multiple steps),

#2

Make sure you have the right tools and conditions to prepare a video self-service material (a microphone, a quiet room, screen recording software),

#3

Plan out your videos but don't simply read the script,

#4

Keep the explanation as brief as possible,

#5

Add music to longer videos and leave the shorter ones without any background track,

#6

Don't try to make each video perfect as the more videos you make, the better you will get.
06
Expanding your knowledge base
Now that you have a place where you can post your articles and a style with helpful visual aids you can use for them, it should be much easier to create new entries.
When it comes to new ideas, you should be constantly on the lookout for topics you can describe in your knowledge base. It should be a continuous process as there will be always demand for more knowledge from your customers.
To increase the output of articles you can create, consider bringing other writers on board. These don't have to be full-time professionals. The articles can be created by your customer service agents. They already have the necessary knowledge and will know your customers' problems first hand.
After writing your first couple of articles, you will need to start thinking about organizing your knowledge base. This is when categories will come in handy.
06.1

Setting up knowledge base categories

Categories in your knowledge base have the role of organizing your content into more manageable chunks. Instead of one, long list of articles, you can break it up a bit and divide your articles into categories.

Your categories will often reflect the results of your topic search. The most popular searches are usually complex enough that you can create multiple articles to fully cover the area.

You don't have to decide on your categories immediately. If you are not sure which topic will require multiple articles to cover it, you might want to wait a bit and see if additional articles will be required. After your knowledge base grows a bit, you can divide your articles into several categories to make navigation easier.

Apart from thematic categories, you can also add an FAQ section to your knowledge base. It will provide some quick answers to the most pressing and frequent customer questions. In the FAQ, you can link to your other articles to provide more information about each topic.

Finally, you should provide a search option that will allow users to quickly find the articles they need. As I've already mentioned, it will double as a source of topic ideas.
Things you should know about creating knowledge base categories
#1

categories make navigation easier for customers,

#2

you don't have to start with categories,

#3

build your article pool first and then divide it into categories,

#4

a FAQ site can be an additional category that links to other articles in the knowledge base,

#5

a search bar will help your customers find their way in a growing knowledge base.
07
How to keep your knowledge base up to date
As your business grows and develops, some of your articles will go out of date. It's only natural for a growing business. However, you need to keep them as fresh as possible to avoid any misinformation.
Whenever you make a service or product change, you should ask yourself: "will this require any changes in the knowledge base articles?" And if it does, you should have all the knowledge base updates ready before you push the product or service changes.
An approach like this will help you smooth out any major product or service changes. It will not only be of great help to your customers but also to your customer service agents. They will have a ready-made answer for all the questions about the product changes you are introducing.
Even if you are not changing anything, you should do regular checks of your knowledge base content to makes sure it is up to date. Going through each article every couple of weeks is not that difficult and will save you trouble down the line. A small, or even a cosmetic update in your product may not seem like much, but it can completely change the flow of an article and make it unusable.
Things you should know about keeping your knowledge base up to date
#1

whenever you make a product or service change, check if any changes to your knowledge base are required,

#2

you should do regular checks of your knowledge base content to make sure all articles are up to date,

#3

keep in mind that even a cosmetic change in your product can change the flow of an article.
08
The transition from self-service to customer service
It should never be difficult for your customers to get help. Many businesses make customers jump through hoops to be able to find a real person to speak to, which in my opinion should not be the case. Solid and reliable customer service should always come first.
Even if you have decided to commit resources to developing your self-service offering, customer service (from a real person) should always be an option for website visitors.
Customers can't get every single question they 'think up' answered through self-service. Did you know that on a daily basis, 15% of Google queries have never been seen before? That's over 500 million new queries every day. Everyone has slightly different questions based on slightly different scenarios.
And sometimes, even if self-service does hold the answer, the amount a customer has to read to understand it is just too vast. Particularly in the case of technology products or complicated software.
A real person (who already has a thorough understanding) can get them to the point much quicker. A real person can comprehend what they know already and what they need to understand now.
08.1

When to offer customer service instead of self-service

Usually self-service is the first step a customer take when trying to diagnose and resolve their query. If that doesn't help, they should be routed to the appropriate customer service channel.

In the past, companies have developed support channels that competed for supremacy. In the eyes of the customer it is a single organisation though and inter-channel battles take away from the customer's experience.

Self service and customer service (and each channel within) should blend seamlessly and support the customer's preferred journey. Different customers have different communication preferences. Some will initially try to self-serve, others will head straight to LiveChat, phone or an email address.

To make the transition between self-service and customer service smooth, you need to make sure that service options such as live chat are always one click away. And you also should be predicting when customers need additional support. You can offer chat proactively so that customers don't even have to click to get help.
08.2

Offering chat at natural points within the self-service journey

Customers probably don't want to chat 5 seconds after opening the self-service portal. They might however want to chat halfway through an article or at the end of one, to get some clarification.

Use contextual links to your live chat during an article (e.g. "Need some help with this?") and at the end (e.g. "Still confused?") to be relevant and allow customers to see they have opportunity to reach out for further help.

You can also provide support in the form of proactive live chat, when you can see that the customer may need additional help beyond your self-service articles.

Using visitor flow from Google Analytics and from individual support enquiries received on live chat you can identify key areas of engagement. Trigger a proactive chat when a customer has viewed several help articles on a particular topic and their behavior suggests that they still haven't found a solution. If you know particular problem areas (or where there has been a recent issue) you could trigger a proactive chat when a customer reaches the end of a specific article. And remember: tailor your messages to suit.
08.3

Don't forget to mention self-service materials during a chat

As well as providing self-service users with customer service support, don't be afraid to recommend your self-service articles during a live chat interaction. On some occasions, linking to an article might be more productive than writing out the full instructions in live chat.

And self-service articles can be useful as further reading. You may have fully explained a problem pver chat but customers may still want to read the article while following the chat transcript.

It doesn't need to be either self-service or LiveChat. The two can work in synergy as long as you keep the conversation live and are there to guide the customer as needed.

Don't simply pass them off to an article when they've come to you for help. And don't snub them if they chose self-service over customer service initially.
Things to remember about the transition from self-service to customer service
#1

a customer should be able to switch from a self-service material to live help with one click,

#2

see where users have the most problems and offer customer service on those websites first,

#3

don't hesitate to offer self-service materials during a live conversation with a customer.
09
Creating an internal knowledge base for your agents
It's not just your customers that need a knowledge base. Your live chat agents need one too. Your internal knowledge base will be very different from your external knowledge base. The internal resource must contain absolutely everything a customer might ask, whilst a self-service resource is usually just there to cover the key topics and frequently asked questions (FAQs).
Your agents will also be able to pull resources together independently after studying the knowledge base meticulously. On the other hand, customers will want everything that they need to know laid out in front of them, in one self-service article. That doesn't mean that the internal knowledge base should not be clear and easy to use. It just means you can expect your own agents to do a few additional clicks for more information.
Providing your agent team with a clear, up to date and easily navigable internal knowledge base should be your primary focus before launching live chat on your website.
09.1

How to prepare an internal knowledge base

The knowledge base has to include all of the information that your agents and customers could possibly need. Here at The Chat Shop, each individual client knowledge base contains over 200 points of information.

The first thing you need to do is to compile every piece of information you have about your product, service and company. You need to gather information from every department within your company, not just pull what is in your user manual. This needs to be a methodical and logical process with clear ownership for each area to avoid it becoming outdated.

An internal knowledge base should include additional information and context for the agents' benefit, even if it's not fit for public consumption. Include clear escalation routes for agents to use when an enquiry is better handled by someone more experienced. Give your team guidance and a structure and allow them scope to personalize their approach to ensure you're offering the best possible service.

You don't want this to end up as a massive information dump though. Your agents will know most of this stuff already from their training. What they need is a resource that is easy to refer to and which supports their service efforts.

Information can be stored as simple text or can be expressed interactively to become more engaging. It's important to keep open communication between those developing and managing the knowledge base and those using it daily (your live chat agents). Your agents will have feedback on what does and doesn't work, for different types of information.

You may break up the data in your internal knowledge base into tables, matrices, problem specific conversation guides, RSS feeds and the latest product, service and marketing updates.

It's also a good idea to separate the most pressing information from the rest in the form of a dashboard – an interactive page that serves as the agent's knowledge base homepage, which provides agents with a snapshot of important links, basic chat stats, tips and top-level information agents may need at a glance.

To make your internal knowledge base helpful, it needs to be: clear, concise, efficient and easy to use. Test your agents' abilities to use the knowledge base (and how it performs for them) before going live with live chat. Agents need to be able to find and disseminate the right information to customers.

And, like your self-service resources, your internal knowledge base must be updated regularly or it will become obsolete.
Things to remember about an internal knowledge base
#1

internal knowledge base will include all information about your business for your agents,

#2

it will allow you to quickly bring new agents on board and keep high quality of service.
10
Self-service checklist for your knowledge base
Building your own knowledge base may seem like a lot of work. However, you don't have to do everything at once. By breaking everything up into smaller, more manageable tasks, you will be able to prepare your first article, expand into a couple more articles and finally create multiple categories of articles.
Below, you can find all the steps you need to take to create knowledge base for your customers or an internal knowledge base for your customer service agents. You don't have to take all the steps at once. Start with the easier tasks and work your way down the list.
Find a topic for a knowledge base article – You can use multiple tools and methods to find knowledge base topic ideas, including customer emails, search engine queries, live chat and your own intuition. The rule of thumb here is to pick the more popular and pressing topic first as they will have the biggest impact on your customers' experience.
Decide on an article structure – All your articles should follow a similar structure to make reading easier for your customers. If you always start with a brief introduction before moving to detailed instructions, they will know what to expect from your articles.
Develop a style – Just as you should use the same structure, make sure you're using the same style as well. This means you should use the same visual cues, language and media across all your articles.
Use visual self-service aids – When it comes to using media, you should use screenshots, gifs and videos for more complex instructions. The more steps a user needs to take, the more useful a screenshot, gif or a video will be.
Categorise your knowledge base as you grow – When more and more articles start appearing in your knowledge base, you should think about organizing all that content. You can do that by introducing categories, a search bar and linking between similar articles.
Keep your knowledge base up-to-date – Over time, some of your articles will need to be updated with new information and some will become obsolete. By making regular checks of your knowledge base content, you will be able to refresh your content when needed. Whenever you make a product or service change, check if your articles won't have to change as well.
Transitioning from self-service to customer service – No matter how good your knowledge base materials are, some problems will need to go to your customer service agents. Make sure it's always easy to get help from your self-service materials and add either a phone, email or chat option to them. If you're using live chat, you can proactively reach out to customers who you see are struggling with a self-service material.
Setting up an internal knowledge base – Creating a separate knowledge base for your agents will allow them to provide the same level of good quality customer service to your customers. The internal knowledge base should include all the information an agent may need when servicing customers. It also doubles as a great training tool for new agents.
About
LiveChat, Inc. is the owner and developer of LiveChat, a real-time customer service tool for sales and support purposes.
Nearly 15,000 companies use LiveChat daily to service their customers, including brands like Adobe, ING, Samsung, Tele2, Orange Telecom, Better Business Bureau and Air Asia. Since its founding in 2002, LiveChat has been used all around the world in over 140 countries.
The company aims to create products that are simple, easy to use and powerful. Thanks to the quick implementation process, businesses can start using LiveChat within minutes.
Copyright © 2016 LiveChat.
All rights reserved.