Challenge:
Speeding up communication with customers.
Solution:
LiveChat as the main source of contact for Kinguin's customers.
Results:
Handling big traffic and reaching 97% of Customer Satisfaction.
Kinguin provides users around the world the possibility to trade video games at a fair price with no hassle through an innovative platform.
They launched in 2013 and quickly became the largest alternative marketplace to Steam, Origin, and Battle.net. Now, they have over 6 million customers and their mission is to deliver customers top-notch experience.
They believe this is possible by guaranteeing their users easy access to customer service.
Their journey with live chat solutions
Before they decided to use LiveChat, they assisted users through tickets. While it was quite effective, they still wanted to provide help even quicker. As the Head of Customer Experience from Kinguin, Michal Haze, explained:
"We were looking for the most appropriate software. It was crucial for us that live chat is easy and convenient for customers."
Apart from that, they paid attention to the following functionalities:
measuring customer satisfaction;
collecting information about users;
chat integration;
look and design of a tool;
options for customer engagement;
customization options.
They checked numerous chat software, but after testing LiveChat it turned out to be the best. Now, they're fairly satisfied with it and glad to see LiveChat has developed further.
What the Kinguin team does to improve customer satisfaction
Today, chat is the main source of contact for Kinguin's customers. Their team consists of approximately 30 LiveChat agents a day and they serve around 6,000 chats weekly, 24/7.
They provide help in 16 languages so users from around the world can easily talk about their issues.
Kinguin decided to create departments inside their customer service team. That way after customers pick the topic of the issue form the pre-chat survey, they immediately get to the right agent, specialized in the case.
Also, to improve customer experience, they have constantly lowered the waiting time on chat. To do that they created Dave the Chatbot.
As Michal explained:
"It has significantly helped us assist more customers and received mostly positive feedback from the users. We will certainly put more effort in this area and keep on developing bots — we want to make it more advanced, more human-like, and with better Satisfaction Rate."
How they utilize LiveChat
Using the app:
Kinguin's team uses LiveChat on desktop. They've also implemented LiveChat inside their Kinguin app (available on Android and iOS) and they plan to develop this functionality further.
Chat features they use:
Chat tags – a short label to a chat, that allows them to look up statistics for a particular type of case only. For example, to determine what kind of topics are discussed most often inside a particular department.
They set up automatic greetings which are customized messages that invite visitors to chat. They also use a pop-up chat window – to make the chat visible for users.
When it comes to statistics from chat, they have a whole team dedicated to monitor it. As Michal shared with us:
"It allows us to easily assign employees to the proper channels, set the number of simultaneous conversations that an agent can have or assist other agents when they require help or a more experienced colleague."
Keeping customer satisfaction high
To provide excellent customer experience, companies need to gather feedback about their service. Kinguin's team uses chat rating, post-chat surveys and satisfaction statistics to monitoring their customers' happiness.
"Thanks to these functions we find areas of improvement and how our procedures can be bettered to meet Kinguin users' expectations," said Michal.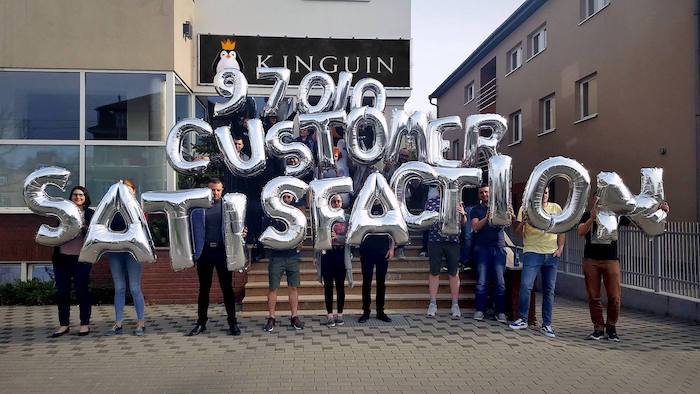 The time when Kinguin handled big traffic for their pre-orders with LiveChat
There's a time when LiveChat plays even a more important role than usual for Kinguin.
Besides thousands of Kinguins' products that are delivered instantly, they also offer pre-orders. As Michal explained:
"At the moment, LiveChat remains the mostly used tool when it comes to contacting our support. Because of how easy we made it for users to access it, we help over 750 of them each day with an average satisfaction of 96%."
Kinguin's customers also like sharing their positive feedback. Here are a few messages they wrote:
"Great! Fast responses from you guys keep me coming back!"
"Awesome Support! Thank you for keeping my orders safe!"
"Extremely nice and patient. Smoothly and gets the job done fast! Overall GREAT support agent!"
"The BEST Customer Support I have received in a while. Good to actually get customer service like this — it is a rarity!"
"110% SERVICE LEVEL, will not ever shop for games elsewhere!"
How high can you go with customer satisfaction
As LiveChat is their main contact channel, Kinguin's team is happy that the huge majority of users are incredibly satisfied with the level of the assistance.
They help more than 25,000 users each month and still maintain a 97% customer satisfaction rating. Let me remind you that according to LiveChat Customer Service Report 2018, the global average is 83.54%. As you read at the beginning of this case study, Kinguin's ultimate goal is providing the best customer experience possible, so they plan to attempt to reach 100% of customer satisfaction.
Since we use "can't" and "won't" very rarely here at LiveChat, we honestly keep our fingers crossed for Kinguin's team! We hope you can experience their amazing service soon!